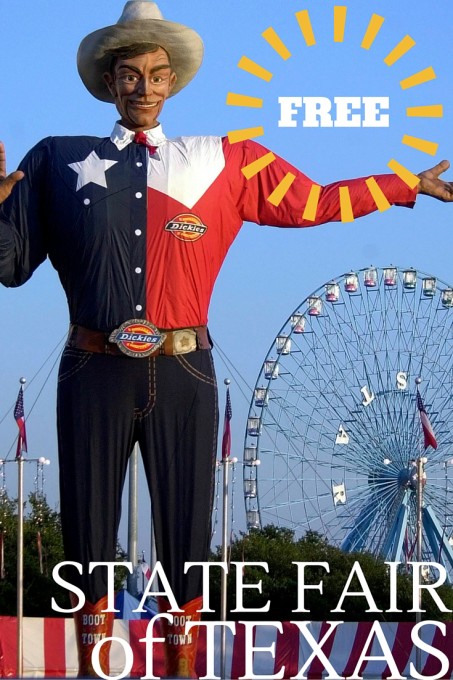 Everything is bigger in Texas, including and especially the State Fair, kicking off in late September. As the largest state fair in the country (of course!) there are some pretty big boots to fill, but the oversized theme also spills over into the price. While admission is reasonable, many of the activities inside the fair are shockingly expensive, especially for families who are on a budget.
Does that mean frugal-minded families should skip the fair altogether? Of course not!While a spin on the Texas Star or an extra-large fried twinkie will set you back some big bucks, there are a Texas sized number of shows and events that are absolutely FREE with admission.
All included in the price of admission, the State Fair of Texas has more than 100 FREE daily performances. Activities range from acrobats and dancing dogs to a wide variety of featured artists on the Chevrolet Main Stage.
Which totally FREE activities are perfect for families?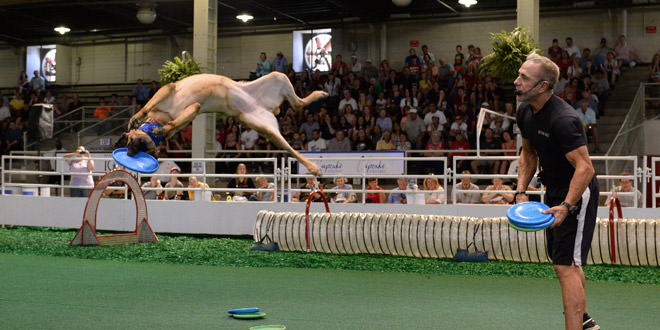 Animal Escapades
Jump! The Ultimate Dog Show: Two-time World Champion Frisbee Dog Trainer Lou Mack and his canine flight crew will astonish fairgoers with their fast-flying feet, gravity-defying leaps and amazing displays of balance. A jaw-dropping experience!
Located at: Pan-Am Arena
Wild West Pet Palooza: The Wild West Pet Palooza, featuring Joel Slaven's Professional Animals, includes an array of comical skits starring animals that have been rescued from shelters across the nation. Boasting an impressive cast of critters ranging from cats and dogs to pigs and porcupines, this show is full of family fun.
Located at: Band Shell
Rocky Mountain Horse Demo: Local equine experts bring in a variety of horse breeds and provide educational demonstrations, showing their equestrian knowledge and skills. Fairgoers can view these majestic creatures on weekends, on display in the Ranch Arena.
Located at: Ranch Arena
Lone Start Horse Spectacular: From 1519 to present day, six flags have flown over the great state of Texas. In the Fair's newest production, visitors get the chance to celebrate the rich history of our state and each of its flags as they are paraded in a horse-led pageantry. Themed to traditional Texas music, the event features professional riders on horseback, performing in coordination with the historical narrative. Sit down and join Texas native Barry Corbin as he narrates the show, telling the spectacular story of the great Lone Star State.
Located at: Pan-Am Arena
Pig Races: Here they come, snout-to-snout, down the stretch, back by popular demand! The Pan-Am Arena is home to the most-talked-about track in town; the pig races. Dressed in fetching racing silks, the wiggly piglets run the course three times a day. Don't miss this fan favorite!
Located at: Pan-Am Arena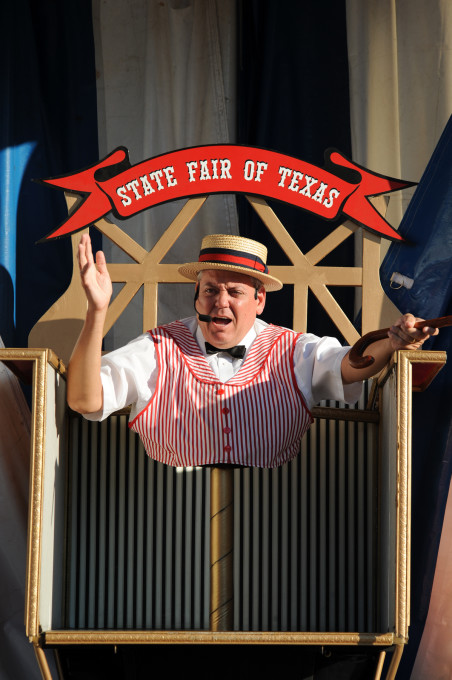 Live Shows
Ronald McDonald Show: In line with his wonderfully wacky personality, Ronald McDonald puts on a comical show the whole family can enjoy, filled with magic, juggling, jokes and music. A few lucky fans will be chosen from the audience and get the chance to join Ronald on stage as guest stars.
Located at: Kid's Boardwalk
Mother Goose Story Time: Mother Goose puts a unique spin on age-old nursery rhymes in this kid-friendly activity. Children enjoy their favorite tales through songs, storytelling, puppets and games.
Located at: Oak Farms Activity Center
World on a String: Kids love this cast of marionettes produced by master puppeteer John Hardman. Running 25 minutes, this show features dancing boots, swimming fish, square dancers, skeletons, flamingos and more, all with a Texas theme!
Located at: Showplace Theatre
Backyard Circus: The Backyard Circus offers little ones the chance to dress up in costumes and take part in a show that features lion tamers, tight-rope walkers, ballerinas and a host of circus favorites.
Located at: Oak Farms Activity Center
Midway Barker: Don't miss this hoot of a performance! The Barker entertains Midway crowds with his antics and jabs – all in good fun. A funny-bone tickler!
Located at: Cotton Bowl Plaza
Zuzu African Acrobats: This group of well-orchestrated team members comprises a gymnastic spectacle and takes the limbo to a new level.
Located at: Esplanade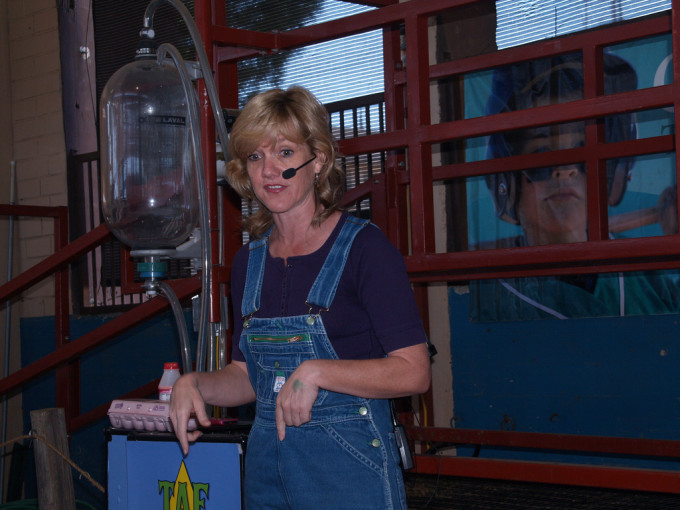 Educational Opportunities
Big Tex's Farmyard: Big Tex's Farmyard provides an educational experience through interactive exhibits as well as live animal displays, including calves, piglets and hatching chicks. Learn all about agriculture and its impact on the state of Texas, from the importance of farming and ranching to the process of raising and caring for animals.
Located: Kid's Boardwalk
Milking Demonstration: Cows from nearby farms are brought to the State Fair for an entertaining and educational exhibit of modern milking procedures and machines that show kids what happens to make a gallon of milk.
Located at: Milking Parlor
Livestock Guided Tour: Want to get up close and personal with State Fair livestock? Take a tour of their living quarters and have all your questions answered by resident student experts! Livestock is at the heart of Texas culture, economy and livelihood. At the State Fair livestock barns you can test your livestock terminology and check out more than 15 different breeds of cattle, along with an assortment of sheep, rabbits, llamas and more. 16 daily guided tours every 30 minutes from 10 a.m. to 5:30 p.m. daily, departing from the Champions Row area in Ag-Power Plaza.
Located at: Ag-Power Plaza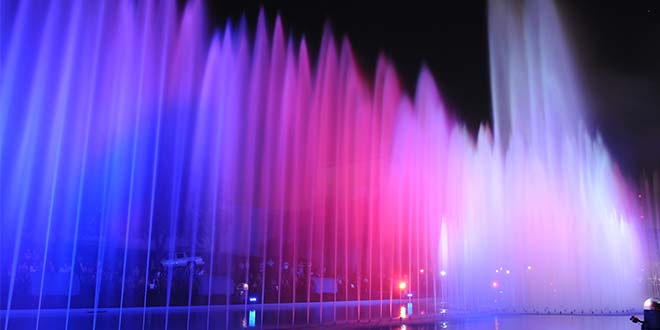 Just Plain Fun
Bufford Buzzard: This tree-dwelling puppet dishes out some insults to the crowd, but don't worry, it's all in good fun. The lovable buzzard entertains children of all ages with his amusing antics and witty banter.
Located at: Kid's Boardwalk
PeeWee Stampede: Kids can grab their cowboy gear and get ready to ride! The Pee Wee Stampede lets kiddos put on a show and participate in mock rodeo events. While the crowd cheers, the kids race on their stick horses and bulls and provide a fun-filled show for everyone. From bronco busting to barrel racing, kids are the stars of this rodeo. You can't miss this laugh-out-loud production! Suitable for children four to eight years old.
Located at: Ranch arena
Starlight Parade: This after-dark extravaganza is a fan-favorite, featuring a colorful assortment of illuminated floats, life-size puppets, stilt-walking performers and animated characters in ornate costumes. The bold and bright procession glides through the park nightly at 7:15 p.m. Don't leave the Fair without seeing this amazing spectacle!
Located at: Parade Route
Illumination Sensation: Experience the nightly celebration – completely remastered! Set along a scenic reflecting pool, Mattress Firm Illumination Sensation wows the crowd with dancing waters and twice the pyro than ever before. A unique and breathtaking event, the show combines fireworks and high-energy pop music with engaging performances from dancers and acrobats.
Kids Pedal Tractor Pull: Kiddos can join the fun and come test their tractor skills at Kids' Pedal Tractor Pulls. Children age four to 12 can test out their tractor-driving abilities and compete to win prizes while the crowd cheers them on. Each vintage pedal tractor is weighted so the farther one pedals, the harder it is to reach the finish line.
Located at: Ag-Power Plaza