~Today, I am excited to have Jeska Blevins contributing a guest post~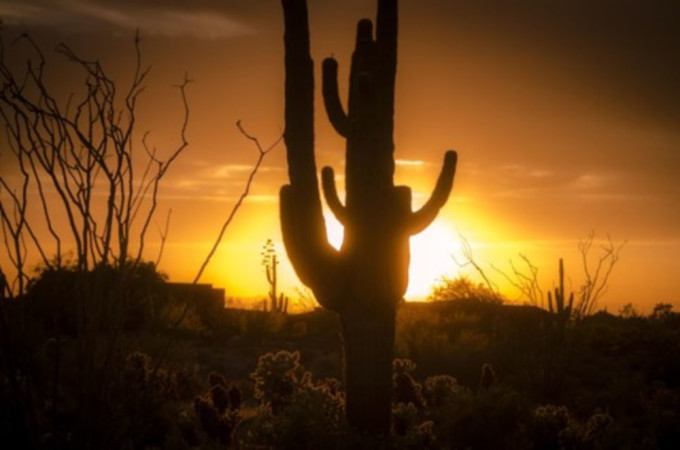 Summer is the most fun season of the year — until July. Once the kids have been out of school for a month, the temperature and humidity increase to sinful heights, and everyone hides out inside and becomes bored, it is time to hit the road for a family vacation.
Unfortunately, not every summer escape makes for a family-friendly trip. Even though you might find the sun and surf of a beach sufficiently relaxing, your kids want to do and see as much as possible while they have time outside the classroom. Fortunately, the United States is rich with excellent vacation destinations that satisfy the whole family. Any of the following six cities and sites should astound parents and kids alike — while keeping everyone plenty cool during the warmest months of the year.
1. Scottsdale, Arizona
It may not seem prudent to head to the hottest state during the hottest season, but due to the year-round heat Arizonans know exactly how to cool down in style. Scottsdale hotels are some of the most luxurious in the country, offering fine dining, outstanding golf courses, and world-class pools. Scottsdale also boasts shopping experiences on-par with LA and New York in Kierland Commons, Scottsdale Quarter, and Scottsdale Fashion Square. For kids, Phoenix boasts some of the country's best museums, especially when it comes to Native American history and art; the Pueblo Grand Museum, the Heard Museum, and the Deer Valley Rock Art Center are well worth visiting.
Alternative: San Antonio, Texas
2. Niagara Falls, New York and Ontario
What better place to cool off than a site absolutely dedicated to the power of water? Niagara Falls offers all the excitement and wonder of a natural adventure with the added major benefits of metropolitan amenities — particularly the Canadian side. The Falls themselves are astounding, and the city offers dozens of opportunities to see them from every angle. The parks, gardens, and forests surrounding the Falls are beautiful, as well. However, parents and kids alike will also appreciate the plethora of indoor attractions, including the massive waterpark, relaxing spa, busy arcade, and lush wine country.
Alternative: Las Vegas, Nevada
3. Yellowstone National Park, Wyoming and Montana
Yellowstone was our nation's first national park, and it is arguably the first protected park in the world. It isn't hard to understand why so many people find this land so beloved; Yellowstone is bursting with natural marvels, from the violently bursting geysers to the colorful lakes and springs to the fascinating wildlife. The scenery is both soothing and exhilarating, making Yellowstone the perfect natural place for kids and adults alike.
Alternative: Banff National Park, Alberta
4. Wisconsin Dells, Wisconsin
Meanwhile, farther east, Wisconsin offers an attraction travelers won't find anywhere else: a city of waterparks. The Wisconsin Dells — named after a nearby scenic gorge carved during the last ice age — is a tourist's wonderland, with shopping, dining, and pure playing galore. The city currently boasts four fully loaded waterparks, each with its own distinct theme and flavor, as well as a multitude of dry rides like roller coasters and go karts. Weeks' worth of vacation are not enough to enjoy all the Dells has to offer.
Alternative: San Diego, California
5. Crater Lake, Oregon
Unlike man-made water destinations like swimming pools and waterparks, lakes inspire a thorough calming sensation unlike anything else in the world. Crater Lake, nestled deep in Oregon's oldest national park, filling up the caldera of an old volcano, is especially adept at soothing frazzled, overheated nerves. Violent turquoise in color and surrounded on all sides by towering peaks, the lake feels surreal and separated from the hustle and bustle of regular life. Still, there is plenty to do and see: hikes traverse the surrounding hills and nearby Klamath Falls is filled with unique boutiques to explore.
Alternative: Lake Champlain, Vermont
6. Orlando, Florida
There are theme parks, there are amusement parks, and then there is Orlando, Florida. Walt Disney World, Universal Studios Florida, Legoland Florida, SeaWorld Orlando, Wet 'n Wild Orlando — parks extend from border to border. Rife with attractions, activities, and events, Orlando is a destination to end them all. Though Florida summers can be hot and intense, most vacationers hardly feel it through the excitement and elation of experiencing the city's adventures. Plus, Orlando's beaches are even more enticing than those of the West Coast.
Alternative: Los Angeles, California