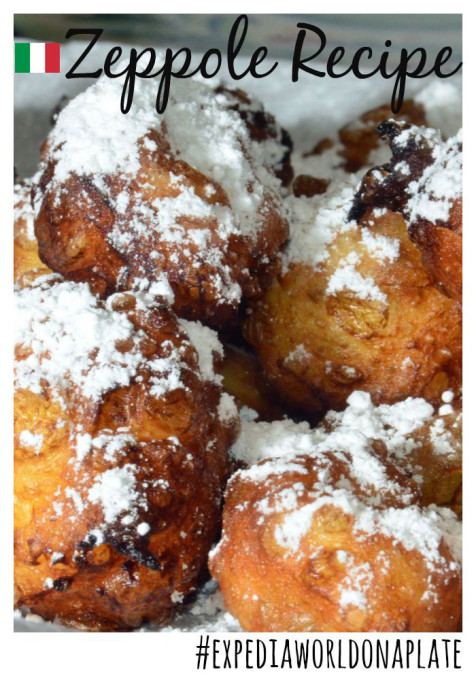 Learning about world cultures is something I like to do with my kids regularly, even when we can't pack up and jet off around the world. Cooking is an ideal way to explore other countries with kids because it gets them involved in the creation process and their always a treat to enjoy at the end. This 'travel through eating' concept fits perfectly with the #expediaworldonaplate challenge.
Expedia asked me to prepare an Italian dish with my kids as a way of learning about the culture and food of Italy. When it came time to look for a recipe, I wanted something more unique than the typical pasta or pizza, and I my sweet tooth was calling, so I was drawn to the desserts. While I drooled over cannolis and tiramisu, I settled on the simplicity and sweet tooth worthy idea of Italian donuts.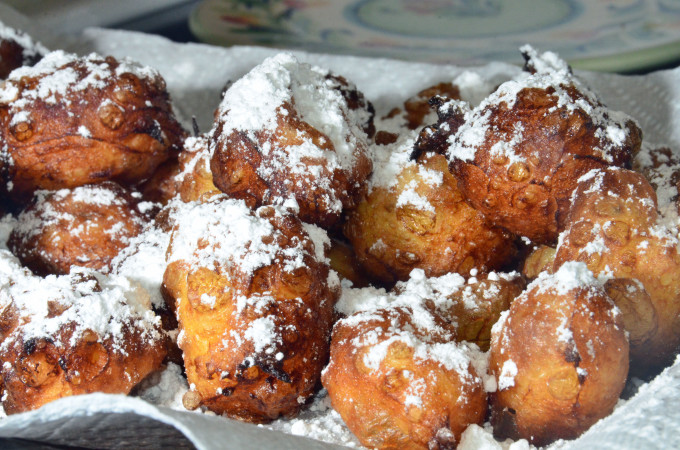 These are like funnel cake, but sweeter, or beignets, but doughier. Basically, all reasonable cultures have discovered the joys of fried dough rolled in sugar, and the Italians are no exception. In Italy, particularly in Rome and Naples, this fried goodness is known as Zeppole. Having the appearance of donut holes, the simple ingredients of eggs, flour, sugar and water are combined and use steam, rather than a rising agent to puff the pastry. The result is a light and fluffy pastry with a crisp outer shell and just the right amount of sweetness. Zeppole can be filled with fruit, cream, or honey, but are oh- so- simple and delicious using the basic recipe.
Of course, the simplicity of the recipe, in both ingredients and instructions, is appeals to my frantic mom side. Too often, I forgo doing meaningful things with my kids, like cooking new recipes because it requires special ingredients or too much time in the kitchen. This recipe requires neither. It is no-fuss, no-frills, no excuses exploration of another culture through eating. Yes, please.
Ingredients:
1 cup water
1 stick (8 Tablespoons) butter
3 Tablespoons sugar
1/4 teaspoon salt
1 cup flour
4 eggs
oil, for frying
powdered sugar
~Watch high-speed step by step instructions here~
Instructions:
Step One: Add water, butter, sugar and salt to a medium saucepan and cook on medium-high until butter melts completely.
Step Two: Add flour all at once and mix thoroughly. Continue to cook the dough for an additional minute on medium while stirring constantly. Expect steam to rise from the dough. That means you are doing it right.
Step Three: Transfer the dough to a bowl and mix with a mixer or spoon until the steam stops.
Step Four: Add eggs, one at a time and mix. Dough will be very smooth and sticky.
Step Five: Transfer dough to a zip-top bag or pastry bag. If using a zip-top bag, cut a one inch hole in the corner of the bag to use as a piping tip for the dough.
Step Six: While you are mixing your dough, heat oil in a deep pan. Oil should be heated until it reaches 360 degrees. If you don't have a thermometer, you can test the oil for readiness by dropping a grain of rice in the oil. When the rice floats, the oil is ready.
Step Seven: Squeeze dough into the oil, using scissors to snip the dough into bite sized balls. Be careful not to splash the oil.
Step Eight: If the oil is at the right temperature the balls of dough will float at the surface and begin to brown. If your dough sinks, your oil is not hot enough. Use a slotted spoon to roll balls of dough around in the oil, allowing all sides to brown evenly.
Step Nine: Use slotted spoon to place fried dough onto a paper towel to cool slightly.
Step Ten: Cover with powdered sugar and enjoy.
Disclaimer: Expedia facilitated the creation of this recipe and post.
Original Recipe from Olga's Flavor Factory