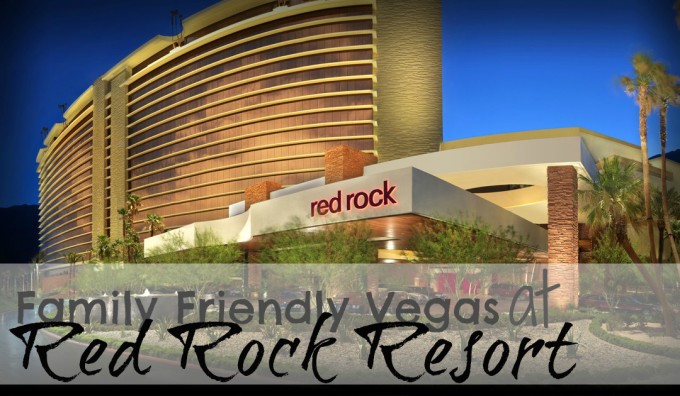 Known as The City of Lights, The Entertainment Capital of the World, and Sin City, parents probably wouldn't think of Las Vegas as a family friendly vacation spot. However, times are a-changing. While many parts of the Strip are still better for adults, family resorts are popping up in other parts of the city, including Red Rock Casino Resort and Spa.
Located about twenty minutes west of The Strip in the upscale community of Summerlin Nevada, is an oasis that combines all the elements that adults love about Vegas with all the amenities they need for their families. Towering over the area with a sprawling complex comprised of multiple buildings, Red Rock is a city within a city. The location in Summerlin is a perfect home base for families, as well. Downtown Summerlin offers an outdoor shopping center that includes entertainment, fashion, and dining that is ideal for entertaining the whole family. Activities for families include outdoor movies under the stars, Farmer's Market each Saturday, mom and baby fitness classes, and culinary and tennis camps for kids. The activity doesn't stop there: Red Rock Canyon, with a network of hiking and biking trails, is also conveniently located near the resort.
Winning Odds for Both Adults and Kids
A resort of this magnitude certainly doesn't go unnoticed by even the most discerning of critics. Red Rock Resort has been the recipient of the Four Diamond Award, and named one of the world's best hotel by Conde Nast Traveler Magazine. Most recently, the Resort was chosen as one of the Top Ten Best Casinos by USA Today. This 5 star hotel has the all the elegance of major Strip hotels, but with one important distinction: the resort is geared towards families. Features for families include a food court, movie theater, 72-lane bowling alley and kids club. Not to forget the adults in the group, the resort also boasts upscale restaurants and, of course, a casino. In fact, the problem is not finding something to do, but finding enough time to do it all!
Families Who Play Together
The kids club, located adjacent to the casino is designed to make sure children are having as much fun as their parents. For a fee, kids can go to the kids club and play games, shoot hoops, use iPads, do crafts, and, did I mention the candy station? That's right, there is a candy buffet where kids get their fill of goodies while their parents enjoy a nice dinner, movie, or a little bit of gambling. There is also a fully equipped arcade next to the kid's center.

Red Rock Lanes is another winner in the kids' column. We decided to try out the Red Rock Lanes and had the time of our lives! They even have cosmic bowling with blacklights on the weekends. The best part about Red Rock Lanes is that there is plenty of room, 72-lanes to be exact. This resort makes sure that kids get to have their own "Vegas experience."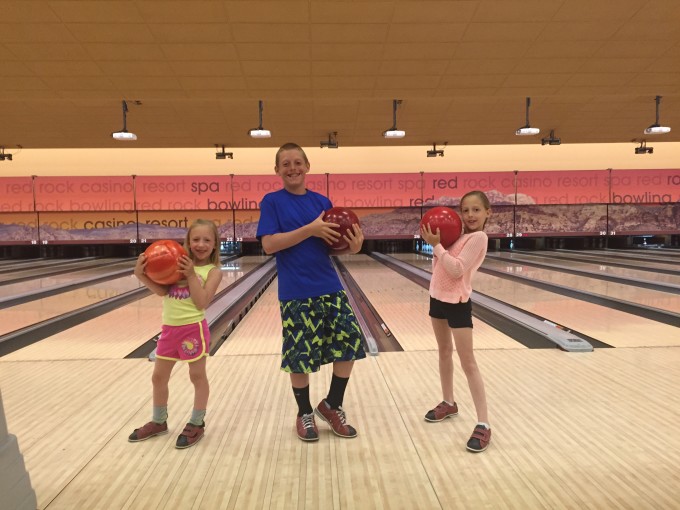 Families Who Stay Together
The amenites for families don't stop when you retire for the evening. The rooms are decorated with a luxurious modern feel, but yet cozy enough to relax. Floor to ceiling windows allow for a spectacular view of the city at night. Being a family of six, I was a little worried about space, but when we arrived, we had plenty of room. The staff even set up a full size crib for our toddler. Every mom knows what a luxury that is! Most hotels set up portable cribs, but the Red Rock goes above and beyond with plush bedding, and baby toiletries.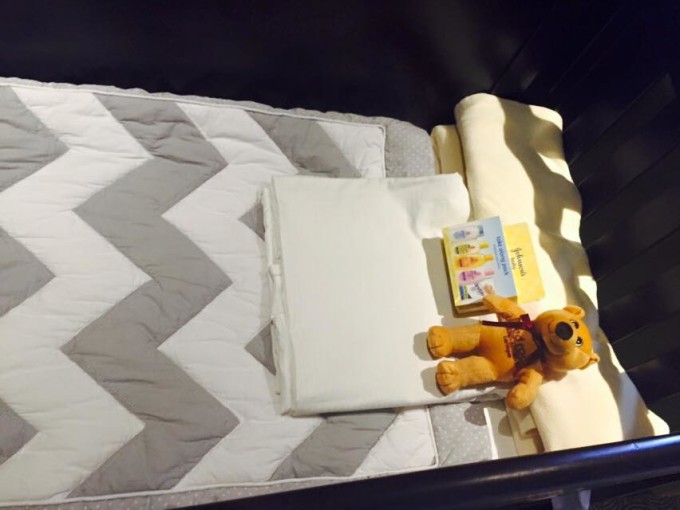 Thanks to the state of the art technology amenities, including a TV in the bathroom, my kids were treated to taking a bath while watching cartoons! Someone will have to break it to them that they won't be enjoying that luxury at home.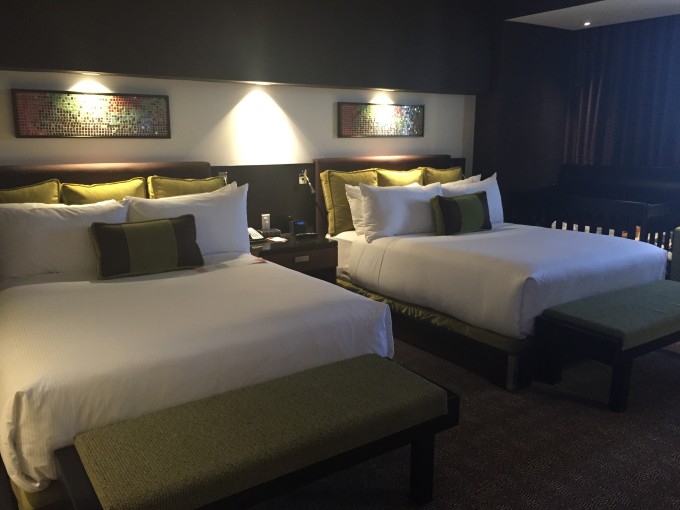 When we weren't sleeping, we were at the pools. The resort is home to 10 (yes 10!) acres of pools. The main pool has a zero entry slope where the little ones could splash around. With plenty of comfy chairs around all the different pools and hot tubs, I could keep an eye on my kids wherever they were. The staff was extremely helpful and friendly and attended to our every need.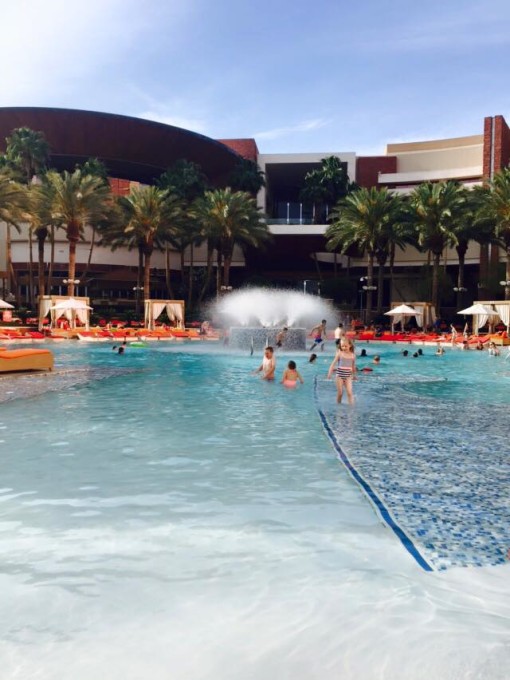 Spaaaaah Time
The icing on this very lovely cake, was the Spa. Every single guest is allowed to use the spa amenities. After my daily workout in the Fitness Center, I was able to relax in their eucalyptus steam room and then took a dip in the cold and hot pools. Showering and getting ready for the day in the luxury of the spa was a treat for a mom who usually shares her bathroom with four interruptions. The best part was I was able to do all of this before any of my kids woke up! Now if only I could figure out how to get a eucalyptus steam room in my house….
Not only did this resort meet my expectations for family friendliness, but exceed it. As we were checking in, my toddler was doing Geronimo jumps off of the velvet couches. I apologized to the staff member helping me, but she said "We love having kids at Red Rock." After staying there I truly believe that! I loved being able to take my kids to Las Vegas, having to not cover their eyes, and feeling safe knowing we were in a family environment.

~Red Rock Resort provided a complimentary stay to facilitate this review. All opinions reflect the views of the author alone.~