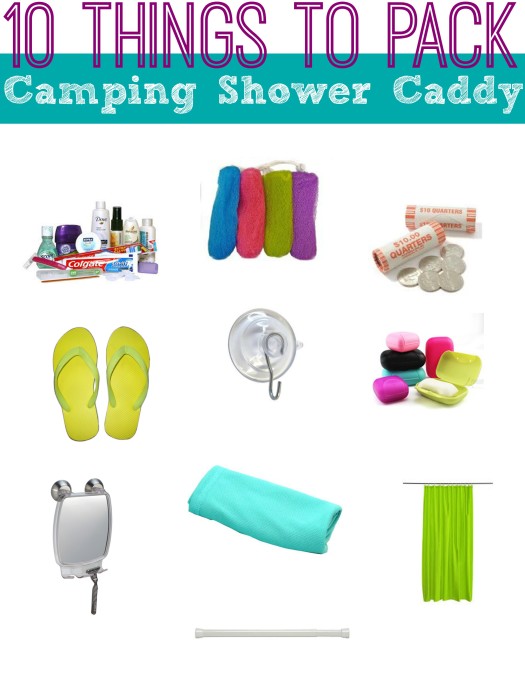 If you think camping and you immediately envision going for days without a shower, you might be surprised to learn that the vast majority of camping experiences have indoor facilities for getting clean. Everything from State Parks to private campsites offer bath houses where you can have a hot shower and a place to brush your teeth. That's the good news: the bad news is that public bathhouses means that you will need to take your toiletries with you to get clean. Preparing a camping shower caddy with all the details for washing up will make the process easier, and will eliminate some of the inconveniences that come with camping showers.
For starters, you will need some kind of waterproof caddy or container. These vary in size, color, and cuteness, so pick one that fits your style and needs. Obviously, you'll need a bigger container if you want full size bottles or have lots of products that make your shower time special. Whatever you pick, make sure it will hold up in the water and will drain and dry well.
1. Toiletries: Pick what you need in terms of shampoo, conditioner, body wash, toothpaste, deodorant, etc… and put it in the bag. Consider a "dry" run (or a wet run) using only your shower caddy at home to make sure you haven't forgotten something you need.
2. Soap Pouch: This is a terry cloth pouch into which you slip your favorite bar of soap and scrub, scrub, scrub. It eliminates the need for a washcloth in your caddy and makes your soap go farther. These can be purchased or created DIY style out of an old washcloth.
3. Roll of quarters: While many camp showers are included in the price, some charge for showers. A roll of quarters will keep you from being surprised, and the extras will be welcome if you are all sudsy and suddenly run out of time.
4. Flip-flops: Public bathhouses are well used, but not always well cleaned. If you are squirmy at all about germs, mold, or insects (yes, insects), you will want to have a pair of cheap flip-flops to protect your feet from whatever is on the floor.
5. Suction Cup Hooks: This one item is the difference between loving and hating the camp shower. Many public bathhouses don't have enough, or don't have any hooks for things like towels and clothes. If you want to keep your dry things dry while you shower, a hook is so nice. You can also use your hook to hang your soap and caddy bag so those things don't have to touch the ooky floor either.
6. Soap Dish: Even though your soap is its handy-dandy pouch, you will still want to keep the slime away from the other things in your caddy. Close it up in a soap caddy.
7. Suction cup mirror: This isn't a must, but it can be very helpful, especially if you use a mirror to shave in the shower. Mirrors can also be scarce or non-existent at a campsite, so if a mirror is important, bring one that can stick to the wall.
8. Quick Dry Towel: Think of this as a chamois for your body. They wick away moisture, don't take up as much room, and can dry quickly after each use. These are a big space saver when you have a large family and need multiple towels.
9. Cheap Plastic Shower Curtain: Hopefully good camping karma will make sure that all the bathhouses you encounter are great facilities. However, it happens that you will find shower stalls that don't have a privacy curtain. Having one of your own can save you from making the choice between skipping the shower and sharing it with everyone.
10. Spring Loaded Rod: You'll need this for your shower curtain, if you find yourself in need of privacy. It can also be attached to the doorway and used as an extra towel/clothes rack.