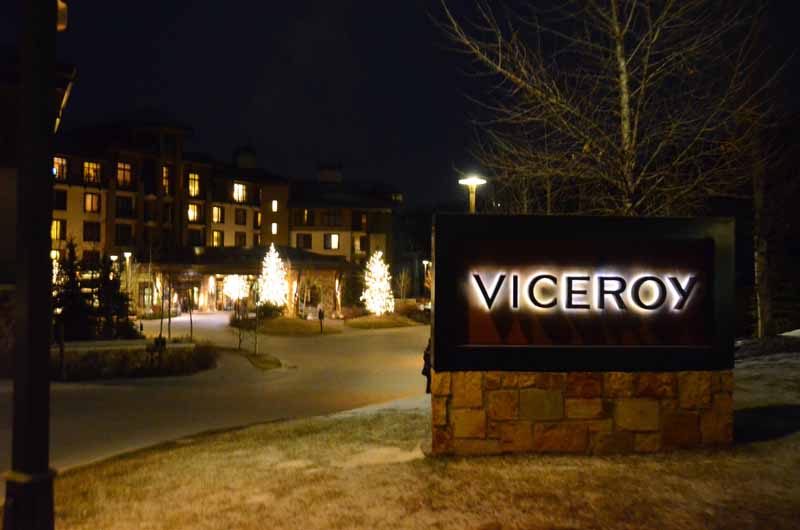 If life is like a box of chocolates, then ski resorts are like scoops of ice cream. It's hard to know which flavor will be your favorite until you've tried a bite (or two). To that end, each ski seasons means an opportunity to try a new mountain and surrounding resorts. Because we are a relatively new skiing family, we are still getting our snow legs. Trying a new location each year gives a chance to really feel out what matters to us when we ski.
Like most Americans, our vacation days are precious, so our choices have been dictated mostly by the most convenient location. However, after spending some time this summer in the Aspen Snowmass area, I was intrigued by the different feel that a city just a little further from Denver could offer and wanted to give the area a chance to become our new favorite.
Why Aspen Snowmass?
When you think about skiing in Aspen, the images of fur-clad celebrities and posh jetsetters might be the first thing that comes to mind. That was certainly what I thought, and had doubts that Aspen would be family friendly or comfortable for those us who are less than fur-clad. However, Aspen proper, which is certainly a high end resort, is only a small part of what is happening on the ski scene in the area.
Aspen Skiing Company actually comprises four full-sized ski resorts in the Roaring Fork Valley, including the massive Snowmass area, which is both ultra-family friendly and happily lacking in any kind of pretention. Because the ski resort grew up around the community, rather than the other way around, there is a sense of community and hominess that feels much less resort oriented. There is an overall feeling of coming home, where there is nostalgia wrapped in a comfy quilt by the fire.
Geographically speaking, Aspen Snowmass is separated from Denver by a range of mountains that house a seemingly unlimited supply of ski resorts. On a map, these resorts might seem like the better choice for a quick weekend away since they are convenient to the major airport. However, distance from the airport to any Colorado ski resort can't be measured in miles, but rather time spent in traffic. Weather and weekend ski traffic often clog the roads in and out of Denver and take away valuable ski and play time.
Avoiding this is a simple as taking a direct flight into Aspen-Pitkin County Airport. Direct flights from eight cities, including Dallas and Houston allow you to hopscotch across the mountains and avoid driving altogether. Less time driving, more time skiing.
It's worth noting that Aspen's geographical "disadvantage" has played a part in shaping the unique flavor of the area. Because the valley is somewhat separated from the cosmopolitan flavor of Denver, they have built a thriving culture of their own, including a world renowned music festival and art scene.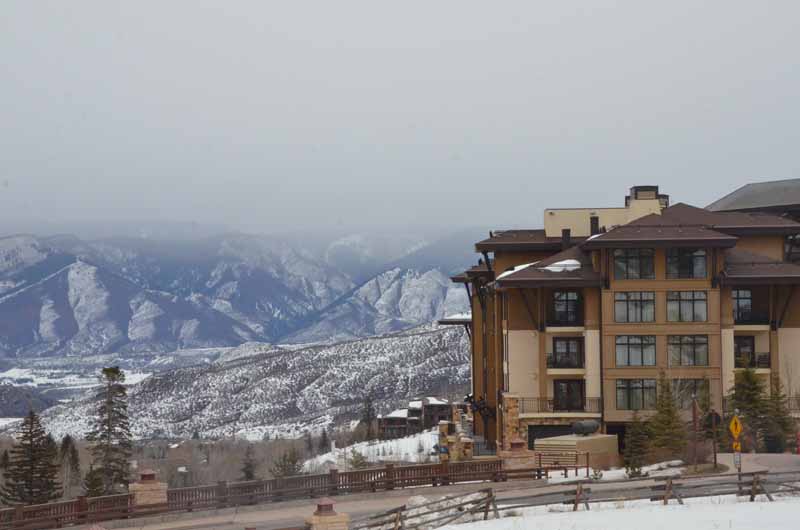 Why Viceroy?
Much like the area, the Viceroy Snowmass boasts amenities that help it to stand apart amongst a sea of typical condo options. However, the first thing we notice is how the exterior of the hotel blends neatly into the surroundings. The sloping roof seamlessly fits into the mountain peaks to create an appearance that the intimate hotel has always been a part of the scenery. Inside, the lobby eschews the typical woodsy lodge décor for a decidedly more upscale style. Complimentary fruit infused water is available throughout the day, while a gratis hot chocolate bar in the afternoon reminds everyone that kids-and kids at heart-are welcome here.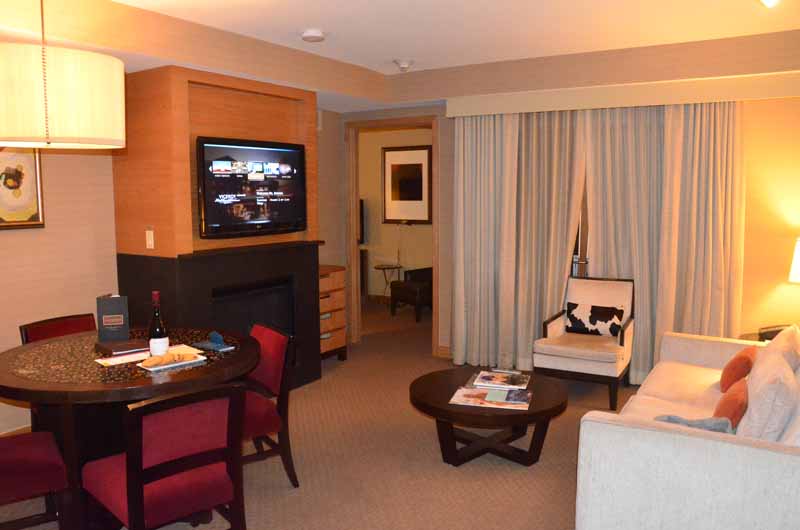 ~Living area offers plenty of places to relax~
In spite of a posh ambience that is undoubtedly perfect for a couples only weekend, the hotel is chock full of details that also make it ideal for families. One, two, and three bedroom residences have the glorious addition of the holy grail of family travel- washers and dryers. As a huge standout, they are also the only full service hotel in Snowmass with full kitchens. Other details, like DVD players and video game inputs are the perfect kid-approved features to balance out the faux-fur blankets and Nespresso machines that adults will love.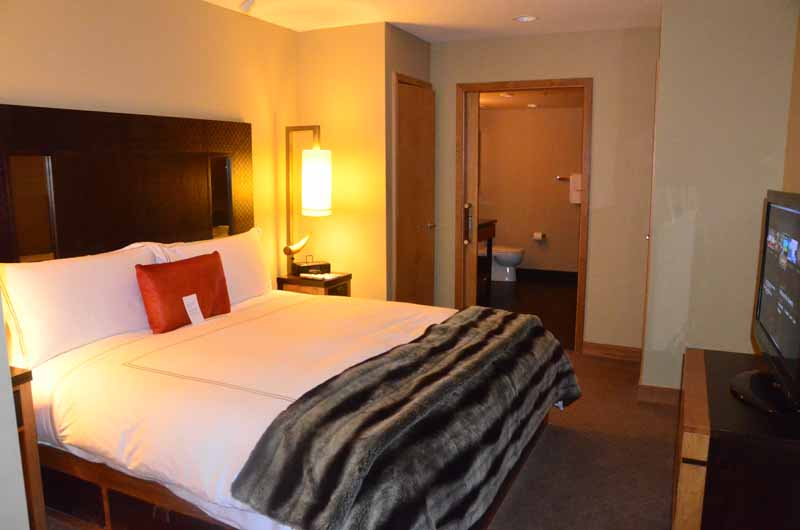 While I love the hominess and roominess of a condo layout, I miss the typical hotel amenities, particular daily room service. As a full service hotel, the Viceroy offers both. Not only is service readily available, but every employee we encountered offered exceptional and genuine care that far surpassed the extra mile.
Outside the room, the little things that go a long way continue. The Viceroy is a ski-in, ski-out facility that is located on a primo piece of property next to Assay Hill Lift. Assay Hill offers both beginner and mid-range ski trails without the hassle of trudging through the village to get the ski day started. While I have heard this "ski-in, ski-out" term bandied around before, Viceroy really delivered in terms of eliminating any barriers between the hotel and the mountain. Kids can even ski home from ski school and be picked up on the porch by their parents while ski valet handles the storage of gear until the next day.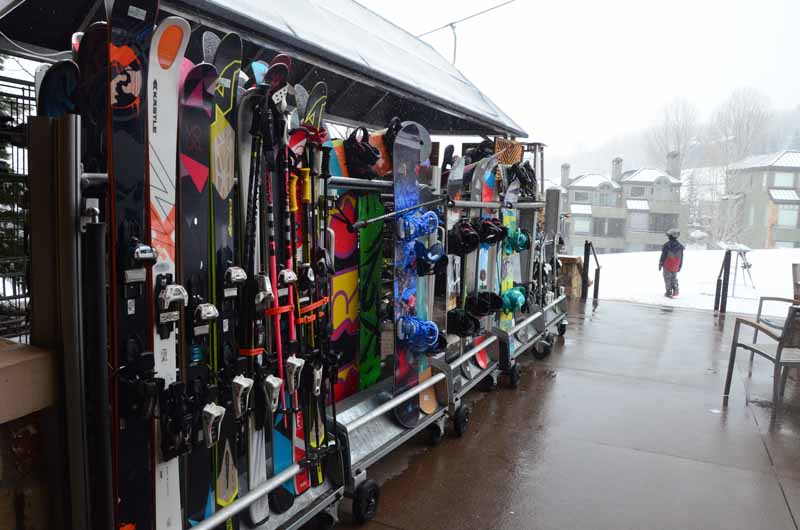 ~Ski Valet assembles all gear outside for guests to grab and go~
Speaking of ski valet, I cannot say enough how much I love the complete lack of hassle provided by having a rental company located in the hotel. The Ski Valet inside the Viceroy is a subsidiary of Four Mountain Sports. This gear shop has nine shops throughout the four mountains in the area and is a one-stop shop in every way. Gear can be adjusted, returned, stored, and transferred overnight at any of the locations, meaning that the need to schlepp gear is a thing of the past. As a mom who only skies because her kids love it, anything that makes the drudgery of a ski vacation easier is a big win in my book.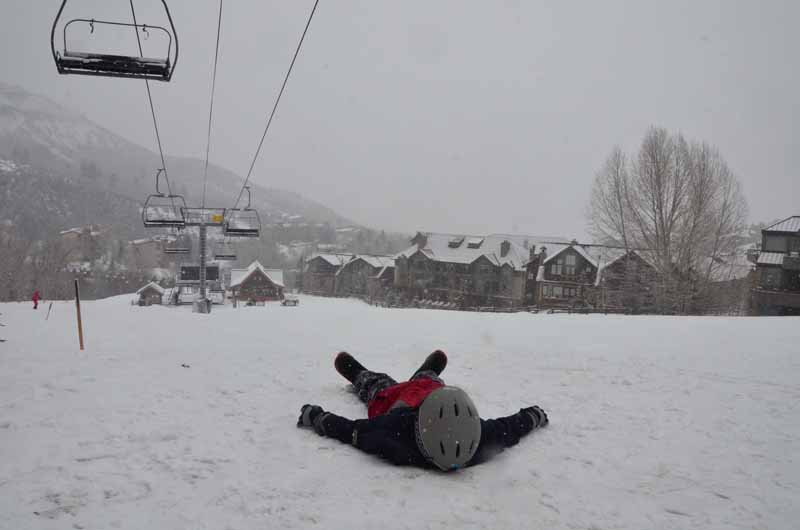 ~Just hanging out under the ski lift after a long morning on the mountain~
When it was time to eat-and with boys it's always time to eat-there were two great dining choices inside the hotel. 8K, named for the elevation of the hotel, is a low-lit upscale dining choice where kids are welcomed with an extensive kids menu and Wikki-Sticks to keep them busy while they wait. The fare is combination of high mountain cuisine and down-home Southern flavors. Our dinner was delicious, but dessert was divine. The Lemon Tart and Peanut Butter Pie were so memorable that we ordered them for room service the next night to have another taste.
~Peanut Butter Pie with Praline Pecans~
The Nest, located adjacent to the pool and ski lift, offers casual dining, and has the distinction of being my favorite memory from the Viceroy. After a morning of boarding, the boys slid "home" along Assay Hill and where we all met for lunch. Over warm pretzels and beer cheese, we shared stories of the morning runs and enjoyed watching a light snow drift in over the mountains. It was just delightful to have an easy place to meet and eat without needing to fuss with gear or stray too far from the mountain.
~Warm Beer Cheese and Pretzels are the perfect warm-up appetizer~
The entire experience was effortless, and with the snow falling outside, dare I say magical. In fact, effortless was the theme of the weekend. I've certainly never said that about a ski weekend before now. While it's always fun, it's also always hard work. For the first time, I was able to just focus on the fun of skiing with my family. That part was definitely magical.
~The Viceroy Snowmass hosted our family during our weekend visit. They did not require that I express a particular view point, and all opinions are my own.~