Roadschooling is one of those nebulous terms that almost certainly involves schooling and travel, but the details are fuzzy. A pretty standard definition is that roadschooling is that it is a form of homeschooling that involves traveling while allowing the places and experiences to drive learning rather than any standardized curriculum. As soon as you post a definition, though, you will find scores of roadschoolers who disagree. It's not just that homeschoolers are a contrary lot who refuse to abide by definitions. A reliable definition is most likely hard to nail down because there are as many ways to roadschool as there are people who do it. It's a highly individualized educational experience by nature, and can't really be distilled into a single entity.With that caveat in mind, I would like to share how we roadschool-what it looks like in practical terms, and how we make it work while still enjoying what the road has to offer. After I spell out the details of how roadschooling works for us, you will have one picture of how roadschooling in real life. If you surveyed 100 other families, you probably wouldn't find a single replication of how we do it, but that's the beauty of homeschooling in general- you get to do what works for you!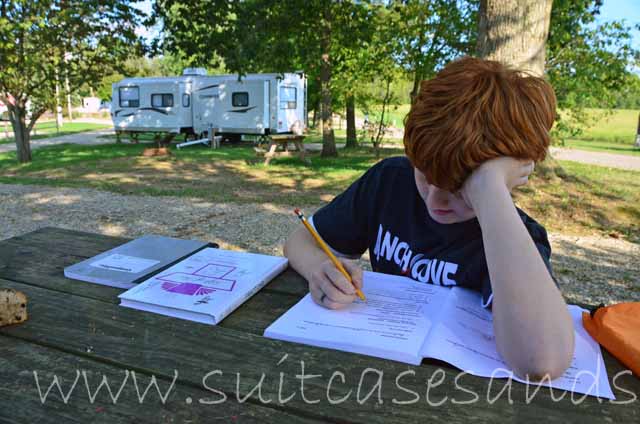 ~ A traditional schooling experience at a campsite on the east coast~
Roadschooling is not always Unschooling!
First we have to start again with definitions. Unschooling is a sub-group of homeschooling that rejects standard curriculum and allows children as much freedom to explore the things that they enjoy as possible. Unschooling is often very compatible with roadschooling, but it is definitely not compatible with me. I am far too type A to be able to let go of meeting a certain set of standards, and while I truly envy those who have found their calling in unschooling, I know it will not work for this teacher and her students. I am one of those strangely drawn people who loves to make lesson plans.
Because we roadschool in spurts-meaning we are not on the road full time-roadschooling must be built into our yearly schedule and curriculum, and the impact of what we will (and won't) cover on the road must be considered. Often, we will need to double up on certain subjects to be sure we will still finish our formal curriculum on time when we take a long trip.
My goal is to always have a plan- albeit a loose one- and allow the plan to fluctuate as needed to meet the demands of the road.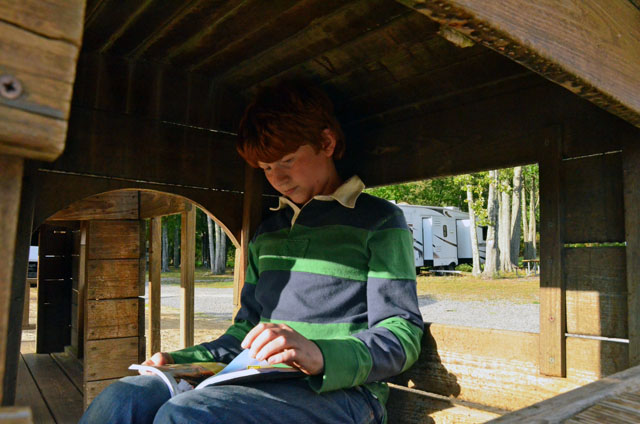 ~A little reading can happen anywhere~
Roadschooling is Always Different from Homeschooling
At home, we have a fairly standard homeschooling curriculum that involves plenty of workbooks, computer work, and other things that just aren't reasonably portable. When I am making roadschooling plans, I have to completely revamp what will work for the road, while still keeping an eye on my yearly goals. Of course, serial lesson planners don't mind an excuse to plan more lessons.
Roadschooling Offers an Opportunity to Fill in the Gaps
Because schooling on the road has to be different than schooling at home, traveling actually gives a new opportunity to study subjects and facets of subjects that we wouldn't otherwise. A unit study on the Grand Canyon probably wouldn't happen in a typical school year, but if we are visiting the Grand Canyon, it just makes sense. Likewise, we don't hear enough poetry in the regular school year and could always stand to practice our math facts. These little facets of subjects are pressing enough to make their way into the typical school day, but are great fillers during a road trip.
~Talking Topography at Yosemite Valley~
No Two Roadschooling Trips are the Same
Unlike many roadschoolers, we only school while traveling in spurts. Granted, they are long spurts lasting 1-3 months, but we are not schooling on the road all the time. That means that each trip and the details of that trip have a direct bearing on how we roadschool.
Once we were traveling for six weeks, but we were essentially "setting up house" all in one place. Roadschooling then consisted of sitting on the patio of the hotel while the boys did their workbooks and reading practice, and then took a swim in the pool. That was such a sweet time.
While we were on our 10,000 mile MOART (Mother of All Road Trips), we were stationary as often as we were on the road, so a combination of typical schooling combined with a glut of audiobooks and natural learning from the places we visited worked well.
On our current roadtrip, we are spending many hours on the road, and taking advantage of those by exploiting the audiobook and educational video options available. It really does depend on the trip and on how much is in one place vs. how much transit is involved. All of those things have to be considered when planning for a successful roadtrip curriculum.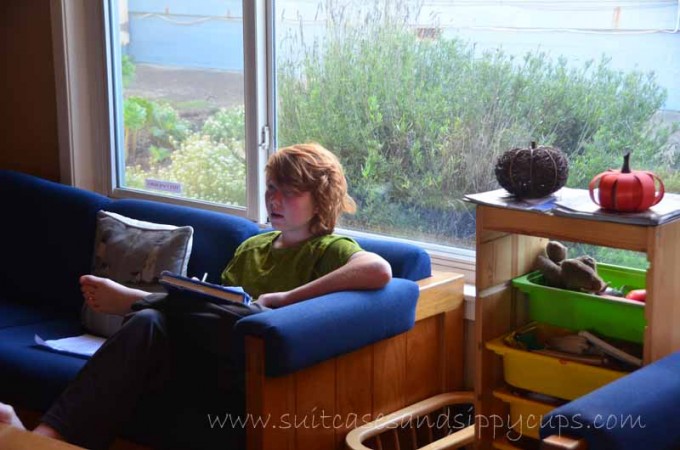 ~Doing a little creative writing at a hostel by the sea~
Success is All in the (Pre) Planning
The resources for learning while you are on the road are numerous that it is hard to choose which ones to use. Because I like to use natural learning opportunities when we are traveling, I make sure I have "studied up" on the places we will visit so I can casually interject the knowledge I want my kids to capture. When I am studying, I like to first check the website of the site that we will visit. Very often, there are field trip resources or teacher guides that are used by brick and mortar schools when they visit that work perfectly for my preparations. If I find something worthwhile, I usually go 'old school' and print it out, so that I can refer to it the night before and be prepared for class the next day.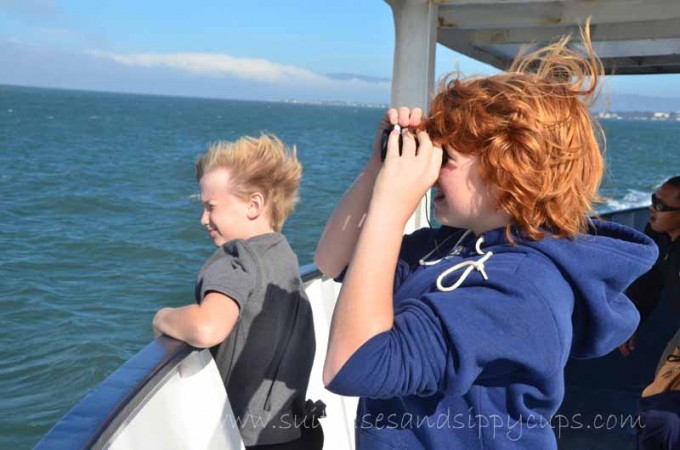 ~Learning about animal feeding habits on a whale watching tour~
Roadschooling Just Makes Learning Happen
Okay, I like to plan, and I think the planning increases the educational value available in any trip, but the great thing about roadschooling is that learning happens naturally. Much like the road itself, the opportunities to learn pop up around every corner and subjects that we weren't even expecting to cover are suddenly in front of us ready to be explored. As much as I love to make checkmarks on my lesson plan sheet, I love the unexpected opportunities to learn in real time even more. When we are immersed in the environment, with our synapses all a quiver with the newness of the surroundings, we don't even know we are learning. It just happens, and it is beautiful. Even more beautiful than lesson planning, I admit. So, while I will always feel like there is a time for worksheets and computers, there is also a time to just get out there and learn what the world throws at us. I am eternally grateful to be a participant in a life that allows me the opportunity to do both.
Resources for Roadschooling
Veteran roadschooler, and former public school educator Nancy Sathre-Vogel has combined her wealth of knowledge into a Roadschooling Guide that offers research about how the brain actually learns and how to practicallymake roadschooling work.
Join Roadschool Moms for a weekly podcast about making learning an adventure.
Check out Trekaroo's Roadschool Guides to help plan your next educational travel adventure.
Other Ways to Roadschool
Want to know how other families are schooling on the road? Check out these examples for just a sampling of how education and travel combine.
Roadschooling, Worldschooling, or Homeschooling by Wandering Educators
Roadschooling Kids with Special Needs by Travel Deep and Wide
Four Weeks of Homeschooling:How's it Going by Wagoners Abroad
How to Finance Roadschooling Adventures by Running in Vermont's Northeast Kingdom