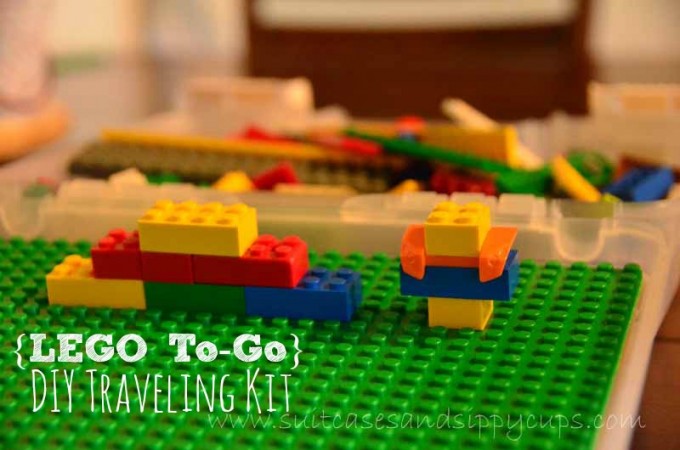 There are very few things, other than…ahem…video games, that can keep my children entertained for hours. The one special toy that has that magic touch is Legos. The open ended, focused play and creativity that these colorful little blocks afford makes them ideal for just the kind of quiet play we want to encourage during long car rides and plane trips. Unfortunately, tiny little plastic blocks don't travel well. With a lengthy road trip coming up, I wanted to see if I could take our favorite toy and make a bit more portable.
How to Create a Traveling Lego Kit Step by Step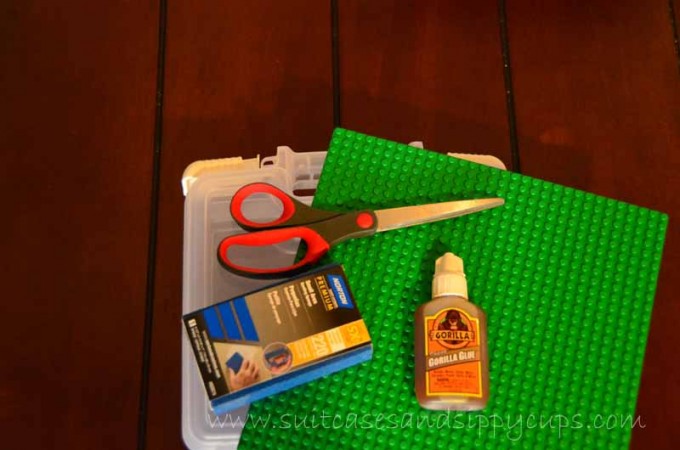 Supplies: Some sort of square box (I chose a plastic locking box from the scrapbook section of the craft store),arge Lego building plate, scissors, sanding block, glue, Legos.
Optional Supplies for Decoration: Foam letter stickers, Self-adhesive craft foam sheets, Sharpee.
This is one of those DIY projects that is really so easy that it doesn't need much explanation. Once you have gathered supplies, you can be done in about 5 minutes, not counting the 50 million interruptions you might get in the process.
Step One: Cut the building plate to fit the lid of the box. Since my lid was not perfectly square and I only had one building plate, I made a paper template to be sure it fit before I cut. Using my paper template, I measured the section of the building plate and cut with a simple pair of kitchen scissors.

Step Two: Sand the edges to remove any rough pieces of plastic that occurred while cutting.
Step Three: Adhere the building plate to the lid of the container. I initially intended to use Gorilla Glue, but because my box is clear, I used super glue instead.
Step Four: Add Legos and play on the go.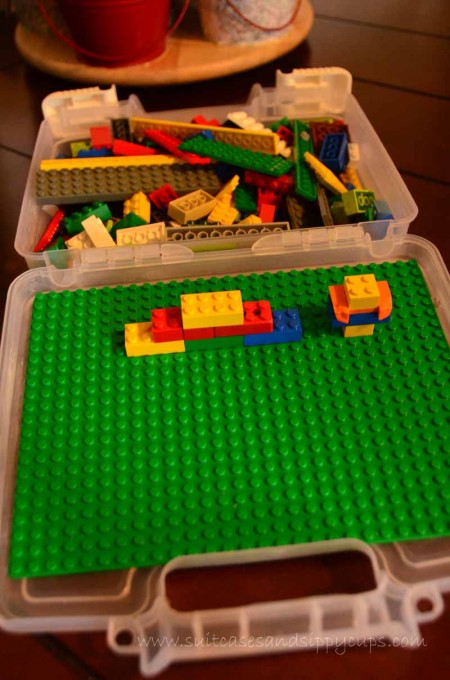 Steps for Decorating the Outside of the Box
I wanted add a little "cute" to my traveling Lego box to make it more fun, but these steps are certainly not necessary to make this kit usable.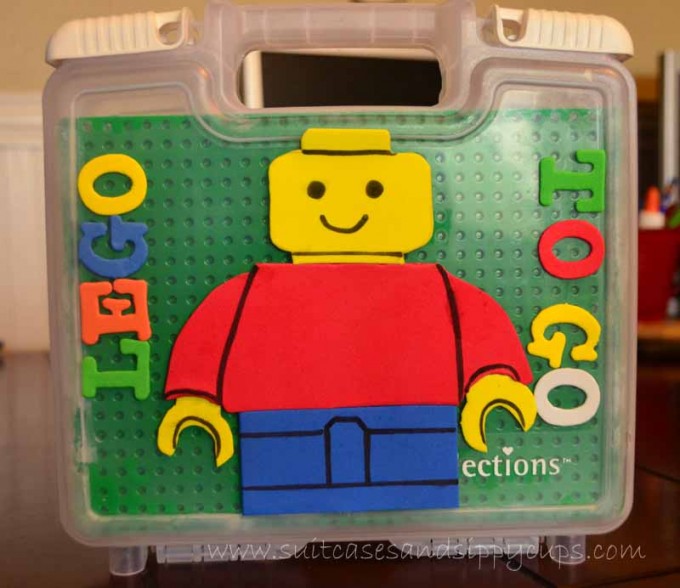 Step One: I wanted to add a Lego Mini-Fig guy to the front of my kit, so I printed an outline of Mr. Mini-Fig to the right size for my kit.
Step Two: Cut the pattern into pieces to use as templates for the Lego Guy.
Step Three: Trace each piece of the template onto the appropriate color of self-adhesive foam. Cut out each piece.
Step Four: Use a Sharpee marker to add facial features and details to each piece.
Step Five: Adhere the pieces onto the front of the box.
Step Six: Add foam letters to label the box.
~Welcome to Travel Tips Tuesday!
READ THIS FIRST: The purpose of Travel Tips Tuesday is to build a community that encourages sharing and support among travel bloggers and writers. As your hosts, we don't want to create a list of rules for participation, but we ask that you use the "Golden Rule" whenever you link up to the carnival. We would be thrilled if you would

add a link to one of your hosts

in your post, or give us a shoutout on social media, and we will do our best to reciprocate. In the spirit of community, it would be ideal if you visit some of the other blogs and keep the travel tip love circulating.
Posts on both Suitcases and Sippy Cups and Walking on Travels will go live at 11pm EST on Monday night. You only need to link to one of these sites to have your link show up on both.
Spread the word via Twitter using the hashtag#TravTipsTues
Please note: any and all spam links will be deleted immediately to uphold the integrity of this blog carnival. This is not the place to post advertising or sponsored links. Please contact the hosts directly with these types of inquiries.