When planning a beach vacation, the beach is the star of the show. It's all about the beach and that means finding a place to stay that is convenient to the beach. Oh, who are we kidding? We want to be right on the beach! Add kids to the mix and it's all about the beach, and the family friendly amenities. San Luis Resort in Galveston wins the family-friendly, beachfront prize, but San Luis isn't just family friendly, it was made for families. Everything from the heated tropical retreat swimming pool and grotto to the ice cream bar in the lobby begs families to choose the resort for a place to relax and recharge when they aren't building sandcastles and catching waves.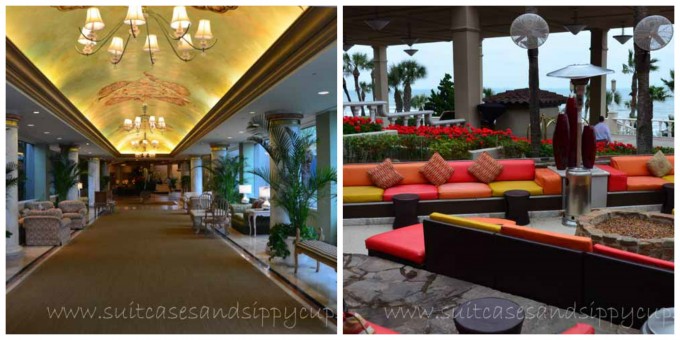 ~Luxurious dntryway and adult only seating areas~
A Room…with a View
Warm browns and inviting greens reminiscent of the rainforest are waiting in each of the newly redesigned guest rooms. While the colors are appealing and create a welcome environment, it's the ample space that families will really appreciate. Each room also features a private balcony with ocean views. Sunsets from the patio are simply breathtaking. Go ahead and tell the kids to watch a pay-per-view movie with mom's blessing, while you kick back on the patio and watch the sun set. It will be worth every penny of the 15.95 charge.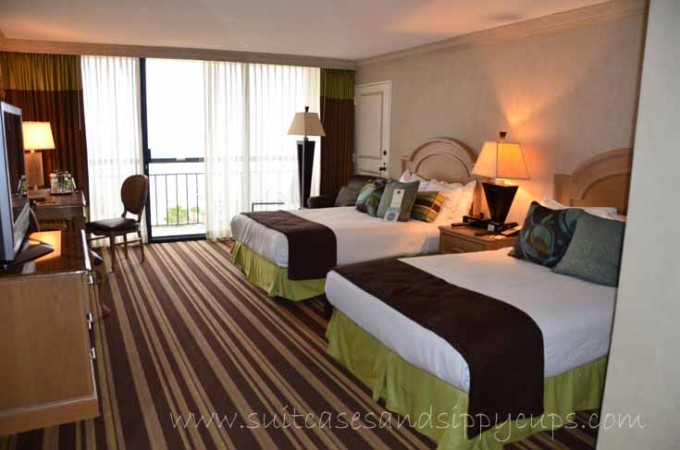 ~Spacious and welcoming rooms~
Location, Location, Location
If the proximity of the beach was the only thing the San Luis had to brag about, that would be plenty, but the location is ideal in so many ways. The hotel is just steps from the beach, with outdoor showers to rinse off the sand when you return. A beach bicycle shop is located in the parking lot for a convenient and unique way to explore the beach. Just next door to the hotel are the Rainforest Café and the River Adventure Ride, two stops that the kids will be begging to try. Other shops and restaurants, too many to name, are within easy access of the hotel.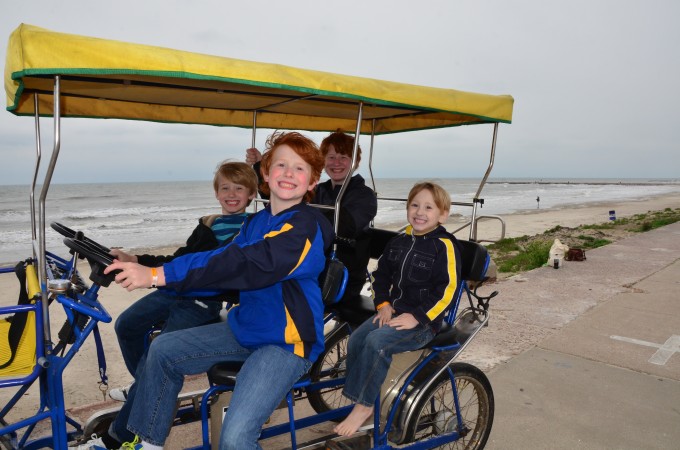 ~San Luis is ultra-convenient for the beach and all the beach fun~
With the ocean and Rainforest Café to distract, it is easy to overlook a wild and wacky location detail of the San Luis Resort. Just underneath the swimming pool oasis sits a secret WWII bunker designed to protect the coast of Texas from German submarines. Because of the large amount of concrete used to build the bunkers, it was determined that it would be cost prohibitive to remove them, so the resort was built atop the massive structure. These bunkers are still used occasionally, most recently as a shelter for the mayor and other officials during Hurricane Ike.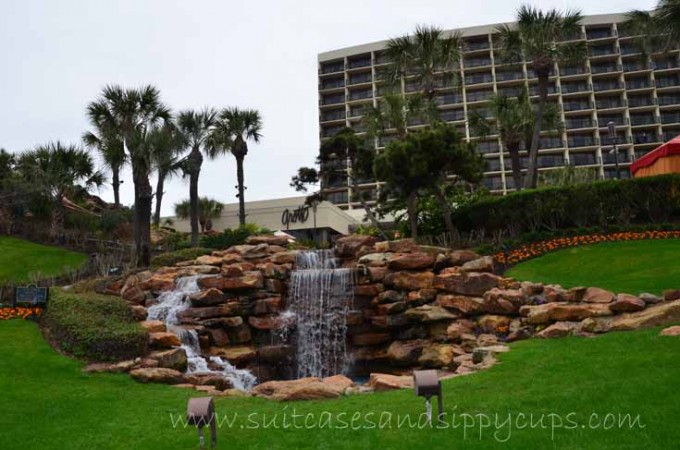 ~Resort waterfalls cover up the bunker underneath~
Kid Bait and Other Family Favorites
If it weren't for the ocean right outside the window, the tropical pool oasis at San Luis would probably take top billing. In fact, during our slightly chilly visit, the heated pool might have just edged out the beach competition. Not only was it heated, and not salty, but the pool complex sits right next to the ice cream shop. That's pretty hard to beat in the eyes of a ten year old. Ice cream aside, the pool complex is a true feast for the senses. Bright red and yellow pillows are poised ready as an invitation to relaxation on giant lounging couches and cozy cabanas. Brilliant blue water flows from an adult only bar pool to a playful kids' area. Most of the kids flock immediately to the waterslide, a genius design that is tucked naturally into the rockscape and mingles with the waterfall that cascades over a hidden grotto. More waterfalls connect the hot tub with the surrounding lush landscape, all of which looks out onto the ocean. Yes, it is paradise, right next to an ice cream shop. (Pssst! They have truffles, too!)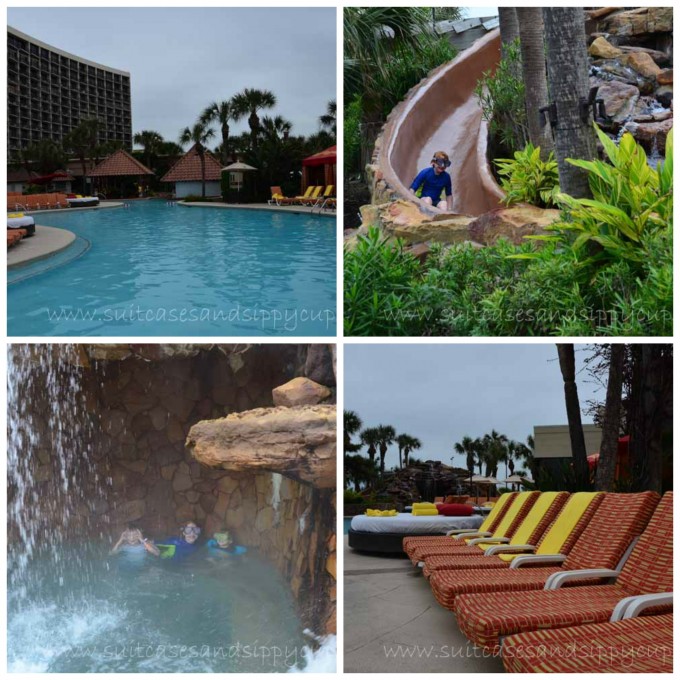 ~San Luis Resort offered complimentary lodging during our stay in Galveston. They did not require that I express a particular viewpoint and all opinions are my own.~