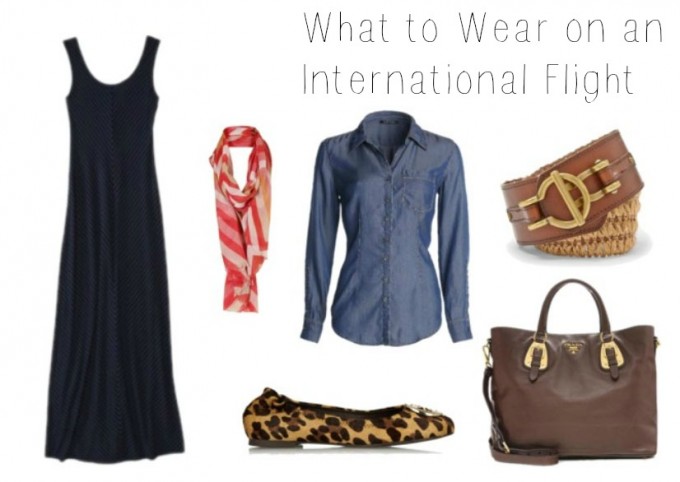 International travel is the height of glamor. Getting there is not. What they don't tell you when you are looking at those glossy brochures of Paris and Barcelona, is that it will take you 18 hours and two layovers to get to your destination. You will not shower. You will be cramped. You will be forced to try to sleep in a seat that only reclines two inches. Of course, it's all worth it when you land in your exotic, overseas destination. Keep in mind, though, you will land wearing the same clothes that you were wearing when you left home 12 hours and two layovers ago. Clothes for long-haul, overseas travel must be chosen carefully to give you the most comfort and usability. This is not your average outfit. These clothes need to perform.
The gold standard for appropriate airplane attire, particularly clothing that must cross countries and time zones, meets these minimum requirements:
· As comfortable as possible, like your favorite pair of pajamas BUT….
· It can't look like pajamas. People at the airport: This is not Walmart. You cannot wear your flannel bottoms and fuzzy slippers. Put on some real clothes.
· Wrinkle free, breathable fabric
· Dark colors, in case of spills
· Comfortable (read: no heels) shoes that easily slip off and on
· Layers for temperature comfort
For 15 years, I have had one outfit in my closet that is earmarked for overnight airplane travel. These clothes rarely get to come out of the closet, but when they do, it is guaranteed that they are going somewhere special.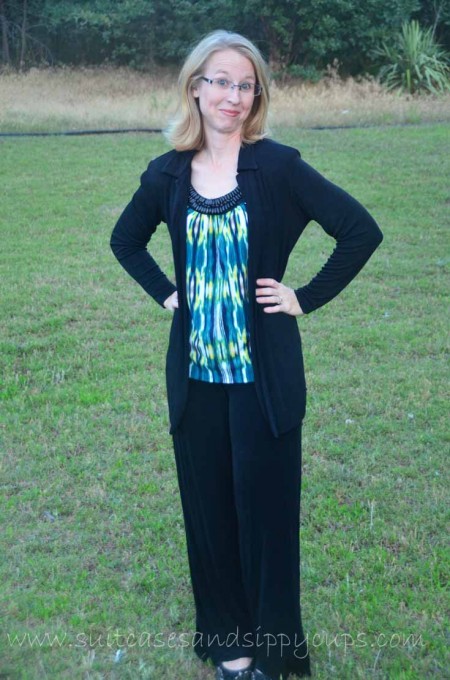 ~This is my airplane outfit: Chicos Travelers Pants, Multi-color Chicos Tank, Chicos Travelers Long Cardigan.
It meets and exceeds all the long-haul traveling requirements.~
If you are familiar with Chicos, I can already feel you judging me. If you aren't familiar with Chicos, you should know that "Chicos" is actually Lithuanian for AARP approved. Or, to be more specific, it's the old lady store. Yes, the Chicos shopper is fashionable and even flashy, but she is older than 50. If you go in there and you are under the age limit, they sweet sales ladies will either smile and preemptively assume that you took a wrong turn and direct you towards The Gap, or they will ask you what size your mom wears.
Even though Chicos is clearly rated M for Mature, they have a siren song that called to me-namely comfortable, wrinkle free clothes that travel effortlessly. This collection of clothes is even called "Travelers" to make it clear that this is where you purchase your uniform for travel. In my 20s, it was easy to ignore the mature marketing and buy clothes that made sense. I needed stretchy pants that didn't wrinkle and they provided, and really, there was nothing to worry about. I was in my 20s. You can wear anything in your 20s and nobody mistakenly overages you. And that, my young friends, is how the Chicos Travelers* collection became my go-to airplane outfit.*
*Thanks to my Chicos purchases in my 20s, I now regularly get magazines NOT in my demographic in the mail and have for a decade. Don't tell me your choices in your youth don't have lifelong consequences. I have a stack of magazines with Depends coupons in them to prove otherwise.
I rocked along, wearing my chosen outfit with style (more or less) and pride. For years, they were just clothes. They served their purpose and met my needs. That is, until that day when I knew, deep down, that if I put on that outfit one more time, I was making a choice to merge permanently into the old lane. It wasn't just that the look aged me prematurely, although it did. It was deeper. I was standing on the precipice of the slippery slope to frumpy. It was like I was punching my card for permanent residence with the Golden Girls. And not that there aren't fun times with Blanche and Dorothy on the lanai, but, be real, everyone there is wearing elastic pants with a big ol' girdle.
I will not go gently into that good night. Rage, rage against the dying of my metabolism. Translation: I am not going to help out the eternal march of time by making choices that make me look older. More honest translation: I am not aging gracefully. Not now, maybe not ever.
Tossing my pennies into the fountain of youth means eschewing carbs and talking myself out of Botox on a near daily basis. It also means, for the love of Metamucil, that I have to find another go-to airplane outfit, one that doesn't scream "Dorothy Zbornak is my style icon."
Just because I was rethinking my airplane attire didn't mean I had to throw out my standards. I still wanted comfortable, wearable clothes that would look just as good when I got off the plane as when I got on the plane. Dark colors and wrinkle free fabric were still required. I just wanted to add some youthful style-and by youthful, I mean I want to look my age, not two decades advanced (or worse, the attempt to look a decade younger).
Option 1: The Maxi Dress
Maxi dresses are pretty much my all-time favorite clothing invention. They are the ultimate lazy (wo) man's outfit. They offer full coverage-hello, skipping the razor today, and eliminate the need to tug at a hem or completely keep your legs together. But, they are stylish, and even elegant and make getting dressed a breeze. No need to agonize over matching top or a bottom; the work has been done for you.
Maxi dresses are also perfect long-haul clothing options and meet all the requirements: comfortable, long wearing, and cute.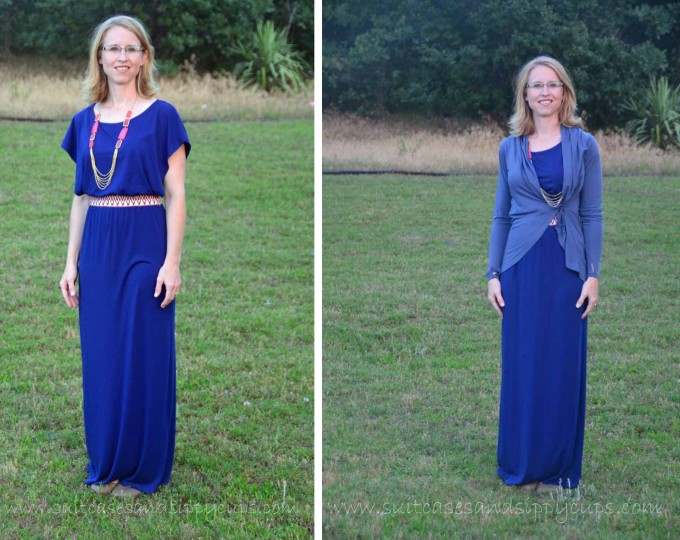 Caption: Bright Navy Maxi from Charming Charlies, Coral chain necklace from Charming Charlies, Taupe and Coral Ballet Flats from Old Navy, Grey-Purple wrap.
Pros: One piece, no fuss outfit. Non-binding and very comfortable. Easy jewelry for breezy passage through security.
Cons: My husband calls me Pocahontas when I wear this dress. Who asked him, anyway!?!?!
Option 2: The Maxi Dress Redux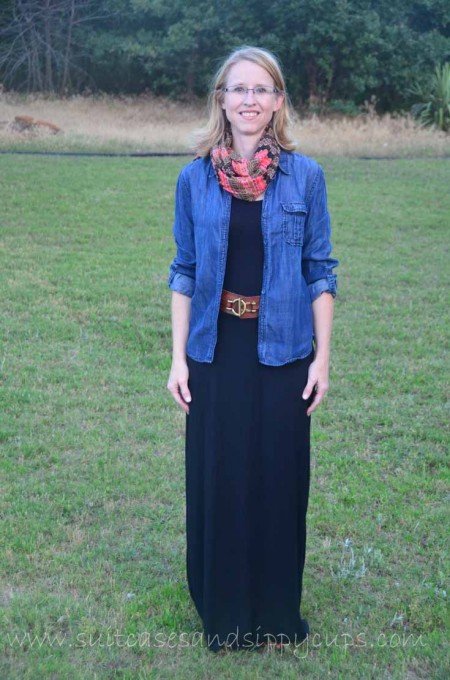 ~Black Tank Maxi Dress from Target, Denim shirt from Coldwater Creek, Leopard Ballet Flats, Wide Brown Buckle Belt from Fossil, Coral Scarf from Target~
Pros: Cute and comfortable, and comprised of basic pieces that can be mixed and matched with other outfits. Versatile for the varying microclimates that occur on an airplane. Includes a scarf, which is the savvy travelers best friend.
Cons: Scarf, belt, and maybe shirt (depending on the relative crankiness of the TSA) will all have to be removed at security.
Option 3: The Palazzo Pants
Palazzo pants are a tricky fashion item. They are comfortable, usually have a soft waistband, and can be dressed up or down. But there is always the fear that you will stray one direction- and look like you are wearing your pajamas, or the other direction-and look like an extra from the Fresh Prince of Bel-Aire. The goal is to get pants that fit well, aren't too flashy, and don't have so much fabric that they could double as an actual parachute.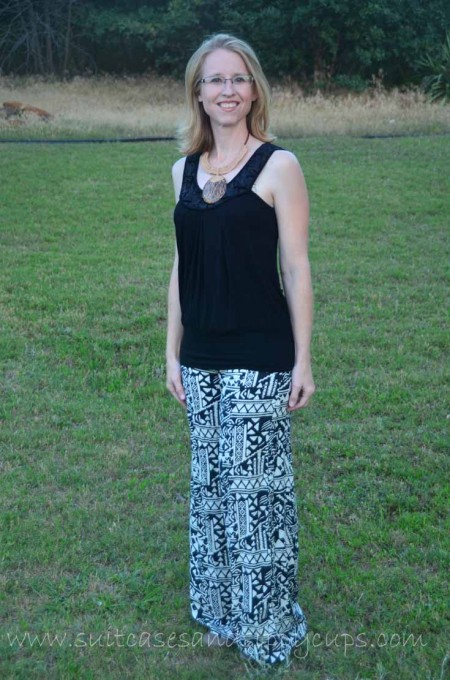 ~Black and White Tribal Palazzo Pants from Target, Elastic Waist Tank from NY and CO, Taupe and Coral Ballet Flats from Old Navy, Coconut Shell Necklace from Novica.~
Pros: I feel like myself in this outfit-only slightly more put together. I love that it looks great with my Novica accessory because that necklace makes me happy and it is metal detector friendly.
Cons: The pants are a bit wrinkly and may not travel perfectly. I will also need to add a second layer for warmth and I am tempted to grab that Chicos Travelers jacket and throw it in my bag. Is the outfit cute enough to balance out the obvious old lady overcoat? Maybe it's best not to even flirt with the idea.
Welcome to
Travel Tips Tuesday!
READ THIS FIRST:

The purpose of Travel Tips Tuesday is to build a community that encourages sharing and support among travel bloggers and writers. As your hosts, we don't want to create a list of rules for participation, but we ask that you use the "Golden Rule" whenever you link up to the carnival. We would be thrilled if you would add a link to one of your hosts in your post, or give us a shoutout on social media, and we will do our best to reciprocate. In the spirit of community, it would be ideal if you visit some of the other blogs and keep the travel tip love circulating.
Posts on both Suitcases and Sippy Cups and Walking on Travels will go live at

11pm EST on Monday

night. You only need to link to one of these sites to have your link show up on both.
Spread the word via Twitter using the hashtag

#TravTipsTues

Please note: any and all spam links will be deleted immediately to uphold the integrity of this blog carnival. This is not the place to post advertising or sponsored links. Please contact the hosts directly with these types of inquiries.