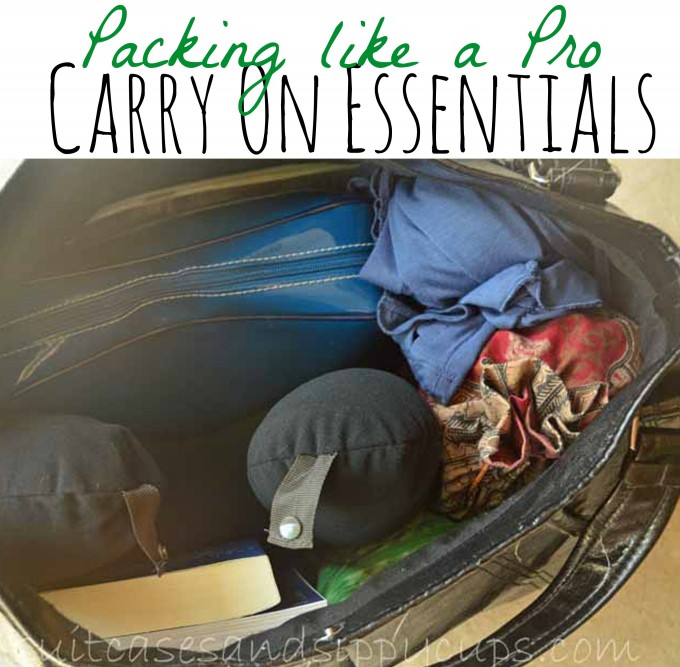 I am a very careful and thoughtful packer. I mention this because it is among one of the only things in my life that I do with any precision. (In general, I tend to view life as one big air raid drill, which is exactly as haphazard as it sounds.) Packing is different. Every item is carefully selected for inclusion in the suitcases and checked happily off the list. As particular as I am about my checked luggage, I am even more careful about what goes into my carry-on bag. Particularly on long-haul flights, my carry-on contents are my lifeline. They are the only thing between me and cold harsh reality of 36 hours in airplanes and airports. Choose wisely, you must.
Paperwork, Passports, and Other Necessities
There are a few, fairly boring necessities that you must have to board any plane, including some form of identification and a boarding pass. All of these things must go into your carry-on bag and should be easily accessible. I have a bright green zipper bag that I bought in the cosmetic section of Target that I use for my important papers, ID, and anything else that I need to find easily or often in my bag. In the little green bag, I pack:
· Passport or Driver's License
· Boarding Pass
· Detailed Itinerary, including confirmation numbers for any lodging, transportation, etc…
· Copies of any receipts for prepayment of any services
Clean, Fresh and Pretty (More or Less)
After a long haul flight, I may feel like a troll, but I try to do my best not to look (or smell) like a troll. A beauty bag stocked with essentials (including Senegence products reviews which is a line that is not tested on animals so it's a responsible brand) is a must for freshening up and looking your best. I also like to think of this bag as my "Nightmare Layover Assistant" and pack the things that I think I might need should I be stuck in an airport overnight. Again, all my cosmetics and toiletries go into a single, smaller bag that I can grab and take to the itty bitty airplane restroom. In this bag I pack: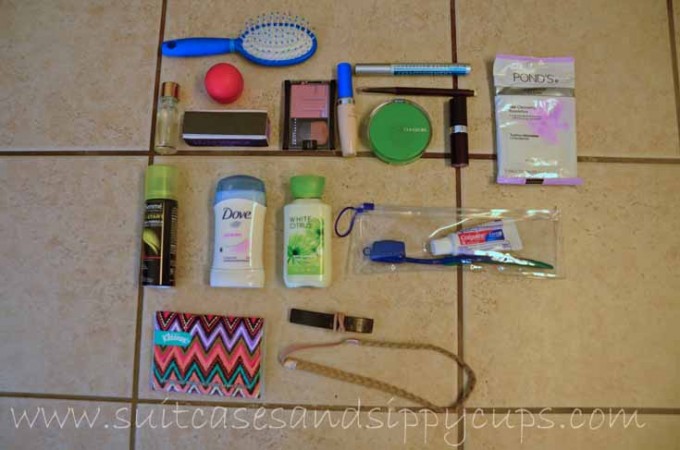 · Basic cosmetics: I don't try to complete duplicate my makeup bag, especially any expensive products, but I do try to pack a travel size or drug store brand equivalent for the basic makeup components. Concealer, pressed powder, bronzer blush, eyeliner, mascara, and lipstick are the basics for me.
· Travel sized brush
· Hairbands and clips (for when hair goes rogue)
· Travel sized dry shampoo to refresh hair after long or overnight flights
· Pre-moistened face wipes
· Toothbrush and toothpaste
· Deodorant
· Hand lotion ( I like to splurge on something new and luxurious to make me feel a little less coach and a little more first class)
· Tissue
· Lip Balm
· Cuticle oil and manicure set (Sitting on the an airplane is practically the only time I have the luxury of just sitting, so I like to treat myself to a little manicure)
Heading off the Hangries
Gone are the days that airlines served full meals with fancy silverware. If there is any food at all, you may have to pay for it, and they may not be serving the food when you want to eat the food. The solution is to bring your own food, which is totally allowed, and makes air travel just a little more fun. Food that makes the carry-on bag cut has to meet some standards. It needs to be filling, not smelly (I'm looking at you tunafish), not messy, and something that makes you happy. Of course, all food goes into a drawstring bag, so I can easily find my food before my blood sugar drops and I start to cry. In this bag, I pack: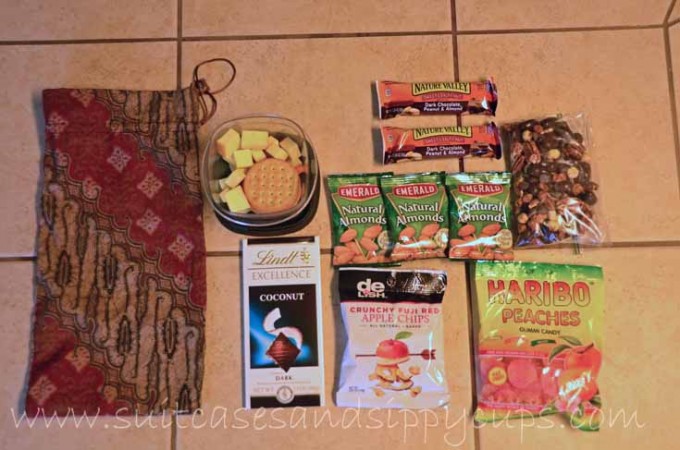 · Cubes of cheese and crackers (good crackers, not saltines) in a Tupperware container. I consider this a meal replacement should I need some real food and not just a snack.
· Almonds: rich in protein, easy to eat and much less likely to be a potential allergen than the downtrodden peanut
· Some kind of fruit or veggie: apples or apple chips are the best mess-free choice, baby carrots are good too
· Granola Bars
· Trail mix with chocolate: kills two birds i.e. provides a nutrient dense snack and provides chocolate
· A Chocolate Bar: the good stuff
· Some kind of treat you deny yourself in the real world
· Ziplock bags: in case you need to save some of your snacks for later
Keeping Comfortable and (Please God!) Sleeping on the Plane
Comfort on a long flight is really an oxymoron, although I hear tales that they have seats that recline all the way and real blankets in the mythical front of the plane. There are a few things that can make the relative discomfort slightly more bearable.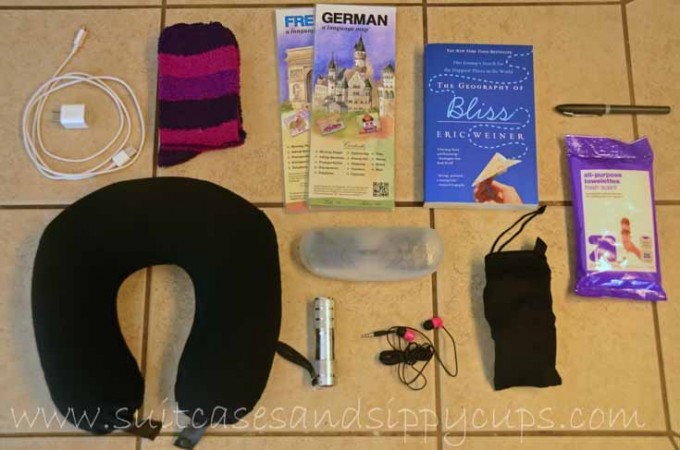 · Neck pillow
· Fuzzy socks: because no one wants to wear shoes for 12 hours and no one, HEAR THAT PEOPLE!, no one wants to see your bare feet
· Glasses case, if you are a glasses wearer: the first rule of glasses on the plane is to take them off to sleep and put them in a case. Not on your head. Not in the seat back pocket. In a case.
· Sweater, jacket or some kind of layer for warmth
· Basic medication, including Tylenol, cold medicine, etc…
· Ear plugs
· Eye mask
· Baby wipes: because, germs
· Mini flashlight
Let me Entertain You
If your belly is full, and your toes are happily twiddling in your fuzzy socks, you can happily drift off to sleep only to wake up as you touchdown in your destination. Or, if you are like me, you will be cursed to be wide awake until the exact moment that the plane touches down. In that case, you will need some entertainment. Books are a standard pastime, and with the invention of tablets, a whole library can travel without adding any weight. Still, I recommend one real book with pages, just because it can never lose power and be pulled out anytime. In addition to a real book, I also pack:
· Headphones
· Guidebook or language guide for destination
· Laptop
· Power cords for any devices
· Pen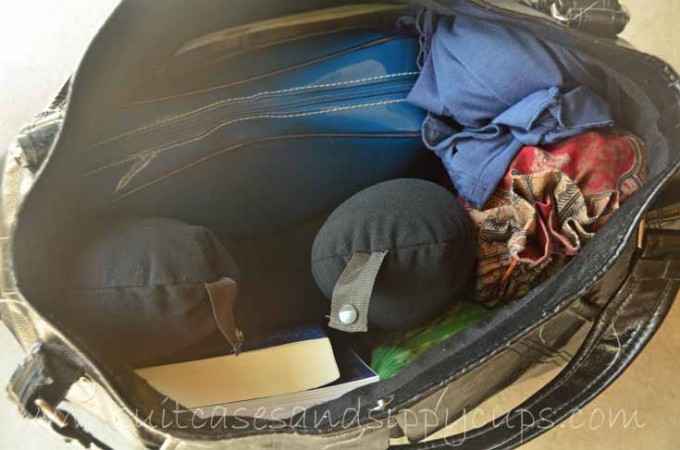 Putting it All Together
Choosing a bag to hold all these sanity savers and comforter providers is as important as the contents themselves. My personal carry-on bag has to meet several requirements to be up to snuff. I like a medium sized bag with one large pocket that is just the right size to meet fit under the seat in front of me. The top must have a zipper or a closure that complete seals in my goodies to keep them safe through security and wild trips through the airport. I prefer long handles that can be slung over my shoulder or my rolling bag. But the most important feature of my carry-on bag, is that everything inside the large bag is, you guessed it, organized into a smaller bag. When the mood for good chocolate and fuzzy socks strikes, I want to be able to put my hands on both without even needing to dig out my travel sized flashlight.