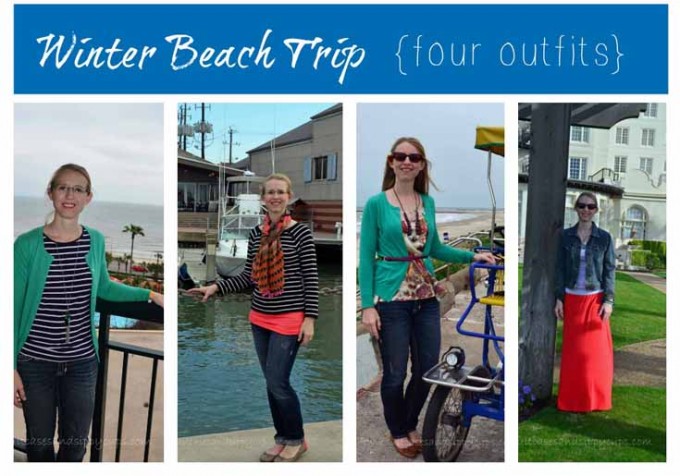 Packing for a beach trip is usually not a huge challenge. Grab a couple of shorts and t-shirts, throw in a pair of flip-flops, swimsuit and it's done. Just don't forget the sunscreen and you are good to go. Packing for a winter beach vacation is a little bit harder (and slightly depressing). For a recent beach trip during the winter than never seems to end, I found myself looking at a forecast that was nothing but chilly weather and cloudy skies. While the sand and surf landscape seemed to scream for bare shoulders and toes, the weather was demanding that I put on some layers. As I longingly eyed my summer shorts and flip-flops, I determined that there must be a way to keep the summer fun in my wardrobe while still staying warm in the cool weather on the beach.
Five Tips for Packing for a Winter Beach Vacation
1.Layers. Even during the summer, a little bit of layering is appropriate for the beach. When the sun goes down, it gets chilly by the sea. This goes double for cold weather beach trips. Dressing in layers lets you have the most control over comfort in the varying temperatures that the ocean breeze and the weather throw at you. Best of all, on the off chance that the weather gets warm enough, you can peel off the layers and soak up the sun.
2.Pair summer favorites with winter staples. When building your layers, think about adding a base layer from your summer wardrobe that has a fun print to bring out the warm feelings in the cold weather. Add an outer layer like a cardigan for warmth, but allow that summer fun to peak through.
3.Add a pop of summer color. Nothing says beach wear like bright bold colors and splashy patterns. You can still give a nod to summer fun with your color choices in winter beach wear.
4.Use Accessories to Tie Your Look Together. Pairing summer clothes with winter clothes often needs a little transition, and that's where your accessories are your best friend. A fun patterned scarf or necklace can tie the whole mixture of colors and textures together and make it fit for the beach.
5.Choose shoes that make sense. Foot wear on the beach in winter is tricky. Even if it's really cold, it's hard not to kick off the shoes and enjoy the sand, so you want to choose something that is easy to take off, but warm when it's on. Ballet flats or boat shoes are both good choices for keeping feet warm, but free enough to take a chilly run through the waves.
Taking My Own Advice: Four Outfits for Winter Beach Vacationing
Outfit #1
Of the four outfits, this one is the least inspired. The navy stripe does give a nod to the nautical feel of the beach, and I have the bright colored cardigan for a fun, yet warm feeling. Still it was mostly just a throw it on and go kind of outfit. I spent most of that day in the car, so inspired wasn't totally necessary. The uninspired car feeling also seems to apply to my hair here, as well.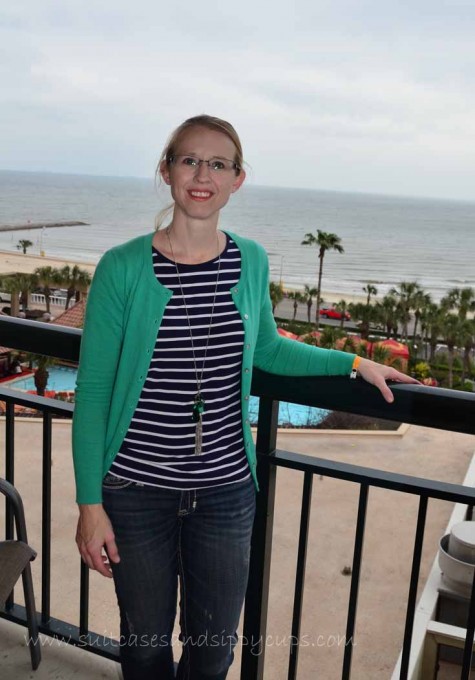 Outfit #2
This hot coral skirt is a summer staple that I love because of the fun color. For a cold beach trip, it seemed like it would work to keep my legs from freezing in the wind. I usually pair it with a tank top during the summer, so I just added a jacket and some turquoise accessories. The day I wore this was the one day the sun came out and it did warm up enough for me to take off the jacket, however briefly, and remember what they sun felt like on my shoulders.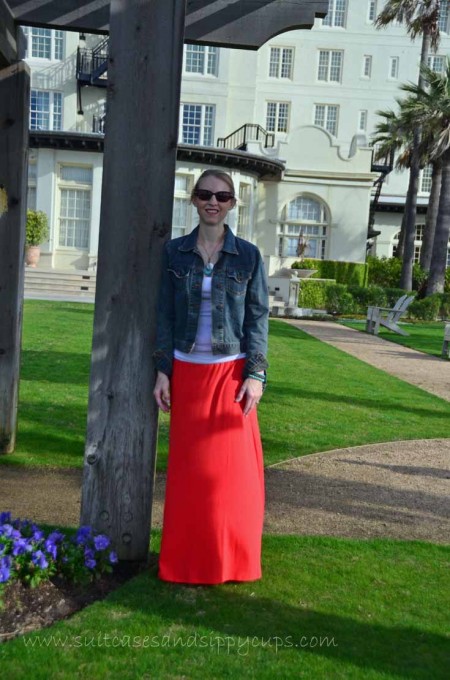 Outfit #3
This black and white shirt has been a favorite all winter because it is super thick and easy to pair with warm jackets and chunky scarves. To summer it up, I grabbed a long tank (again in hot coral) and a pair of tan and coral ballet flats from Old Navy. I know both of these pieces will be getting plenty of wear when summer actually rolls around, but I was thrilled with how they made my favorite shirt from winter blend into spring. By great fortune, I found this scarf at the thrift store and the colors perfectly tied the black and coral together.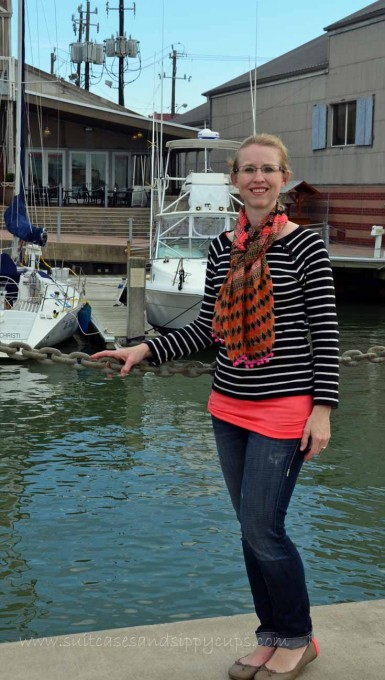 Outfit #4
This floral camisole is one of my favorite summer pieces. It just feels so flirty and carefree, and as a mom of many, I rely on my clothing to give me that kind of feeling these days. I almost hung my favorite flirty shirt back in the closet when the weather turned cold, but instead I decided to find a way to warm it up. I added a cardigan in a fun color and some contrasting purple accessories to complete the look. Not only did it work for the beach, I have a new favorite spring into summer outfit.