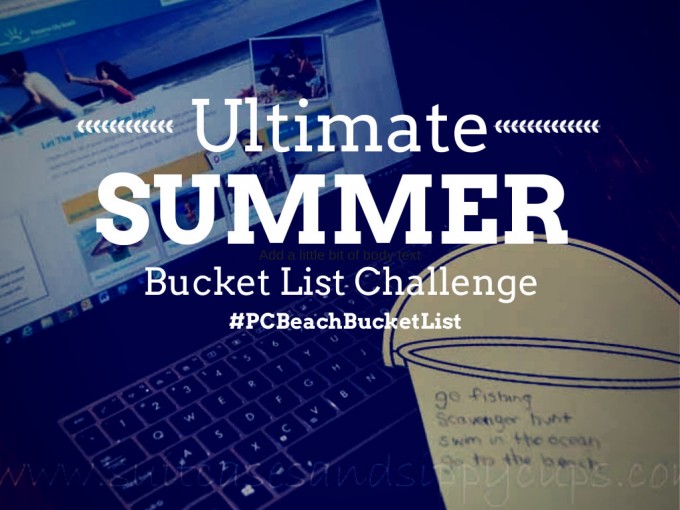 It starts as just a piece of paper and a pencil, but when combined to make a list, it becomes a living organism. Once something is written down it takes on a life of its own and becomes tangible. Just the simple act of taking an idea out of your head and putting it on paper makes it demand attention. It is much harder to ignore, and oh- so- satisfying when it is completed and checked off the list.
I am a huge believer in setting written goals and using that as a motivation to live life fully. Thanks to Hollywood, this concept has become known culturally as the "Bucket List." This term is somewhat problematic, particularly because I am not planning to kick the proverbial bucket anytime soon, but I am completely enamored with the idea that something as simple as a few words scrawled on a piece of paper can compel us to live more intentionally.
I think this is a particularly important lesson for children to learn and practice as they grow up. As the school year winds down and summer is upon us, I can see my children eyeing their electronics with a glassy eyed glee. If left to their own devices, my kids would only be fully experiencing the high score on Angry Birds this summer. A Summer Bucket List is just what they need to be practice the art of dreaming big and not letting the days slip away. Simply, I want them to experience the important joy of prioritizing their life and the reminder that if they want to achieve the things on the list, they can't spend time and money on things that get in the way of those goals. *Ahem…video games…ahem.*
These are some pretty big-time life lessons for kids who just want to rack up video game points, so I wanted to create a fun way to get the kids involved in making their own summer bucket lists. Job number one was to loosen up their creative juices and let them brainstorm their ideas. Even though I definitely wanted them to dream big, I also encouraged them think small. Bucket Lists aren't only for the huge, once-in-a-lifetime moments, but also the simple things that might otherwise be forgotten if we are not purposeful about them.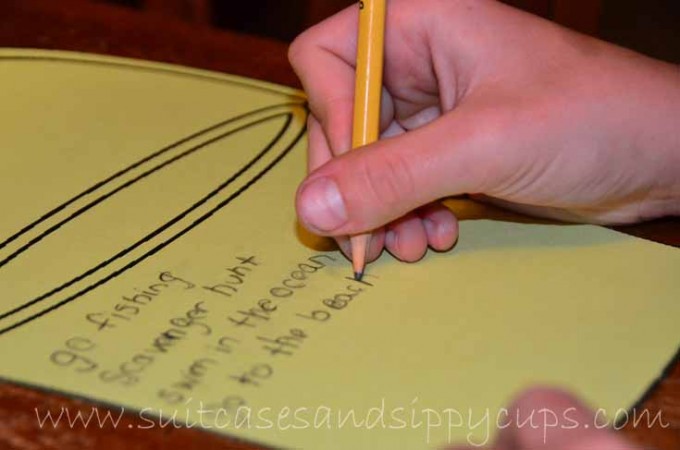 Step two was to create a fun way for the kids to record their summer bucket list ideas. Of course, if you are thinking about summer and buckets, the imagery of a sand pail is pretty obvious. A printed sand pail was given to each child, and with pencil in hand, they were off to summer dream planning. It was entertaining to watch them work, knowing that their personalities had great bearing on their list making. Some of the kids were all about volume, while others were more calculated in their choices. When they got stuck, I encouraged them to think about what experiences "scream summer" to them and that got a few more items on the list.
They were all winding down-and losing interest-in the Sunday afternoon interruption to their busy video game schedule, so I pulled out the bucket list big guns: Panama City Beach Bucket List Challenge. Panama City Beach has invited guests to visit the beach and check items off their summer bucket list with the help of a list of great ideas and prizes for completing the challenge. I have been invited by Travel Mindset to complete the PCB Bucket List Challenge, but I have been keeping this delightful detail secret from my kids-until now.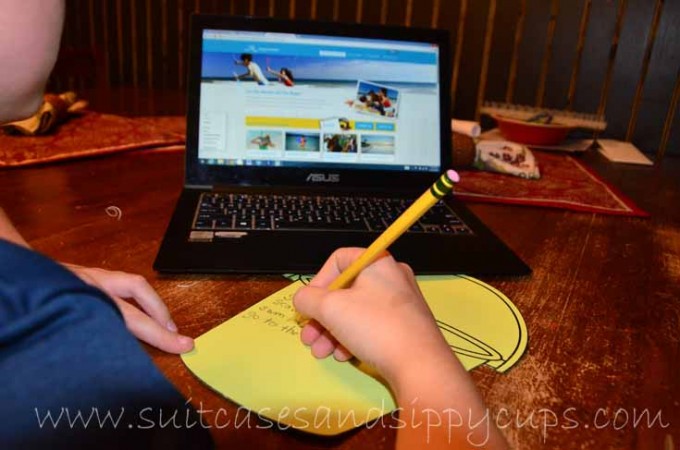 With one look at the Panama City Beach list, the pieces began to fall into place. Not only were we going to be able to check things off of our lists, but we were going to the beach. My littlest guy, with the abandon that only little people can muster, jumped straight up in his chair and began to yell "The beach! I love the beach!" His excitement escalated into an impromptu song and dance ode to the beach. Meanwhile, the three older boys were all business- the business of combining a trip to the beach with an epic bucket list.
As they compared their homemade lists to the list on the website, they were excited to see that some of the things already on their list were things that we could do while in Panama City Beach. The list also served as an inspiration for new ideas and bigger ideas. My eight year old already had fishing on his list, but when he discovered that he could go deep sea fishing in PCB, he added a few words to his list and upped the ante. My older son, who was much more selective in his bucket list choices, was inspired by the idea of spending the day collecting shells on Shell Island. I never would have guessed that this would be something that he would want to do, and was grateful for the moment to step back and see summer through his eyes.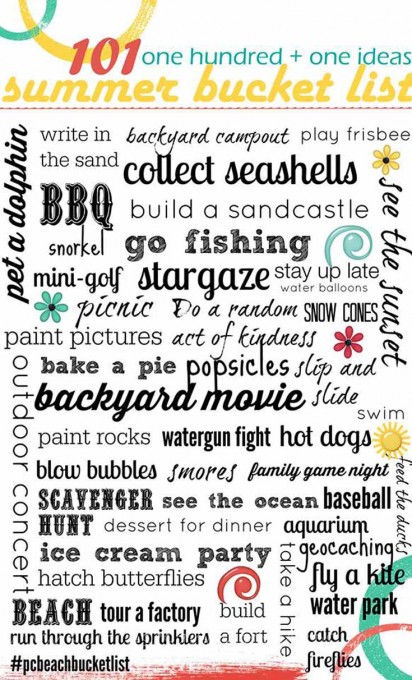 ~A printable graphic of the best of our Bucket Lists~
In a few minutes, the lists had multiplied right along with the excitement, but it was the inspiration that had grown most of all. In the space of a few minutes, a bunch of kids who were only dreaming of high scores and sleeping late, had made some plans. By writing those ideas down and dreaming of what could be, they had become committed to those plans. I wanted to honor their excitement in a tangible way and create a method to keep the excitement alive all summer long.
Breaking out the foam letters and metal pails, we created a mini bucket for each child to keep in their room. On clothespins, we attached paper strips with items from their bucket list and clipped it to the side of the bucket. As the complete the items, they can satisfactorily drop them in their bucket as proof of their experience, and even add new pins all through the season.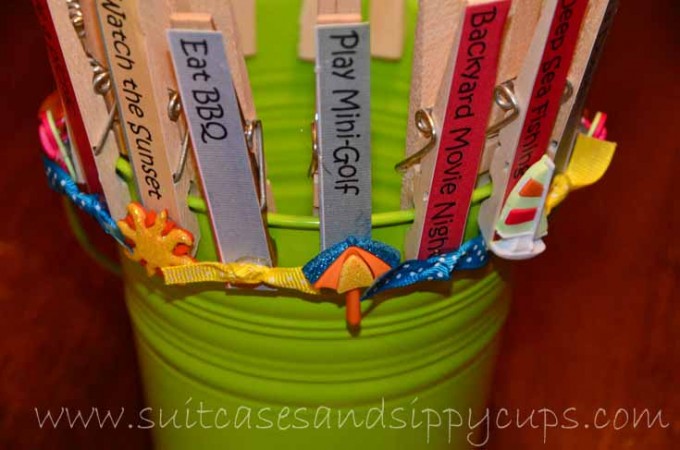 ~Personal Bucket Lists for Each Child to Keep Track~
While I wanted to create something personal for each child, I also wanted something for the whole family. Since I have dabbled with upcycled cookie sheets in the past, it seemed natural to create a magnetic board to help us keep track of our summer bucket list. Using scrapbook paper and a roll of magnetic tape, I easily created a moveable list that will keep us motivated and excited about finding ways to make summer memorable.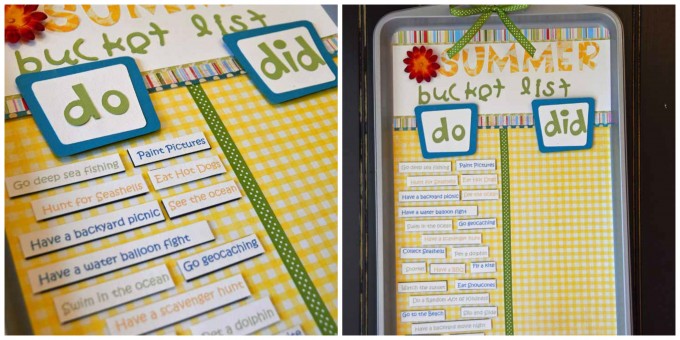 We'll be dropping pins in buckets and moving magnets from the "do" to the "did" column all summer long. In those simple acts, we'll also be making family memories, and practicing the fine art of living with intention. And we'll be kicking it all off with some sand between our toes and sunsets melting into the ocean.
Resources for Creating your Own Bucket List
Print a copy of our summer bucket list to inspire your family to dream big and do big all through the season.
See the complete tutorial for making your own pail and clothespin bucket list.
Get the step by step guide to creating a magnetic bucket list from scrapbook paper and cookie sheet.