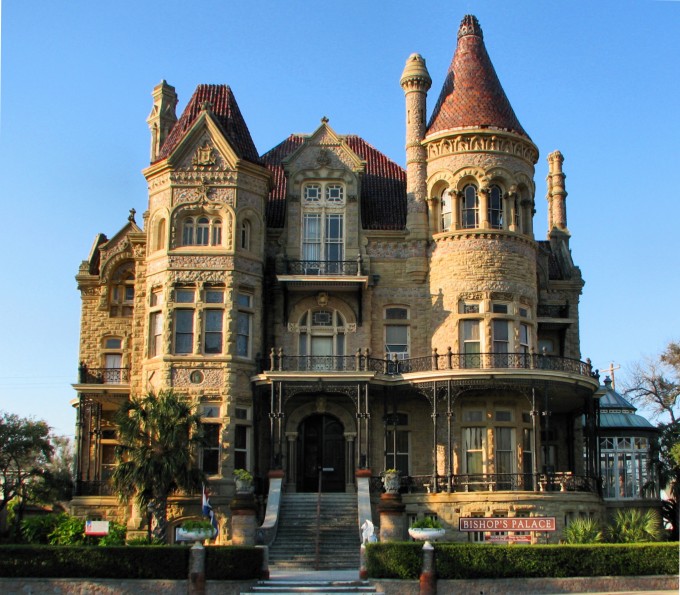 The Bishop's Palace, an ornate Victorian castle that was named as one of the 100 most important buildings in America, is Galveston's grandest and best known buildings. With intricately carved ornaments of rare wood, bronze dragons, sparkling stained glass windows, and a pure silver fireplace, the home is a showcase of masterful architectural design. Just looking at the pictures online, I knew this would be a delight for me, but my children were slightly less excited about the visit. In fact, I think one of them might have used the word "torture." Although I put on my brave face and promised candy (yes, I bribe my children), I was a bit worried it might be torture for me, as well. Intricate carvings and inlaid metal décor and small children rarely go well together.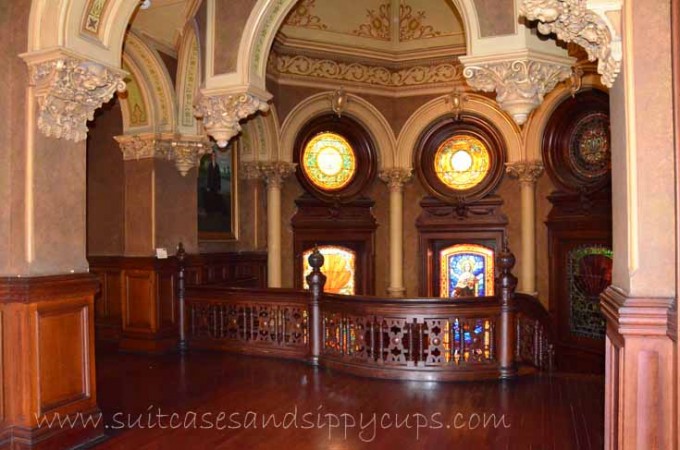 Determined to grit through for the sake of getting a few great pictures, I gave my best "keep your hands to yourself speech" and climbed the winding staircase from the basement to the main floor of the house. Entering the wood-inlaid foyer that shined with prisms of colorful stained glass was the breathtaking experience that I had hoped it would be, but as far as breath was concerned, I was still holding mine as tightly as I was holding the little hand of my four year old.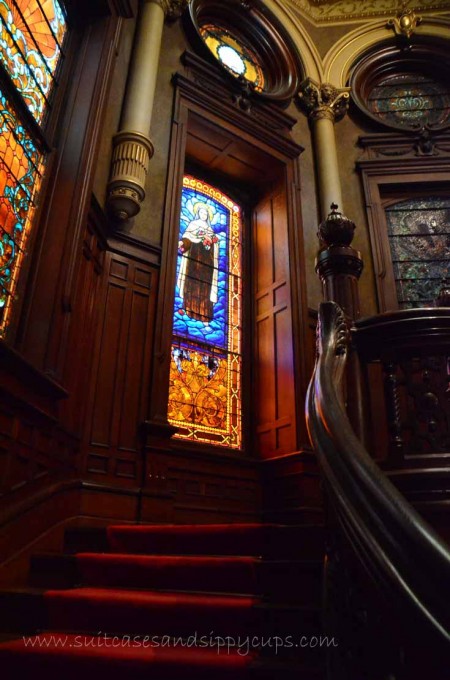 Just as I turned to try to grab a photo of the soaring foyer, the little hand slipped from mine. In panic, I was sure he would touch something valuable and we would have a one way ticket to a cranky docent kicking us out with a stern look and a snide comment. I was already practicing my apology in my head, when I noticed that he was kneeling next to what looked like a small suitcase full of toys in an obscure corner of the foyer. Inside the suitcase was a small child friendly description of the architecture of the home and some building blocks. The instructions offered an encouragement for kids to build a structure of their own as they enjoyed the architecture around them.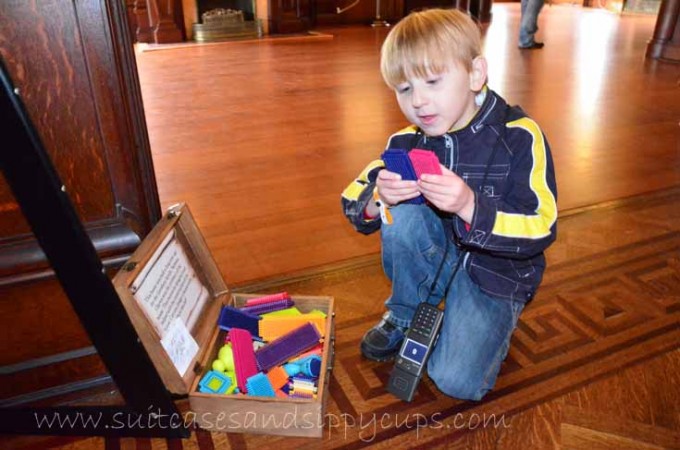 As my son plopped down in the middle of the extravagant foyer like it was a preschool playroom, I was filled with a sense of surprise, relief, and plain old gratitude. Not only could my son now enjoy the home in a way that was meaningful for him, but I now had a few minutes to enjoy the home myself. Inside the box of blocks, I found a laminated flip chart with pictures that served as an "Eye-Spy" for each room. My eight year old was happy to grab the pictures and search for the real item that matched in the intricate décor of the house. Two wiggly kids were suddenly transformed into willing participants.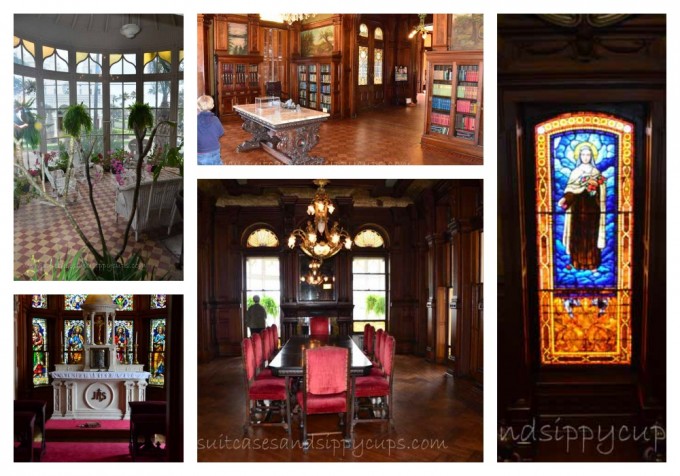 As we moved from room to room, the younger kids made a beeline for the little suitcase that was waiting in the corner. Each suitcase had an Eye-Spy booklet for the room and some sort of hands-on activity that related to the surroundings. At first, I thought of these as only a diversion for the kids, but as we explored more, I realized that the carefully designed boxes were actually a clever way to allow kids to connect to the home. In the music room, instruments were included in the box. It was delightful to hear the instruments echoing off the dark, wooden walls as a reminder that children's voices and activities would have been present in the home when it was inhabited by a family in the 1900's. In the butler's pantry, a set of plastic dishes was sitting next to a sink to be washed. My little guy launched into an elaborate imaginative play that involved washing the dishes and setting them on the table for a meal. As he played, many people who had come to the house to see the grand architecture paused in their self-guided tour to watch a little boy playing house. The human element of someone using the house as as it was originally intended, was somehow more interesting than just walking through beautifully staged, but silent rooms.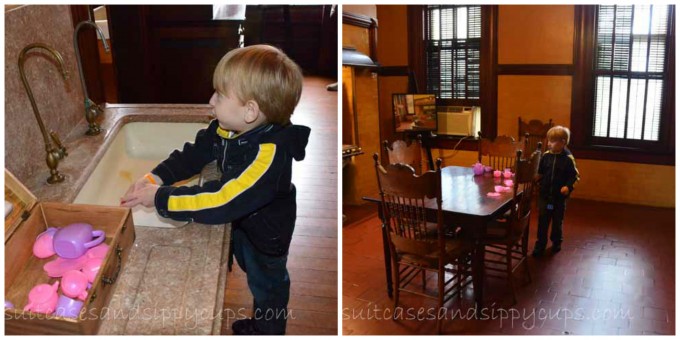 At the end of the tour, my camera card was full of pictures, and although I had entered the house with worry, my heart was full of happiness. Everyone had enjoyed the experience thanks to the welcome invitation for children to explore in an age appropriate way. So often, historical sites become static and stodgy locations that children are not able to understand and therefore, do not enjoy. This house was even more grand and magnificent in my eyes for finding a way to include and engage children in what might otherwise be a boring and "torturous" tour.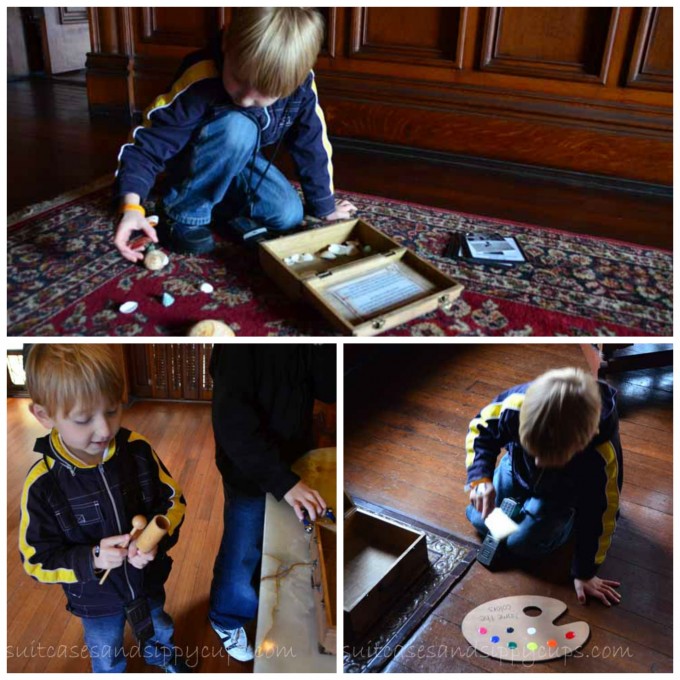 ~ Galveston CVB provided our family with passes to visit the Bishop Palace while we were in Galveston, They did not require that I express a particular viewpoint and all opinions are my own.~