~This photo of East End Historic District is courtesy of TripAdvisor~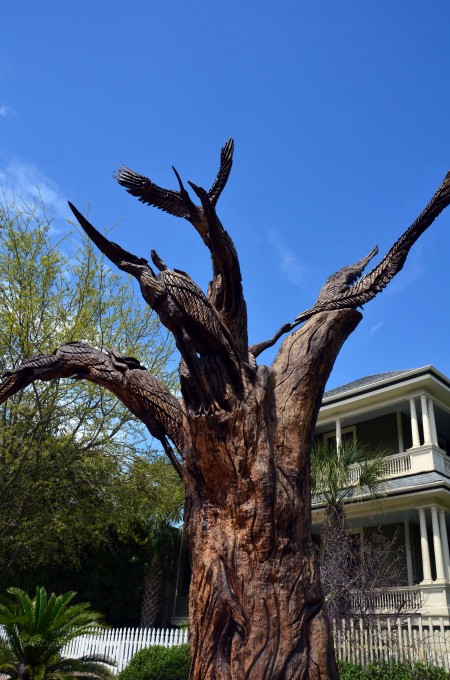 Driving slowly along the streets of Galveston's East End, it is almost possible to hear the clip-clop of the horse drawn carriages as you pass the wrought iron fences, towering pillars, and ornate wood-carved porches. These architectural details hark back to the the "Gilded Age" in Galveston. For years, a proper backdrop of towering trees bent majestically across the road to create a shaded arch among the houses. Today, that canopy is gone. These stalwarts, many over 100 years old, were the victims of the massive saltwater storm surge of Hurricane Ike in 2008. After the storm, the trees that remained in the ground were given a year to see if they would recover, but most were poisoned by the influx of salt. After a year, most of the houses in the area were already on their way to recovery, but the irreparable landscape remained a source of pain for residents.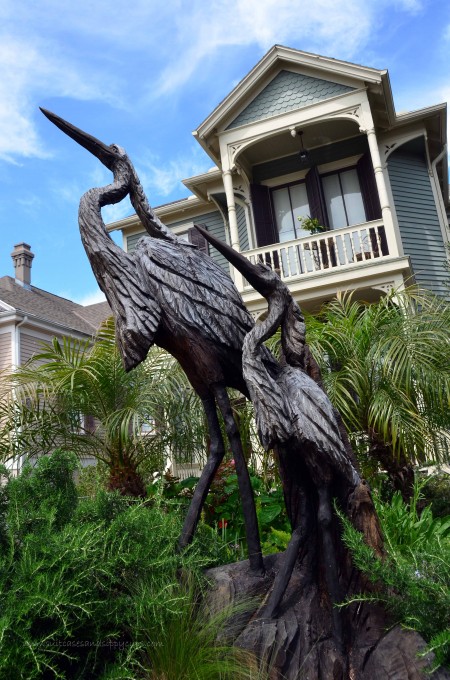 One resident, inspired by the tree carvings from Hurricane Katrina, proposed the idea to hire chainsaw sculptors to transform the dead trees into works of art. Working from stumps that were still rooted into the ground, artists created meaningful beauty from the painful reminders of the past. The result was 35 whimsical, yet reverent statues that not only aided in the healing process of the city, but became one of its most popular tourist attractions.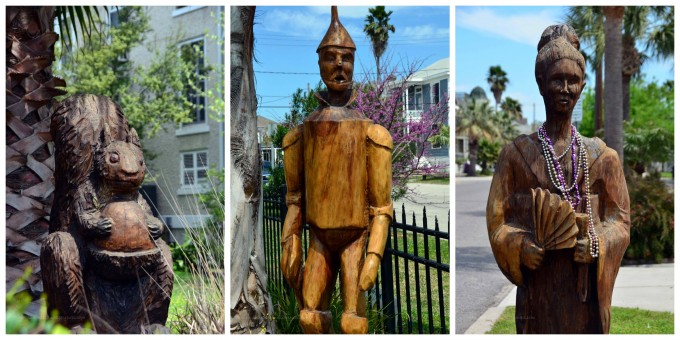 Visitors can pick up a self-guided brochure from the Galveston Visitors Center or join a weekly tram tour on Sundays to view the sculptures. Carvings run the gamut from angels and sea creatures, to slightly stranger subjects, such as the Tin Man and a geisha, but each represents a spirit of beauty from ashes.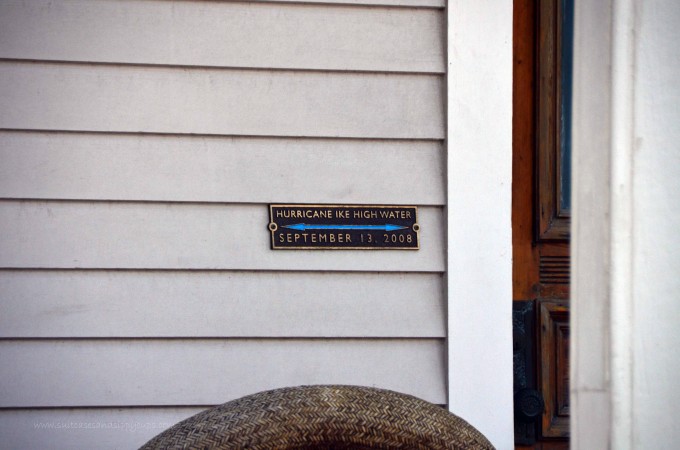 While traveling along the Tree Sculpture Trail, it is impossible to ignore the many plaques on exterior of the historic homes that mark the waterline of Hurricane Ike's destruction. It is a sober reminder that these houses and their residents have known great sorrow. The mind might stayed mired in the thoughts of loss were it not for the tree sculptures. In the shadow of the sculptures that represent an unwavering optimism, saplings struggle to grow strong enough to overcanopy the roads of the East End again. Both sets of trees-the newly planted and the recently re-designed- stand as an unwavering monument to hope.
~This post is a part of Friday Postcards at Walkingon Travels. Head over their to see more inspiring travel photos.