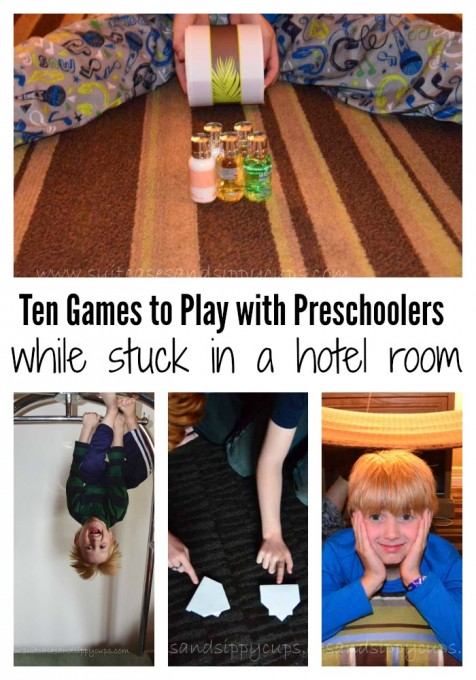 Here's the scene: you are in a hotel room and for some reason you are stuck there. It gets worse. You are stuck in the room with a child or (shudder) children who have tons of energy and nothing to do. Using only the materials provided by the hotel, how do you keep the kids busy and yourself from going crazy?
The Desperate Orgin of Ten Hotel Games to Play with Kids
My earliest family traveling experiences happened out of necessity, as in, it was necessary that my husband travel for work and I was definitely not going to stay at home while he had all the fun. With the (sometimes) fancy hotel already paid for with a corporate account, it just made sense to tag along and get a free vacation out of the deal for me. In the early days, our kids were young enough that they didn't even need to buy a plane ticket. I envisioned spending my days strolling through tourist attractions with babies in strollers, and the evenings frolicking in the fancy resort pools.
In reality, some of the trips we took were excellent training ground for future travels, but some of them were anything but the glamour I anticipated. Most of those trips involved some kind of unforeseen circumstances that found me hostage in the hotel with one or more hyper little people to entertain. First, there was the trip where it rained torrential, flashflood buckets for five days in a row. Since we didn't have a boat, there was no sightseeing to be done. Then there was the trip when I was about 11 months pregnant where we were in a neighborhood so rough that if I even ventured out of the hotel, someone scurried me back in. Not only were these scenarios not the travel excitement I had anticipated, they triggered a "Code Red" level of boredom that had me tempted to book the next flight home. There's only so much Sesame Street and jumping on the bed that can be done before you have to get creative. These games that can be played in a hotel room were born out of those days of toddler mania, and still to this day are some of our favorite things to do in a hotel.
Ten Ideas for Keeping Toddlers and Preschoolers Busy in a Hotel Room
1.Build a tent. There are plenty of great supplies for tent building in a hotel room-blankets, chairs, footstools-but the greatest supplies are the thick covers at the end of each bed. Hang the cover between the beds, grab a few pillows to hold them in place, and you've got a fort that will provide dozens of minutes of entertainment.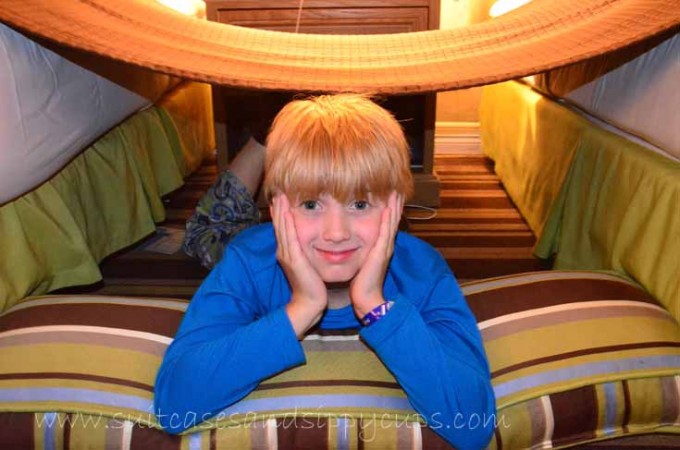 ~Sleeping on the floor under a tent is way cooler than sleeping in the bed~
2. Play Ice Bucket Transfer. If your hotel has an ice bucket with a pair of tongs, you are in business for a fine motor game the likes of which Montessori schools charge good money to provide. Cotton balls are great to place in the bucket and remove one at a time with the tongs. In a pinch, Kleenex can be wadded into balls to fill the ice bucket and transferred from the bucket to cups or other containers.
3.Paper Airplane Toss. Older kids can spend time making their own designs, but little ones can entertain themselves by coloring on the hotel notepad and allow mom or dad to fold the airplane. With the airplanes folded, let the tossing begin. Compete for style or distance, or play a game of toss and fetch with little ones to run off some energy. This is even a game you can take to the halls, if you just can't stand one more minute in your room.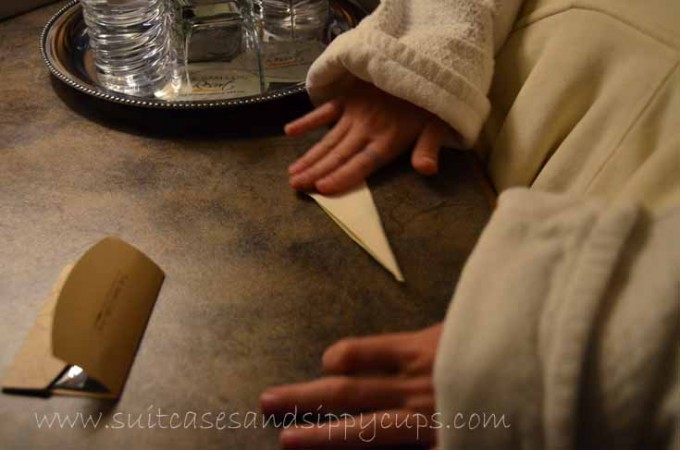 ~Folding a paper airplane and wearing a hotel robe. So swanky!~
4. Eye-Spy. While you are in the halls, you can enjoy an impromptu game of Eye-Spy. Wander the halls looking for numbers, shapes, and designs in the art work and along the doors. Older kids can search for the ABCs in order on the signs throughout the hotel. There is one rule: you have to take the stairs. Not only will you get a little exercise, but you might buy yourself a long afternoon nap.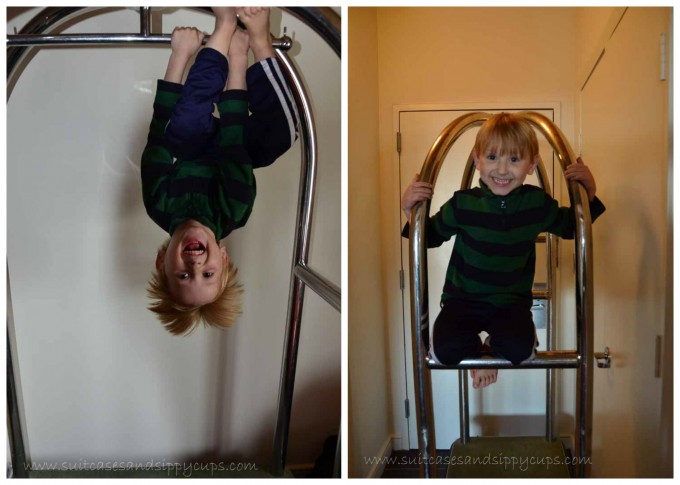 5.Luggage Cart Jungle Gym. I'll admit, I'm not exactly proud of this trick, but desperate times call for desperate measures. During that stint in the city so unsafe that we couldn't venture outside, I got desperate. Two active little boys needed to burn off some energy, so when I saw a makeshift jungle gym sitting in the lobby, I grabbed it. The kids flipped and climbed and rolled and hung until their faces were sweaty and smiling. I stood close by and made sure everyone was safe, and we returned the cart to the lobby an hour later with a slight Cheshire grin.
6.Trash Can Basketball. All you need is a clean trashcan and some kind of ball. We often travel with a small blow-up beach ball, but there are other creative options to use in a pinch. Rolled up socks, wadded up tissue, or new rolls of toilet paper can all be used as a ball in this game. Set the trashcan in place and toss away. Two points for every basket, a million points if you make through another hour without going crazy.
7.Blow Bubbles. Bubbles are a sure-fire tantrum stopper every time, but even if you don't have a package of bubbles in your diaper bag (what kind of mother are you?!?!) you can make your own bubble solution with supplies from your hotel room. Really! Use about two tablespoons of shampoo and a cup of water. Mix them together and add the secret ingredient-two packets of sugar. You might have to use a little creativity to find a bubble wand, but a straw, coffee stirrer, or a ring from a soda bottle will all work.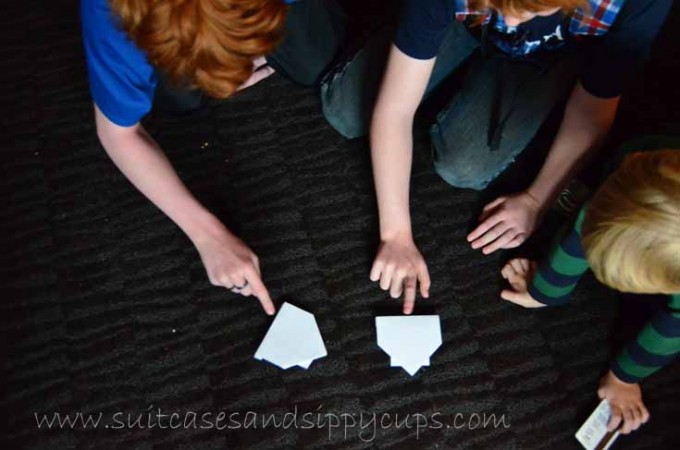 ~Just one hop away from the finish line~
8.Origami Frog Race. All the credit for this little game goes to my oldest son. He has always been able to create almost anything out of a piece of paper, including fantastic origami. One day, in a fit of boredom, he started creating origami frogs out of the hotel notepad. Of course, once the frogs were created, they had to race. This is a game he plays in every hotel that we visit, even after all these years. It's often the first thing he does when we enter the hotel.
9.Take a Bath. Baths can be incredibly entertaining all on their own, but you can add even more entertainment with the hotel bathroom supplies. Play a game of float and sink. Grab two bars of soap or plastic wrappers and have a race across the bathtub using your breathe as the wind for the sails. Grab every plastic cup in the room and transfer water until you run out. Keeping the kids busy while getting them clean is the smartest thing you've done all day.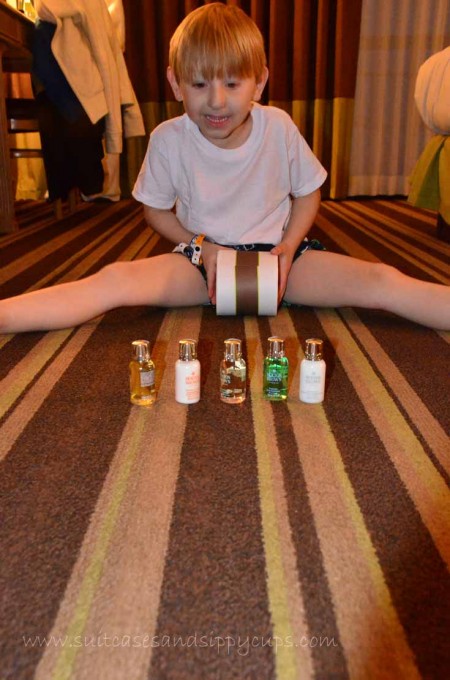 10.Toiletry Bowling. I've saved my favorite for last. Gather up all the toiletry containers for the bathroom. I even give you permission to get a few extras from the front desk. Stack them like pins in the middle of the floor to set up your lane. Now you need a ball. If you have a ball, that will do, but if not, grab a new roll of toilet paper. For the best chance of a strike, the roll of toilet paper needs to stay wrapped, but if it doesn't, well, that's another way to entertain yourself.