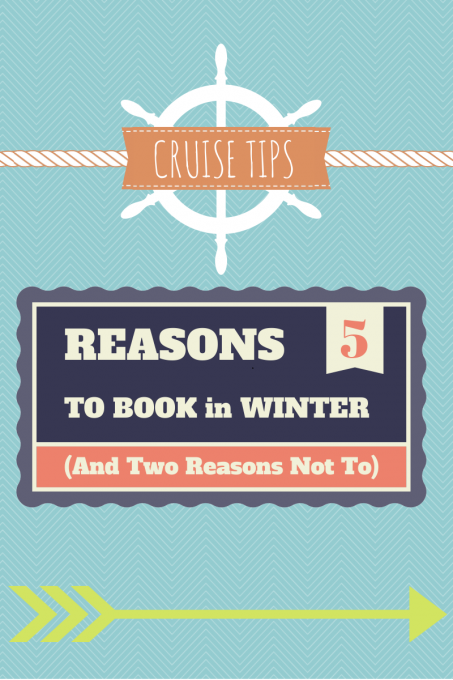 Although many cruise routes have relatively short seasons, thanks to the outstanding weather, cruises to the Caribbean can be enjoyed year round. We've just returned from our third cruise and all three of them have been during the winter months. It might be that it's all we know, but we have found that we prefer cruising in the "off-season" for several reasons. We have also found that there are a couple of drawbacks to cruising during the winter. We think that the benefits outweigh the losses. You be the judge.
Five Reasons to Book a Winter Cruise
1.It's Cheaper, Baby: Dollar for dollar, cruising still packs the most bang for your buck, but that's even more true in the winter. Cruises are often $300-$400 less in the winter and cruise lines often offer winter sales.
2. It's Warm, Not Cold: I feel lucky to live in a fairly temperate climate in Texas, but even without the snow and ice, winter has a definite blah factor by January. There's a little bit of magic that happens when you board a boat wearing long pants and a jacket, and then wake up the next morning and put on shorts to bask in the sun. I can imagine that this winter escape is even more enchanting if you come from a state enshrouded in snow. Preparing to spend a week in the Caribbean sun definitely makes the winter doldrums a little less dull.
3.It's Warm, Not Hot: Weather in the Caribbean has two settings: hot and hotter. In the winter the temperature in port will still be a balmy 80-90 degrees, but you will avoid the sweltering upper 100s that are common in the summertime.
4. Fewer People Under Four Feet Tall: Summer and Spring Break cruises are practically overrun with junior sailors. While I certainly love my children, I have a slightly different feeling about OPK (other people's kids). I also have very strong twitchy feelings about groups of children-likely PTSD from my days as a first grade teacher. Winter Cruises are the ideal time to find fewer children aboard the ship, particularly right in January when kids have just started back to school and are unlikely to take a break.
5.Hurricane Avoidance: Winter is well outside the typical hurricane season, so any hurricane at sea scenarios can be pretty safely avoided, This also means that the weather in the Caribbean is overall better, as December- April are the driest months in the islands. Nobody wants rain on their days in port.
Two Reasons Not To Book a Winter Cruise
1.The Ship is less crowded and it shows: As I mentioned, we love the idea of having fewer children onboard and fewer people overall, but the demographic of the ship has a direct bearing on the activities planned. On a cruise where there are limited little people there will be far fewer activities planned for children and families. Likewise, when the ship is less full, there are fewer activities to keep everyone busy. If an active ship schedule during days at sea is important to you, you may disappointed in the offerings. *Note: this does not hold true for Disney Cruises where it is all kid-fun, all the time.
2.It's High Season in the Caribbean: December through April is the peak time to visit the Caribbean. This can be a slight hindrance simply because it will tend to be more crowded and more expensive in port. It's not an insurmountable hurdle, but you won't be able to bargain quite as much with the locals and you may find that tours are filled to capacity if you try to book an independent excursion.
Winter, Summer, or in between, check out these packing tips for unexpected items to take on your next cruise.