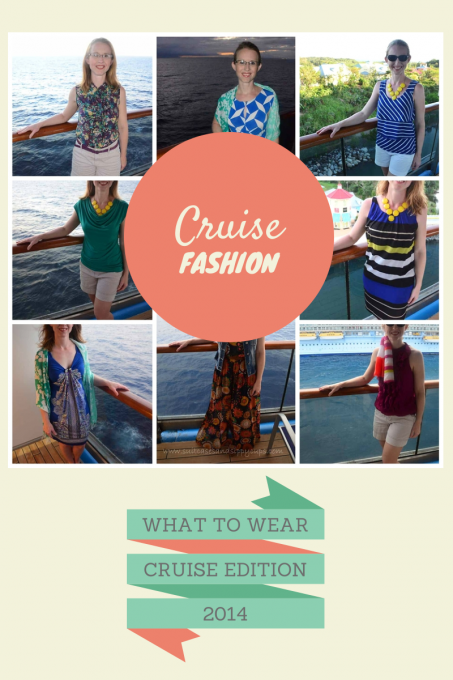 Welcome to the second edition of What to Wear: Cruise Edition, also known as the ode to the time my husband was wrong! By way of a back story, my dear husband posited that people don't really care what I-or anyone- would wear on a cruise. Thanks to you, dear reader, that has been proven false. People do seem to care what I-or anyone- would wear on a cruise, because after a certain age and number of children dressing fashionably becomes a true challenge. It's hard to be on trend, stay in budget, and dress your age all while picking clothes that look cute with children as an accessory.
Here's what I chose, why I chose it, and what I might do differently next time.
Day Outfits
I am not really a lay by the pool kind of person on a cruise (or ever), so my day wear has to be more than just a swimsuit and a cover up. I also have to be mindful that cruises are generally working vacations for me, so I want to wear something that is totally casual, but put together and smart looking. Generally speaking, I achieve this by making sure there are no kid-shaped smear marks on my pants, and by adding jewelry. It's amazing how a simple statement necklace can bump up the outfit status from slouchy to acceptable. When in doubt, add jewelry.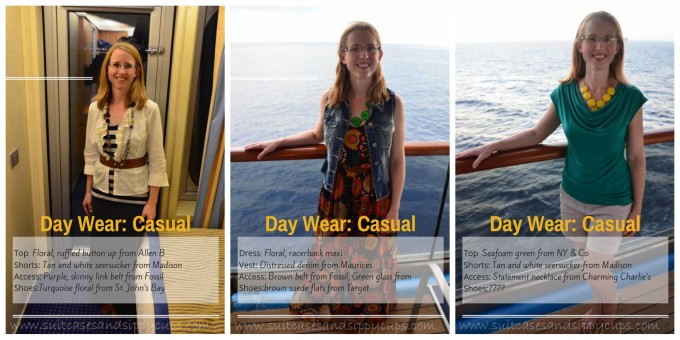 Embarkation Day: It was quite cold in New Orleans when we boarded the ship; in fact, they had just had a freak ice storm, so I needed something that would offer some warmth. I was in a nautical mood when I was putting together this outfit, so the stripes fit my nod to the sea. I think it is important, though, to remember that past the age of 12, any theme based outfits need to be subtle. A full-on captain's jacket with fringy shoulder pads would be just wrong, but some stripes are perfect. I also chose to wear a maxi skirt, because I never travel without one. It is an extremely versatile piece of clothing.
Day Two: It was still pretty chilly as we were making our way into the Caribbean, so I just wasn't ready for bare legs yet. I love-big hearts- love this dress. I have a way to wear it for every season. The colors make me happy, and it is easy to style with different shoes, belts, jackets to make a different outfit.
After this, the days started running together. I'm not sure what I wore which day. I know it was warm and I wore clothes, and everyone had the decency to pretend like they weren't offended by my winter white legs.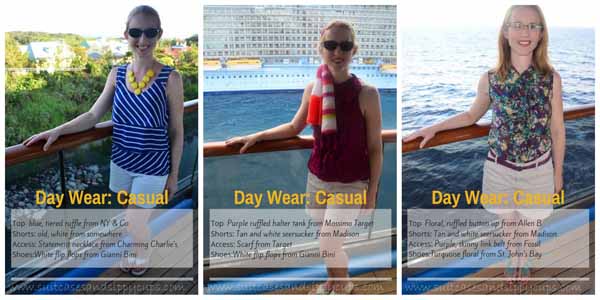 Outfit Notes: I always want to be a hat/scarf person, but it always seems out of place in my regular life. In the Caribbean, on a boat, I say anything goes.
Dinner Outfits
Much like my day outfits, my dinner outfits all ran together. I did choose to wear a dress every night for dinner because there isn't much call for dressing up in my day to day life.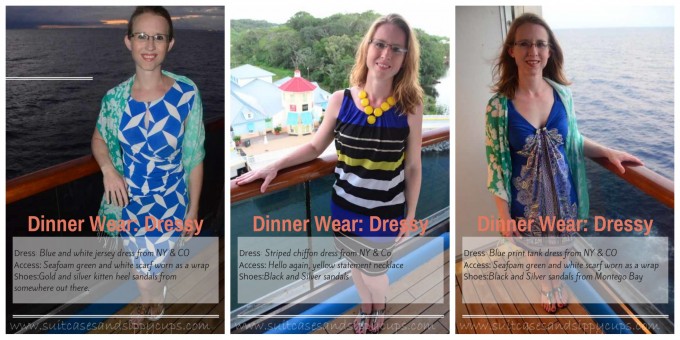 Outfit Notes: The first blue dress is a little too much bazinga for me to wear in my normal suburban mom life, but like the scarf theory, anything goes at sea.
Formal Wear
There were two "Cruise Elegant" nights on our seven night cruise, which was a perfect opportunity to get a little fancy and torture my children with suits and ties. I don't have any ubiquitous balcony shots of these outfits because by the time I wrangled said children into suits and ties, it was dark and we were late to dinner.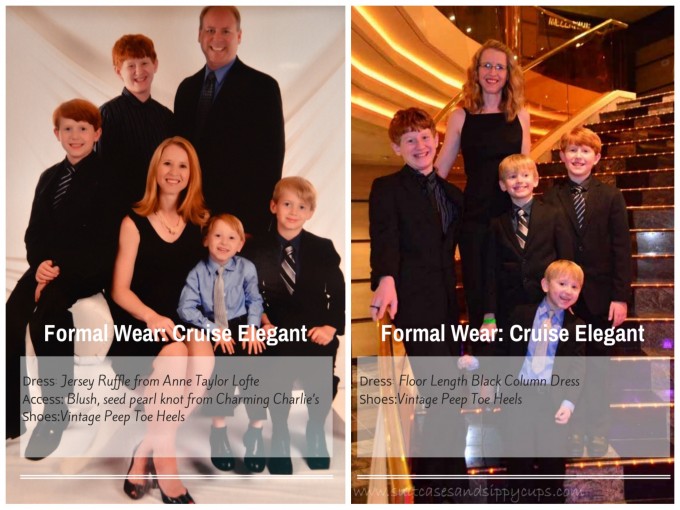 Outfit Notes: I have owned this black floor length dress since high school and it was designed by…wait for it…Jessica McClintock, proving that some looks are timeless and spanx are a wonder product.
General Notes About Packing for a Cruise
When I am making a conscious effort to pack light, I choose a similar color palette so that my shoes and accessories can do double duty. *See note two
To pack a similar color palette, hit some random store (like NY & CO) at the end of the season and buy everything on sale. All the clothes will match by default.
Full disclosure: On any other day, if you ask me where my clothes come from I will tell you 'my closet' or 'the consignment shop.' I am so not a brand snob that I don't even know which brands are cool. I only write the brands down for this post because that's seems to be how it's done. There is much rifling through my closet and grabbing tags to make these posts look like I know what I am doing in the fashion world. (I don't, by the way.)
My left knee has a mind of its own. It 'pops' every time it sees a camera. I can't control it, apparently.