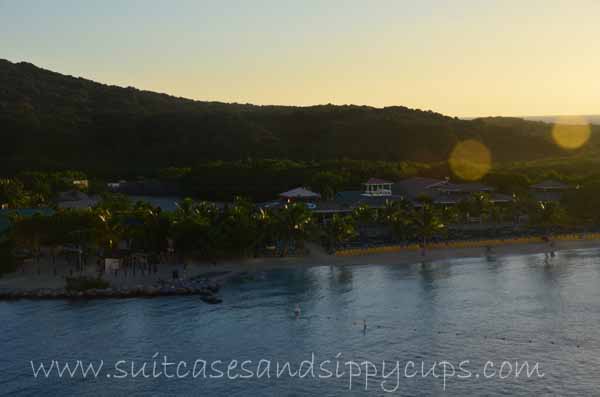 ~Sunrise over Roatan~
Just moments before we had been in the comfortable surroundings of a cruise ship cabin, but now we bumbled along the dirt roads of the island of Roatan of the coast of Honduras. By the jostling caused by the cavernous potholes, it seemed like a back road, but this was the main thoroughfare through town. Overgrown native plants crowded the sides of the road, but where the clearings would allow, vendors claimed a spot to sell their wares. Most of the merchants passed in a blur and clouds of dust, but at one corner we slowed long enough to see a rickety table filled to overflowing with a spiny, craggy organism.
"Oh, my gosh! What is that?" was my involuntary exclamation. I am positive that I did not have a hint of valley girl in my accent, but that did nothing to make my question sound any less stupid.
"Leeches," our driver blithely tossed over his shoulder.
"Leeches" I countered with all the incredulousness I could muster without digging myself further into the stupid gringo hole.
"Yep, leeches," he returned. "You eat them."
I puzzled for a minute and turned to study the alien beings with inhospitable tentacles spilling from the table.
"Leeches must mean something very different in your language," I offered as a way of explanation. We both laughed, but something was clearly lost in translation.
Up Close with the Lichas
When our driver dutifully arrived to pick us up at the end of the day, he came bearing gifts. A multitude of spiny snacks were clustered together in a small plastic sack. He offered them to us with pride, and I was touched that at his generosity and desire to share his home culture.
As I was thanking him for his kindness, I rolled the thing around in my hand. I understood it to be edible, but was still uncertain exactly how to classify it. Before it was going in my mouth, I needed to know more. My journalism skills kicked in to ask how to spell the food in question.
"L-I-C-H-A-S," he annunciated slowly. For the first time, I understood. Lychees, I knew to be an edible fruit from China and Thailand. Maybe this was similar?
Up close, they looked as if they came from the Orient, or maybe another galaxy. While the spines were soft and not at all as menacing as they appeared, I was still uncertain about how to eat the peculiar food.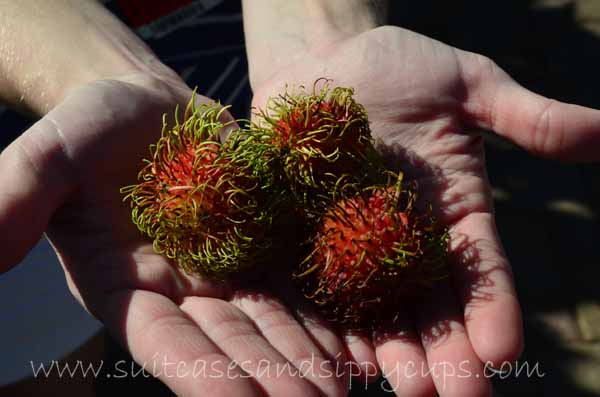 How to Eat Lichas?
Our driver saved me the embarrassment of asking and showed me how to open the fruit. With a quick flick of his fingernail, he scratched through the unfriendly exterior. A bit of tear from the top and a squeeze from the bottom and out popped a white, fleshy mass that finally looked like food. The fruit was still warm from the table in the sun. As I nibbled tentatively, still unsure of the protocol, the driver shared that the fruit was transported from the mainland. The climate on the island was too warm to grow the fruit hyper locally, but still a treat enjoyed by the natives of Roatan.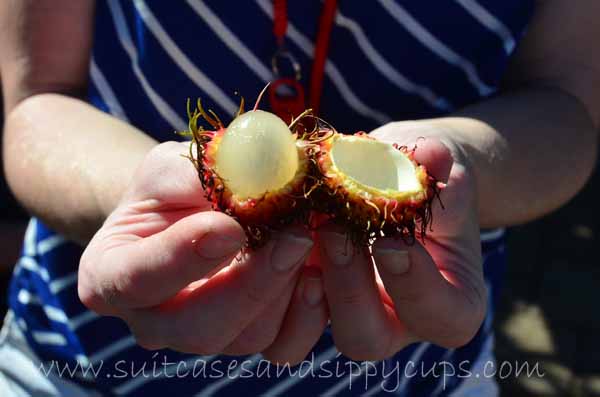 A Licha by Any Other Name Would Taste as Sweet
Licha is the regional name for the fruit known elsewhere as rambutan, a native Asian fruit that comes from the same family as lychees and loquats. Although rambutan is a slightly more manly name, both are the same fruit, and seem to vary by the area of the world. In Asia, it's a rambutan; in Central America-lichas.
As for taste, I would say they are a cross between a grape and cantaloupe with a satisfying sour note at the end. The fruit is denser than a grape and easiest to enjoy by biting or sucking around the almond sized seed in the center. Lichas don't rank high in terms of efficiency, as there is much more waste than meat, but they are a juicy treat that's worth the work.
For the remainder of our time on the island, we sucked up as much lichas juice as possible, knowing that we wouldn't be able to take any back to the boat with us. Given more time, I am sure we would have perfected the one handed peel and eat that our guide so expertly demonstrated. Time was not on our side on this trip, and a single day seemed too short. With sticky fingers, we said goodbye to Roatan grateful for the cultural exchange that taught us again to not judge anything-even hairy, scary fruit-by its cover.