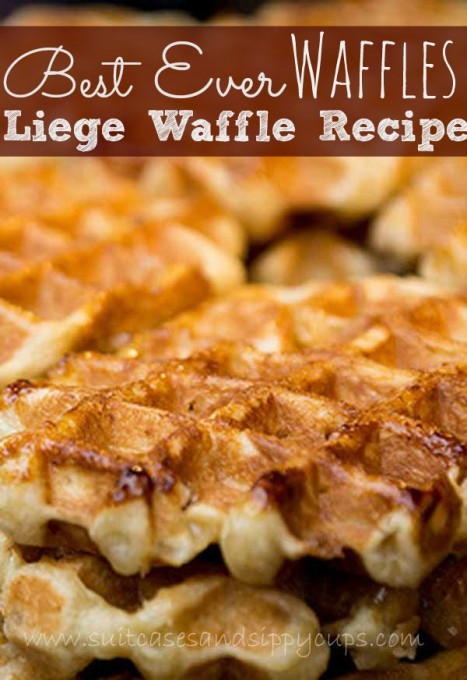 Is it possible to love a waffle so much that it will render every other waffle a pale and paltry substitute? It is if they are Liege Waffles, a yeasty dough that is crispy on the outside with surprises of caramelized sugar hidden inside. These works of art made their way into our palette in the most delightful way, as a happenstance that changed the course of history. Too much drama for a baked good? Oh, you naïve and tragic Liege waffle virgin.
The Portal to Waffle Nirvana
It was one of those family travel days that you dream about where good fortune and good attitudes come together in an unforgettable location. The location was Museumplein in Amsterdam, a wide open area with a playground that sits between some of the most famous art museums in the world. We had spent the morning bouncing from the soaring Rembrandts and intimate Vermeers in the Rijksmuseum to the colorful expressions of Van Gogh in the museum bearing his name across the park. A morning of museums with children was made bearable, even delightful, by the ability to escape for a few minutes to the park outside and burn off some steam in the sunny winter day. At lunch, we grabbed a table and pulled out a picnic, a method we regularly employ to make family travel more affordable. With lunch completed, I was craving something sweet, and at eight months pregnant, I was fully justified in my craving.

~Doing what Tourists to at the Museumplein~
The Mister set off in search of the something sweet, but didn't have to go far thanks to the vendors around the park. He returned with a regular looking waffle wrapped in wax paper. Not exactly what I had in mind, but people too swollen to waddle around getting their own snacks can't be choosy. With one bite, I was sold. The outside of the waffle was delicately crispy and encased fluffy dough that was laced with warm, crystalline sugar pockets. It was divine. Almost better than the Rijksmuseum and the Van Gogh museum combined, and I say that as an art major with unspeakable love for the arts.
That grand travel day, capped off with the luscious waffles, became a shiny gem in the annals of family memories. I'd be lying, though, if it wasn't the waffles that came up most often in memory. It wasn't just the pregnancy cravings that made me lust after Amsterdam street waffles. The entire family craved them at one point or another, and with the banter of "the best waffles ever," we became slightly obsessed. My desire for waffles led to some desperate internet searches, but with no real leads thanks to our complete lack of knowledge about intricacies of European waffles. We searched. We tried. We failed. There was not a recipe that could live up to the goodness we had sampled. Perhaps the recipe was a guarded national treasure? Curse you Amsterdam and your unachievable waffles.
By serendipity, perhaps the same providence that had introduced these delicacies, the Mister met a man at work who fancied himself a waffle connoisseur. Of course, he knew exactly what we needed and knew the proper terminology-Liege Waffles. With that little tidbit of goodness, it was only to find a suitable recipe and try to recreate the magic.
The Secret Ingredient
Let me reiterate: these are no ordinary waffles and some specialized ingredients are needed. Of course, you can't make enchanted waffles from run of the mill grocery store fare. The secret lies in the sugar, Lars Belgian Pearl Sugar. The other ingredients are mere mortals and can be found at any plebian grocery store, although it is ironic that such common items can create a food fit for the gods.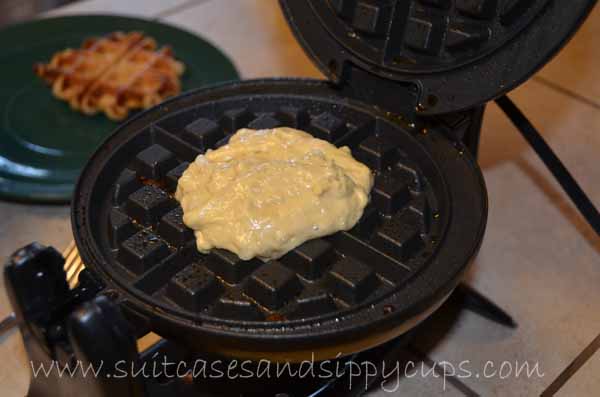 Recipe and Reasons You Should Be Drooling
Not one to reinvent the wheel, we asked Mr. Waffle for a recipe suggestion and he pointed us towards Whipped the Blog. I endorsed the recipe immediately because it seemed simple enough and was listed in measurements that makes sense. Even sugary waffles aren't enough to make my poor American brain understand grams. After a couple of tries at this recipe, I have made some alterations and the recipe of champions de Leige Waffles is below.
Ingredients
1 package yeast
1/3 cup lukewarm water (not hot, don't make the yeast mad)
1 and ½ tablespoons average granulated sugar
1 tablespoon brown sugar
Pinch of salt
2 cups flour
3 eggs
1 cup melted butter (not margarine. Please.)
1 teaspoon vanilla extract (I like Mexican vanilla. It makes it more multicultural.)
1 1/3 cup pearl sugar
Instructions
Mix the yeast, water, sugar and salt in a bowl and set aside to develop. While the yeast is activating, place the flour in large mixing bowl and melt the butter. Add the yeast mixture to the flour and mix at medium speed until well blended. Add the eggs, butter, and vanilla and mix well. The batter will be very sticky. That means you are doing it correctly.
Put the dough aside to rise until it has doubled in size. Gently fold in the pearl sugar and allow the dough to rest once more while you wait for the waffle iron to heat. Spoon a 2 inch ball of dough into the waffle iron and bake until golden brown with slick sugar spots on the outside.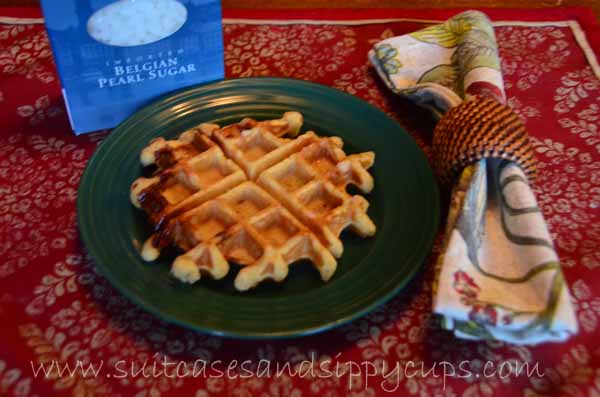 Notes from the Kitchen
Don't be skimpy with the pearl sugar, even though it is expensive. The sugar makes the waffle.
A true Belgian waffle maker is needed to really get the perfect Liege waffle. Our standard waffle iron does not have deep enough pockets to really allow the batter to sink in and caramelize the sugar. It is also preferable to have an iron with an adjustable temperature, so the sugar has time to melt before the batter burns.
Melted sugar is hot. Let the waffles cool a bit before indulging. It might take all the willpower you have, but your tongue will thank you.
Liege waffles freeze nicely and can be reheated at 200 degrees in the oven. Make a double batch. You'll thank me tomorrow.
Only the staunchest of constitutions should be allowed in the kitchen while the waffles are baking. The smell created while the yeast and sugar do their waffle dance is intoxicating. Wimps like those who lick the bowl or eat raw cookie dough should wait outside.
Toppings are not necessary or desirable for Liege waffles. If you feel the need to douse your waffle in syrup or (shudder) whipped cream, you did it wrong.