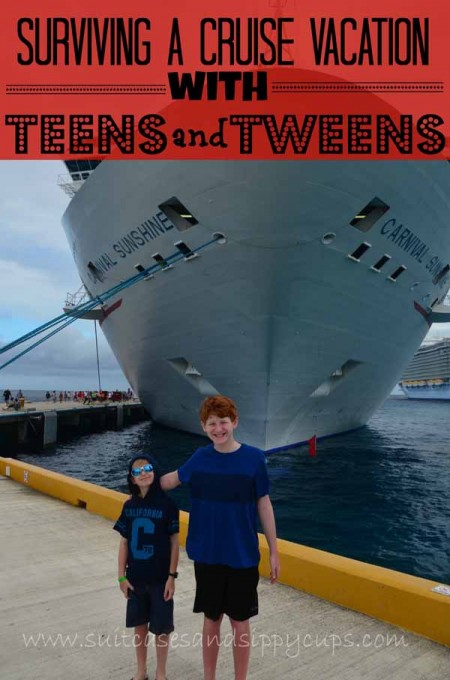 Whether I want them to or not, my kids are increasingly becoming more independent. They want their space and their autonomy at home, and the same is true when we are on vacation. Now, I am not at all willing to let them set out on the streets of Europe anytime soon, but a cruise vacation is a perfect training ground for teens and tweens who are getting the feel of a bit of freedom from their parents. This mostly contained environment is the ideal location to begin loosening the apron strings and let them venture out on their own a bit.
After two other cruises, my kids have a good feeling about how to find their way around and where to go to find food and fun. This third cruise seemed like a good time to let them loose (within reason) to have some independence. Before we let them go, we had a family meeting and made a plan for how to make the whole venture safe and successful.
Set some expectations. It helps to start out the cruise with everyone on the same page. For our family, we wanted everyone to plan to have all meals together. Not only did we want to torture our children with family togetherness at least three times a day, but we also just wanted to have a regular chance to check in with each other.
Set some ground rules. Before setting our kids loose on the boat, we created some extra special "Maritime Rules." In our case, we wanted the kids to stay together in pairs for safety. We also forbade swimming while they were sans grownups. Of course, we reiterated that they were not to be in anyone's cabin and they were not to let anyone in their cabin. Failure to comply with Maritime law would result in immediate cessation of all free roaming privileges.
Discuss your plans. Over breakfast we took a look at the Fun Guide and discussed what everyone wanted to do alone and what we wanted to do as a family. From that discussion, we drew up a basic plan for the day. Since our kids are still on the youngish end of the spectrum, we tried to break the day into 1-2 hour blocks. That way, they still had some freedom, but we could keep an eye on them with regular check-ins.
Have a system. Even after discussing our plans, we wanted to try to keep a running tab on where everyone would be, so we set up a message system to keep everyone informed. Anytime anyone entered or left the cabin, they made a quick note of where they were going, who they were with, and when they would be back. The time was also noted, as a record of when they checked in. As a mama who is used to counting all her chickens, it made me feel more comfortable to keep a log of activity.
Book the kids their own room. If you have a family larger than four, you will have to book two staterooms anyway, but even with four, older kids will love the freedom of having their own room. My kids were just too excited about having room of their own, and coming and going on their own gave them the freedom they needed.
Give them some spending privileges. Throwing caution to the wind, we gave our kids cards with spending privileges and gave them a reasonable spending limit for each day of the cruise. I was happy to say that none of our older kids took full advantage of their mad money, and were very thrifty.
Expect alone time to become family time. As much as my kids were initially excited about going it alone, they naturally gravitated back towards their family pretty quickly. It was not uncommon to send them out to find something to do alone, and find us all gathered together playing a game or going to a show together. That actually gives me hope for the future. I am happy to see that they feel confident enough to head out on their own, but connected enough to find happiness in spending time together.