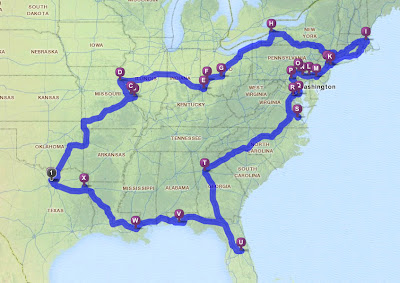 So….last fall I took a little trip.
A 10,500 mile trip that included 19 states, 80 days, and 175 driving hours.
And I wasn't alone. The Mister and the swinging apes of the testosterone jungle my four darling boys came along with me. And together we traveled 10,500 miles. In a travel trailer. With very little privacy. And doors made of flimsy pressed cardboard. And one teeny tiny bathroom.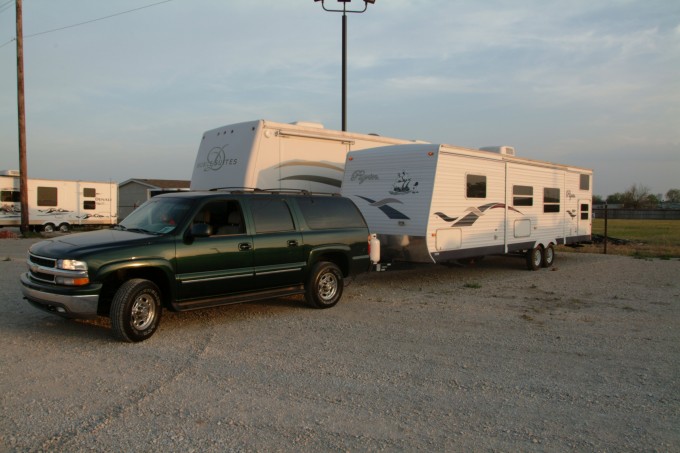 ~Our home for 80 Days~
By all accounts, the trip was epic. In fact if you look epic up the dictionary, right next to Homer's Odyssey and a picture of zombie proof house, you would see our 10,500 mile road trip.
The thing about being a travel blogger and taking an epic road trip is that people expect you to write about it. No one had this expectation more than me. I was poised to sit down at the end of every day and write grand, sweeping stories that highlighted our adventures with a touch of humor and aplomb.
What I didn't expect was that being on the road would change me so dramatically that I would toss all my expectations out the window with my privacy and my square footage. Nothing in my packing, my route planning, and my Type A list making prepared me for this internal shift in perspective. I was prepared for a change of pace and a change of location. But, I was not prepared for a change of me.
When I sat down at the end of the day, I just had no desire to intimate anything about our adventures de jour. I could probably claim that I was exhausted from a day of schlepping four boys around a litany of historical sites. Or I could assert that the reverberation of the multitude of little voices off the flimsy cardboard walls drove me to distraction.
While those things are pointedly true, the bigger truth was that I had no desire to rehash the day or pen my MOART (Mother of All Road Trips) memoirs. Life on the road was all it took to knock me right out of the Type A fast lane. Having spent my entire adulthood as a comfortable member of the overachievers club, this sudden personal paradigm shift caused me many nights of reflection.
Somewhere between the late night stargazing and laughing our way through the best sites America had to offer, it hit me. I was, for the first time, really living my life. I wasn't a passive participant in a life that just rolled from one predictable day to the next. I was fully engaged in a life of my choosing with the people who mattered more to me than anyone. And that one little act had the critical capacity to fill my soul up to the top and more.

~Fully living looks something like this~
With my soul filled so completely, I had no desire to search outside myself and my surroundings for validation or acceptance. And that is what a huge part of blogging is really all about. Oh sure, there are monetary and other values to pitching your life stories out to the World Wide Web for strangers and loved ones to pilfer. But there is always a part of blogging that is motivated by a need to reach out and connect and feel as though you are making a mark. Blogging is an acceptable form of therapy that fills a void.
On the road, living my dreams, I had no void to fill. I was filled completely.
I've been back at home long enough now that the memories from that trip are become fuzzy on the edges, and I am merging back onto the fast lane. I don't think I'll ever get back to the speed I was at before, both in life and in blogging. I learned many valuable lessons on that trip-some of which involved the merits of indoor plumbing, but most that involved what kind of person I want to be.
It breaks down like this:
Blogging Lesson: I don't have to write a post about it to prove I was there and sharing my memories in a way that meets the SEO standard does nothing to add to their value for me as a person.
Life Lesson: Live your life in such a way that your choices saturate your soul to the point of completion. If you find that your life choices, all on their own, don't fill you up, make different choices.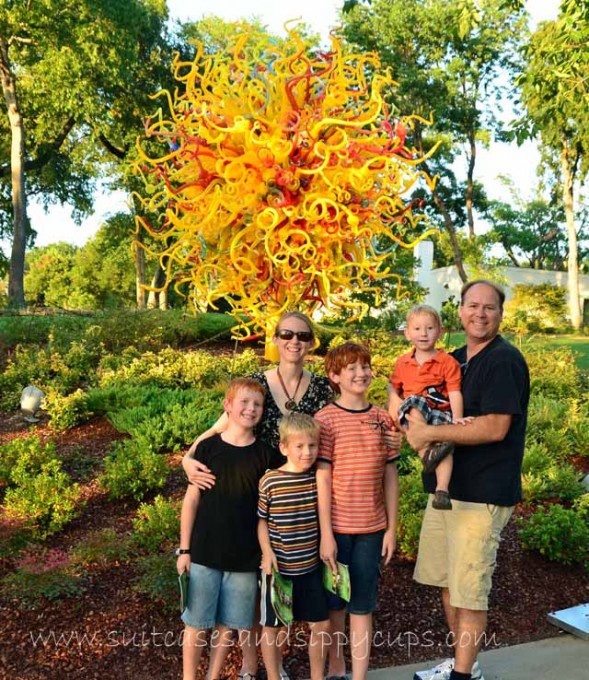 ~ My Family-My Treasure~
Oh sure, I'll probably get around to writing about every last detail of every single location (because I am still a little OCD about my lists), but for right now, I feel like keeping it all to myself. I'm just not yet ready to have my treasured jewels pawed and prodded by the internet masses. I'd like to keep the shine on them for a little while longer. But even more than that, my silence on subject bears witness to the change I experienced. Some life changes (and trips that cause them) are so epic that no amount of storytelling can ever do them justice.