Ski resort fun for the whole family isn't hard to find. Just listen for the hoots and hollers and follow them to the giant snow hill where colorful inner tubes go shooting down snow covered tracks. Keystone Resort has not one, but two snow tubing options. I've tried them both and I would be hard pressed to choose one over the other. It's really a matter of mood, and maybe budget and time. Choosing between the two is like the choice between the roller coaster and the carousel at the amusement park. One is flashy, fast, and full of thrills. One is nostalgic, easy, and filled with a simple charm. Both leave a smile on your face, so you can't go wrong either way, but if you have to choose, which tubing hill is right for you?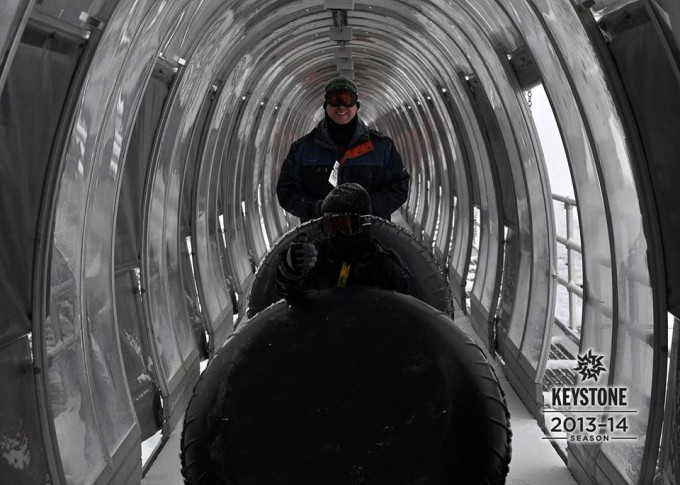 ~Riding the Conveyor Belt to the Top of Adventure Point Tubing Hill~
Tubing at Adventure Point
Located at the top of Dercum Mountain, Adventure Point Tubing is the highest tubing hill in North America and every bit a roller coaster on a powdery white track.
What to Expect: 6 lanes range from gentle to extreme, but all offer twists, turns, bumps, and hills for maximum fun. Families can link tubes so that up to four people can experience the thrill of the hill at once. Note: Participants wearing ski boots will not be allowed to link tubes.
The Details: Cost is $31 per person for 1 hour or $33 per person for 1 hour tubing plus a $5 food or drink voucher. Reservations are required and can be made on the hour and the half hour. Time limits are watched very carefully by the ride operators. Children must be 42 inches tall to ride, and due to the speed, the experience is recommended for more adventurous children.
What You'll Love: You can't beat the speed and thrills of this hill, but the best part is that once you tumble out at the bottom, a state of the art conveyor belt is waiting to whisk you back to the top to do it all again. Not needing to climb the hill to enjoy the fun again is priceless.
What You'll Hate: The price can be a drawback, especially for larger families. There is also a greater change of crowds, particularly on weekends and holidays. Expect to spend some of your allotted time waiting in line during peak hours.
Memorable Moments: That moment when you speed over the crest of the hill, picking up speed with the wind whipping all around as you bank off the curves and fly over the bumps.
Worth Mentioning: A smaller hill for little ones that don't meet the height requirements has been added this year, so the whole family can enjoy the hill together.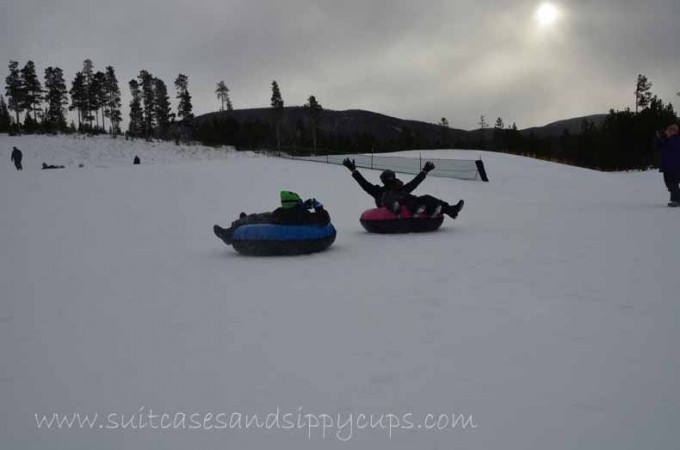 Tubing at Keystone Nordic Center
Old fashioned tubing, the kind you did when you were a kid, is available at the Nordic Center where rolling hills of pristine snow offer a slower paced family experience.
What to Expect: Grab a tube and hit the hills. Large hills offer plenty of speed for the more adventurous or smaller hills for little ones.
The Details: Cost is $16 per tube for one hour or $20 per tube for two hours. There is no cost per person, so for larger families who are willing to share tubes, this is a very economical tubing choice.
What You'll Love: There is no age or height limit for this hill and even during holidays there is rarely a wait or a crowd. Reservations are not needed and families can enjoy a slower pace while still getting the thrill of the slide.
What You'll Hate: This is old school tubing, which means slide down, climb up. That climb up can be a real wheezefest if you are still adjusting to a higher altitude. Be prepared to do a little sitting in between slides to catch your breath.
Memorable Moments: That moment when you line up your tubes at the top of the hill and race to the bottom for an unforgettable family memory. It's up to you whether you go for speed, style or distance.
Worth Mentioning: The Nordic Center offers a slower paced mountain exploration than you will find on the slopes, and has a cozy atmosphere that is inviting. The Soup Bistro onsite offers an all you can eat soup buffet with three kinds of soup, bread, and jam for $11. That's a great price for food on property and an economical way to fill up hungry tubers.
Check out our family experience at the Nordic Center.
~Keystone Resort provided complimentary passes to Adventure Point. They did not require that I express a particular viewpoint and all opinions are my own.~