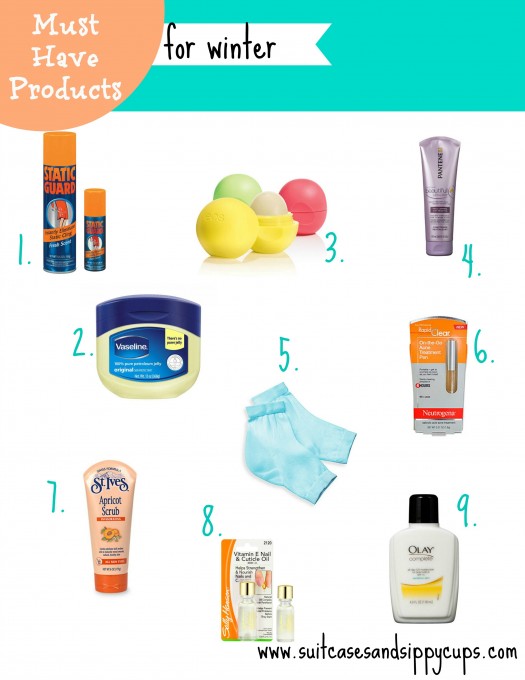 For reasons of necessity and basic lack of interest, my beauty routine is pretty minimal. I wouldn't say that I am "no-maintenance" but I definitely "low- maintenance" in the products and routine department. However, after two ski seasons have shocked my skin and hair into a dried, frizzy mess, I have decided I need to step up my game. For my next ski trip, I will pamper my skin and hair just a little bit more with a few extra beauty products to weather the winter in my bag.
What's in My Winter Travel Beauty Bag?
Static Guard: After a week in Colorado, I have found a purpose for the oppressive humidity of Texas. It keeps hair laying neat (or flat) and flyaway free. I cannot stand flyaway hair, so a can of static guard is a must.
Vaseline: It's as old school as writing an actual letter with a stamp, but Vaseline works for dry skin. Not only is it effective, but you can put it anywhere, including dry cracked feet, chapped lips, and burning hands. If I only had room for one winter beauty product this would be it! Plus, it's not a liquid, so airport security can take a long walk off a short pier with their 3-1-1.
EOS Lipbalm: Quite the opposite of old-school Vaseline, EOS lipbalm makes me feel cooler just by holding it. It's also way smoother than typical chapstick and just plain fun!
Deep Conditioner: In typical busy mom fashion, I usually opt for a 2 in 1 shampoo and conditioner and rely on my beloved humidity to do the rest. That does not work in the mountains with the cold, dry air. A deep conditioner is a must. I like Pantene Beautiful Lengths because it is not too greasy, but keeps hair moisturized.
Gel Heel Socks: I battle cracked heels even at home, so it is doubly bad in the dry weather. Vaseline and socks will work in a pinch, but these do the same thing without the blech-y feeling of sleeping with goo covered feet. They aren't sexy, but neither are cavernous cracked heels.
Acne Spot Medicine: Moisture is a must, but with any extra moisture a little zit may pop up. I find that my skin breaks out whenever I travel (stress? Climate change? Chocolate?) so a spot acne medicine always goes in my bag. Also, I am circulating a petition for the banishment of all pimples with the appearance of any wrinkles. It's just fair.
Apricot Scrub: In the constant moisture vs. pimples battle, a good cleanser helps as a secret weapon. I like a scrub because it feels so clean and helps to clear out the grime from the day.
Cuticle Oil: I hate to have cold hands, so they are almost always covered while I am in the mountains and stay pretty moist. My cuticles aren't so lucky, though, and need a preventative cuticle oil to save them from pulling and bleeding.
Moisturizer with SPF: If you are <ahem> past a certain age, daily sunscreen on the face is just good insurance and it is even more necessary in the mountains. A light moisturizer with a SPF is perfect to keep dry skin happy.