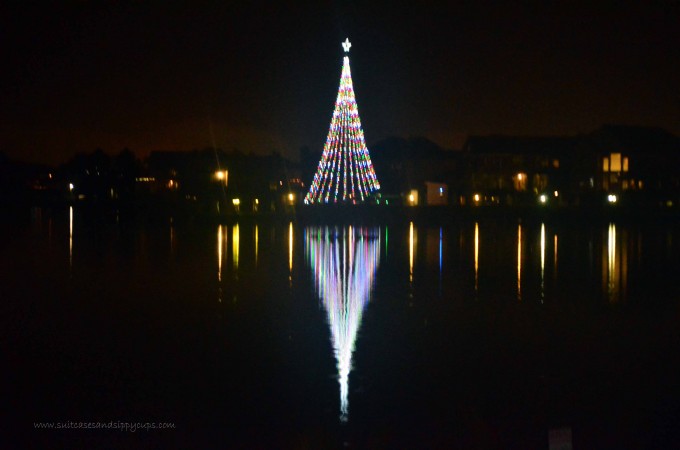 ~Searching for Christmas cheer in the darkness of too much to do~
Sometimes the best part of a vacation isn't the destination or the new experiences, but the actually vacating part. The simple act of getting away from the daily grind is required for people like me who can't seem to ignore the call of laundry and the nag of household projects while at home. It's only on vacation that I can truly forget about my 'to-do' list and plug into my family. With the holiday season closing in, my 'to-do' list is more daunting than ever, I was feeling much more bah humbug than happy cheer. Just when I was beginning to feel desperate about getting a chance to spend some time quality time with my family, I decided to employ my vacating principle around the holidays with a weekend trip to Moody Gardens at Galveston Island. By getting away, I hoped to gift myself some uninterrupted time to enjoy some new Christmas traditions with the family.

~Moody Gardens Transforms to Christmas Central during the Holidays~
Visiting the "North Pole" on Winter Wonder Island
With over 1,000 holiday events spanning two months, Galveston is a little island with huge holiday cheer package. With so much holiday entertainment, Galveston has earned the nickname "Winter Wonder Island." Visitors can even obtain a Passport to Holiday Magic that will guide them through the holiday entertainment options and allow them to win fantastic prizes.
At the heart of all the holiday action is Moody Gardens, a centrally located resort and entertainment venue that serves as sort of a North Pole for the island. Moody Gardens Resort is conveniently located within walking distance to the most popular Christmas attractions in the area, making it a great home base for a holiday getaway. A healthy cup of cheer is added to the convenient location with elaborate decorations, onsite Christmas activities, and family amenities that create a true retreat atmosphere.
Moody Gardens the site of the premiere event, Festival of Lights (more on that later), but there are so many Christmas other onsite Christmas treats. Moody Gardens offers kids' activities to hotel guests free of charge throughout the year, but for the month of December the Kids Crew area is transformed into Santa's Workshop! At Santa's Workshop kids are invited to write letters to Santa, make holiday cookies, and create Christmas themed crafts. S'mores underneath the towering Christmas tree is another popular activity for families.
Another 'not to miss' Christmas activity at Moody Gardens Resort is The Magical Christmas 2-Home for the Holidays dinner and show. A gourmet buffet accompanies an unforgettable show that combines the performance of magician and illusionist Curt Miller with performances of favorite Christmas songs.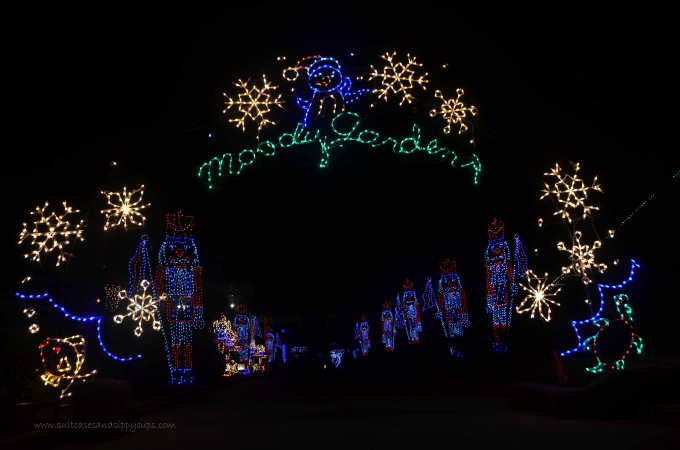 ~Entrance to the Festival of Lights~
A Mile of Christmas Spirit-Walking the Festival of Lights Trail
The festival begins when Santa Claus and some spritely elves parachute into the festival in early November to flip the switch and light the mile long trail of lighted displays. If a parachuting Santa doesn't put you in Christmas spirit, nothing will! From opening night to the new year, the Festival of Lights offers over 100 sparkling light displays synchronized to music, as well as carolers, hot chocolate, and roving performers. To bring a bit of winter to the Gulf Coast, the festival also presents an outdoor ice skating rink and a 100 foot ice slide that has quite a zip to it. It takes a bit of holiday magic to pull off these chilly treats in the balmy Galveston winter, but that makes it all the more enjoyable.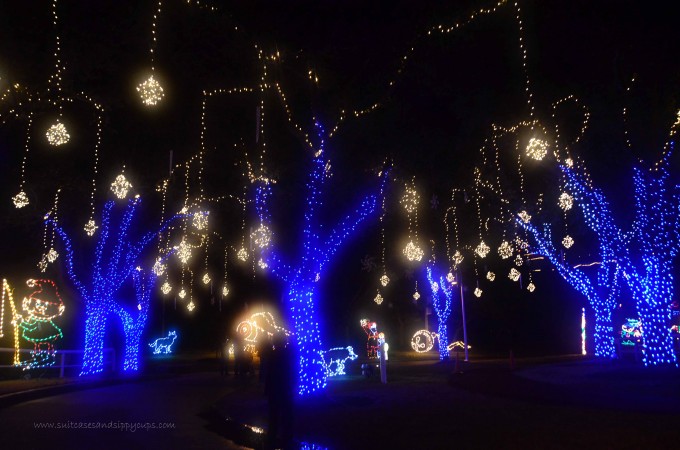 The entire festival is wrapped around the award winning pyramids of Moody Gardens where you can pop in to enjoy even more Christmas festivities. Visit Santa's village to whisper your wish list in the Big Guy's ear and grab a souvenir picture. Christmas movie events in three different theatres (3D, 4D, and Movie Ride) are a great way to enjoy the holiday spirit with a favorite story in screen form. The modern classic Polar Express is shown in both the 4D and Movie Ride theatre and is a great way to relive this favorite in a novel format. It's a bit of movie magic combined with Christmas magic that creates an indoor snowfall at just the right moment of the movie!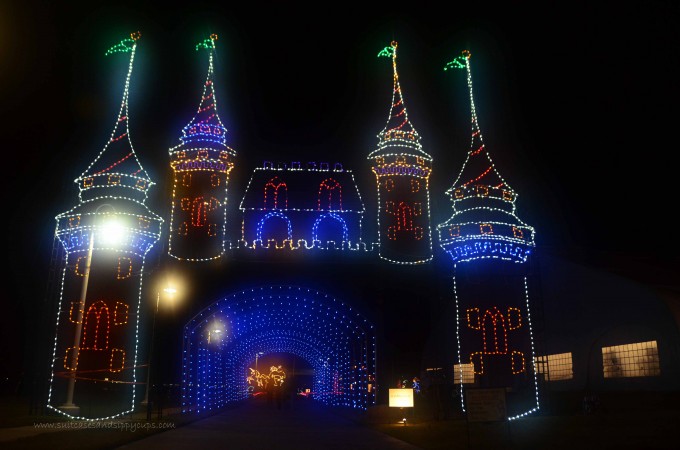 A Cure for the Common Christmas Blahs
After stuffing ourselves full at a Christmas buffet of activities, I was finally feeling the Christmas spirit I was desperate to unearth from the busyness of the season. It seemed counterintuitive to take a couple of days out of an already packed schedule to travel, but it was the essential key to capturing the elusive Christmas cheer. At the end of the evening we were all unconsciously humming our favorite Christmas carols, and Christmas was infused with the missing excitement. As our hearts and feet floated along the final length of the trail, I made a mental note to put a weekend getaway onto my holiday 'to-do' list for years to come.
~Moody Gardens hosted my stay at the hotel and the Festival of Lights. A little elf must have told them that I was becoming a Christmas scrooge, but they did not require that I express a particular viewpoint in exchange for all this holiday cheer.~