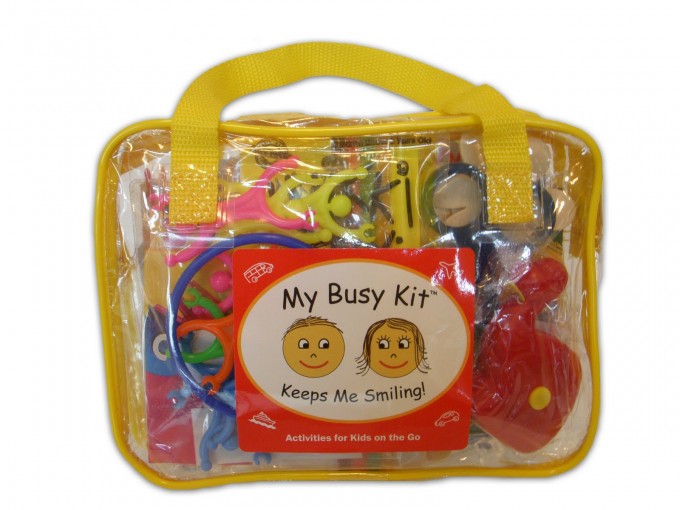 Busy hands make happy travelers, or the more horrifying flip side of the coin is that bored hands make cranky caged monsters. With eight hands to occupy, I am always on the lookout for activities that can make an on the go moment more entertaining. Often, I enjoy tapping into my creative side to assemble fun games and toys for the next car or airplane trip. But, sometimes I just want to push the easy button and let someone else do the job for me. That's where a product like My Busy Kit is a lifesaver.
My Busy Kit was designed by two Bay Area moms on the go who recognized a need in their own family for sanity saving activities while they traveled. Right in their own kitchen, Lorraine and Annabel designed a lunch sized bags included items for coloring, pretend play, fine-motor development, and real-world discovery. The wide assortment of "mom-tested" activities is designed to encourage independent play and imagination building.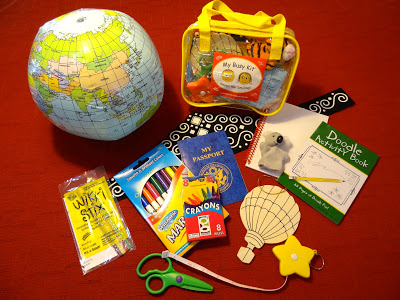 What's included in My Busy Kit?
Because each My Busy Kit is still assembled at home by the creators, the contents inside are varied as they discover new and exciting products for kids. Our sample kit included:
· Blank spiral notebook
· Activity pad
· Washable Crayons and Markers
· Wooden shape to color
· Retractable Tape Measure
· Velvet Coloring Crown
· Finger puppet
· Inflatable Globe
· Safety scissors
· Finger Puppet
· Wiki Sticks
The Details
My Busy Kit is best suited for ages 3 to 7. Prices range from $19.95 to $26.95 plus tax. To get a snapshot of the current kit contents, visit My Busy Kit website.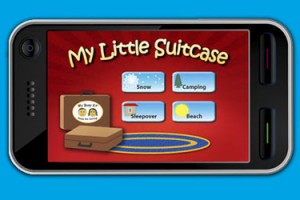 Other Products from the Creators
Recently, the company has expanded into mobile applications, including My Little Suitcase,an IPhone app for kids that is designed to foster their excitement for travel.. It begins with a bright menu of choices for a beach trip, snow trip, camp trip, or sleepover. Once the destination is chosen, kids get to pack things like mittens, camping lanterns and beach balls. One by one, they choose items to drag into the suitcase until packing is complete. Once they arrive, they get to do what kids to best – PLAY! Kites, beach balls, snowflakes and shooting stars are all part of the My Little Suitcase adventure. My Little Suitcase Kids Travel App is most suitable for ages 2 to 6. Price on the iTunes App Store is 99 cents.
My Favorite Part
Both the My Busy Kit and My Little Suitcase are great tools for traveling, but my favorite thing about these products is that I love buying from another traveling mom who has been in the trenches and created products to make traveling with kids possible. It's a very parents helping parents business model that makes me happy every time I throw My Busy Bag into my carryon and go.
Win Your Own My Busy Kit
Win your own My Busy Kit along with a huge travel prize pack valued at $450.
~My Busy Kit provided me with a kit to review. They did not require that I express a particular viewpoint and all opinions are my own.~