Today I am so excited to have Kimmy from Afterglobe to share about what to pack for a trip to Hawaii. She is my go-to expert on all things Hawaii, and we share a mutual love for wacky roadside attractions. That only would be enough to make us kindred spirits, but her passion for travel and commitment to follow the road less traveled is an inspiration to me.
~~~~~~~~~~~~~~~~~~~~~~~~~~~~~~~~~~~~~~~~~~~~~~~~
What to Pack for Hawaii: A Guest Post from Afterglobe
Being a regular traveler to Hawaii, I've become an efficient packer to the islands and often get asked what's in my suitcase. Packing for a trip to Hawaii is simple as long as you remember one simple guideline; don't pack too much. Most people tend to over pack when visiting Hawaii or any other tropical destinations.
When flying to Hawaii, you shouldn't have to check any baggage. Packing light will save you time, effort, and money from airline charges for checked baggage. You'll want that extra money for once you arrive. Everything you need should fit into your two carry-on items. If it doesn't, you know you've packed too much.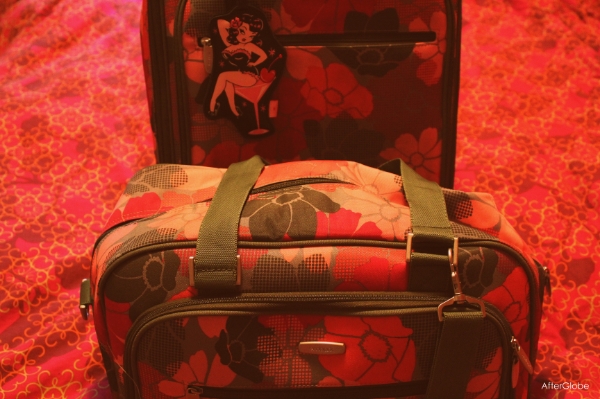 Only two carry-on bags, per person, are needed to pack for Hawaii.
Start off with packing the smaller of your two bags focusing on what items you will need while in route to your destination. These are the items you will want to easily access and will be placed in the bag placed under the seat in front of you. It's all about what you will need in-flight and keeping valuables close by.
Pack a travel-size bottle of hand sanitizer and anti-bacterial wipes to be able to clean your seat armrests, tray, seat belt buckle, and any other frequently used surfaces in your seat area before you sit down. Not to mention your hands before eating.
You own fill-able water bottle. It's important to stay hydrated during a long flight.You'll also want this to take with you on hikes.
A neck pillow to make yourself more comfortable and in case you want to take a nap.
Snacks such as fresh fruit, nuts, high-protein bars, and jerky.
Camera with memory cards and battery charger. You will take a ton of pictures while in Hawaii, make sure to bring an extra memory card with you.
A tablet with charger and headphones for watching movies during the flight and to stay connected back home. You won't need more than this since your days will be filled with enjoying the islands. The headphones can also be used to watch any in-flight entertainment. If you don't know the Hawaiian Islands well, download a guidebook, such as one from the Revealed series, to your tablet to read on the plane.
Sunglasses. You will pretty much wear these all day in Hawaii.
Hat. Pick one that will cover your ears and nose to give you extra protection from the sun.
Lip balm with SPF, medications, and other travel-size 3.4 oz or under, toiletries all packed in a quart size zip-lock bag.
Photo ID with all travel itineraries, confirmations, and boarding passes, if you print them out at home.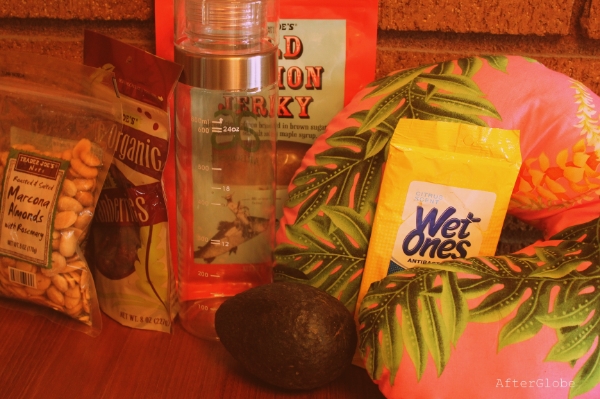 Items in your smaller carry-on should be filled with what you will need in-route to Hawaii and your valuables.
When it comes to what clothing to pack for Hawaii, you don't need much. Hawaii is very informal. Keep the idea of resort wear in mind and you should be fine.
Two swimsuits/board shorts. That way you will always have one to wear when the other one is drying.
Beach cover-ups. 3-4 tunics, sundresses, and/or sarongs you can make into a dress. Most likely, you will be going places right before or after you hit the beach. Pick cover-ups that will easily go right over your swimsuit to be more accessible.
1 Rashguard. A rashguard will be your best friend while engaging in water sports, especially snorkeling. They usually have SPF built right into them and will prevent you from getting burned.
2-3 Breathable cotton button-down shirts. Have at least one long sleeve in case you want a little more coverage from the sun.
2-3 Shorts and/or skirts.
1 Pair of pants or jeans. If you are going to be going anywhere upcountry or to higher elevations, it gets much colder and you will need a pair of pants to keep you warm. They are also needed if you plan on doing any activities such as zip-lining or horseback riding.
1 Pair of linen pants, khakis or capris. These can be great for wearing at night to dinner.
1 Lightweight sweater or jacket. Hawaii is generally warm year-round with average temperatures during the day ranging from 81-88 degrees. However, if you are visiting during the winter months or plan on visiting anywhere with a higher elevation, you will want something that will be able to keep you warm.
A vintage aloha wear dress or shirt. Wearing this is a great way to get to know the locals. They love them and will usually strike up a conversation with you simply because you are wearing vintage aloha wear. You can easily pick up a piece or two through Etsy or eBay.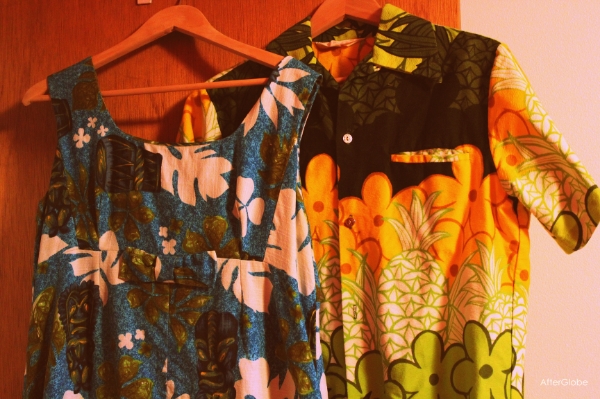 Wearing vintage aloha wear is always an instant conversation starts with many locals.
1 pair of flip flops, known as slippahs in Hawaii.
1 pair of sneakers with 2 pairs of socks for hiking.
1 pair of wedges if you want to dress-up a bit when you go out. Heels are never needed.
1 pair or aqua socks or reef shoes if you plan to spend a lot of time in the water.
Reusable shopping bag. Plastic bags are banned on many of the Hawaiian islands. Having your own reusable bag is not only environmentally friendly when you go shopping, but it's perfect to double at a beach bag. Or you can pick on up once you get there at Foodland. They have the best reusable bags, anywhere!
Waterproof bag or floating case to keep your keys, money, cards, and anything else safe while in the water.
Snorkel set. Yes, you can rent these on the island for cheap. If you are anything like me and love to snorkel, you already own your own set you bought years ago.
An extra bag for the trip home. Pack a bag you can lay flat at the bottom of your larger carry-on that you can pack with extra items you buy while on the islands. Let's face it, you are going to buy stuff while in Hawaii. They have too much great stuff not to. You are going to want to bring things home to friends and family, as well.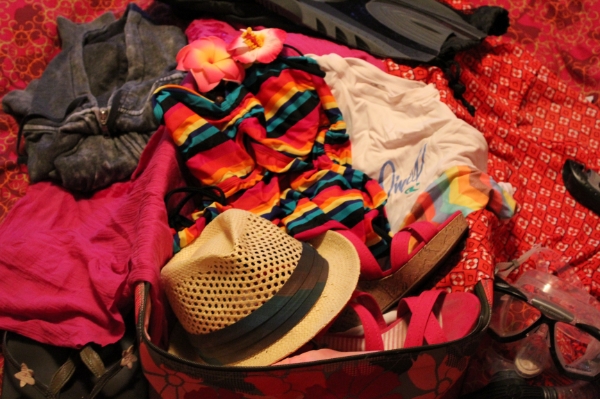 Don't over pack to have more money to spend in Hawaii.
There are a few things that you will want to pick up once you are in Hawaii. Yes, you could pack these, but it's easier to get them once you arrive. Especially since you will need bigger than the 3.4 oz travel sizes.
Reef-Safe Sunscreen. It's really important to get the reef-safe sunscreen to help protect Hawaii's coral reefs. The oils in regular sunscreen are damaging to coral and other marine life.
Aloe Vera Gel. You will only need to get this, if you sunburn.
Beach towel. Most accommodations will supply these to you. Even if they don't, they are way too big to pack.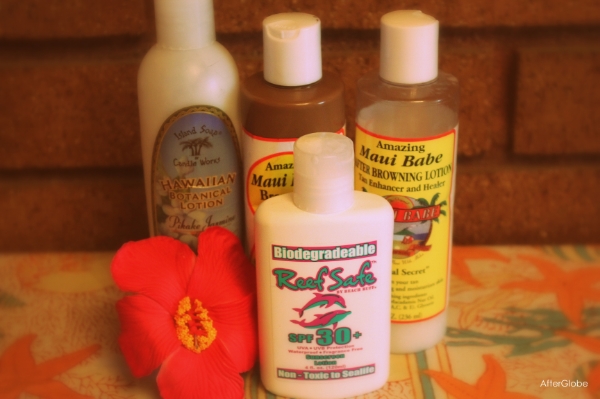 No need to pack everything for Hawaii. Many items are better to get on the islands.
Less is more when packing for a trip to Hawaii. Don't waste valuable luggage space on things that you don't need there. Save that space for bringing home Hawaiian shortbread, chocolate-covered macadamia nuts, lilikoi butter, and Kona coffee. Remember, you can always buy anything you forget once you get to Hawaii. Costco, ABC stores, Wal-Mart, and Longs Drugs are all great places to pick up on island essentials and souvenirs.

Meet the Author
Kimmy Hayes is the founder and editor-in-chief of AfterGlobe; a site on becoming debt free and traveling the world as a married couple. She is passionate about traveling to experience new cultures, snorkeling the waters of the world and reading with her toes in the sand. You can follow along with AfterGlobe on Facebook, Twitter and InstaGram.