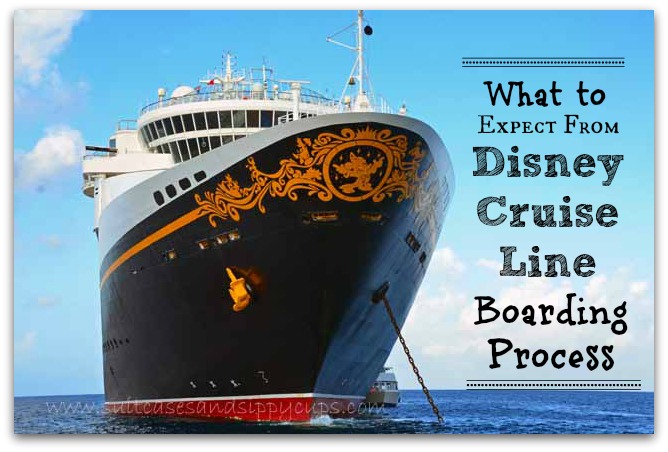 Disney is famous for attention to detail that allows guests at any Disney experience to forget the process and become immersed in the magic. The boarding process of the Disney Magic is no exception. Boarding for a cruise has the potential to be a stressful, cattle-herding process that starts your vacation on a sour note. But, instead, the right Disney touches, from peppy music to smiling employees, makes the Disney cruise boarding process a breeze.
Boarding for Disney Cruise Lines in Galveston, TX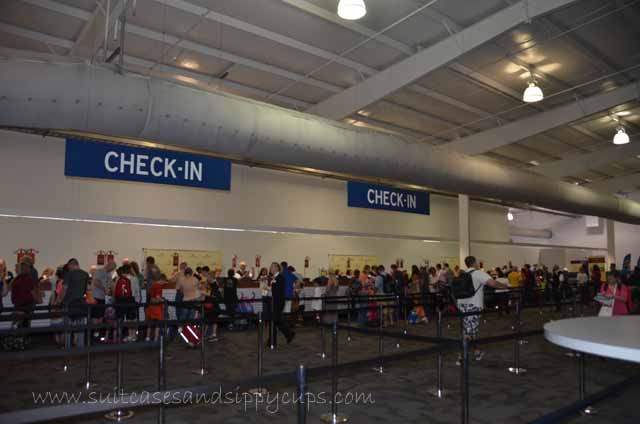 Luggage
Before you arrive at the cruise terminal, you should tag your luggage with the tags provided in your travel package. Porters are available to help with your luggage should you need it, or you can take your luggage to the designated drop off point. If you serve as your own porter, luggage is just left in a pile outside one of the large garage opening along with several security guards to oversee the process. It was not immediately obvious where to leave the luggage, and only after I left our bags in the pile, did I think about the security issues of leaving my bags on the sidewalk. All of our bags arrived safely, though, so it was a fine system.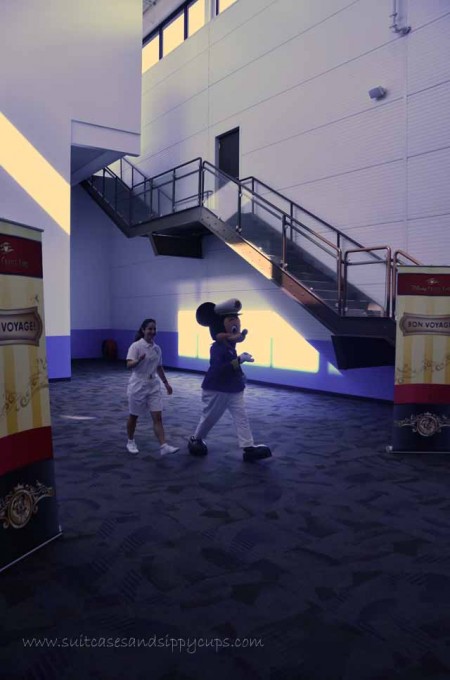 Check-In
Check-In could not have been a smoother process, and we never had to wait more than a few minutes for any part of the procedure.
Passports or birth certificates, along with boarding papers were required to pass through security. After passport verification, the metal detector process was much like the airport-all cell phones, keys, and change needed to be removed from pockets, as well as any laptops placed in separate bins. Shoes, however, did not need to come off.
The next step was receiving a health questionnaire that asked questions about any communicable diseases any member of the party had contracted within the last two weeks. Bring along a pen so you can fill out this form while you wait in line.
The next line is your check in line. You will need to show your passports again, along with your cruise documents. If you are traveling with a group, or you have multiple rooms on your docket, you will need to have every member of your party ready and available before you get in this line. A security picture will be taken of your group at this station, and you will receive your room keys and a boarding card. Your boarding card will tell you your boarding group, so take notice of that before you decide what to do next.
Waiting
Check-in is complete and now it is on to the waiting. Once boarding begins, the process moves fairly quickly, so don't worry that you will be sitting forever. However, you should check your boarding card to see if there are other details you can handle while you wait. Check-in for kids' activities are available, but the line was extremely long with only a handful of attendants available. We found that checking in on the ship was much more efficient. Do keep in mind that there are no refreshments available in the cruise terminal, so come prepared.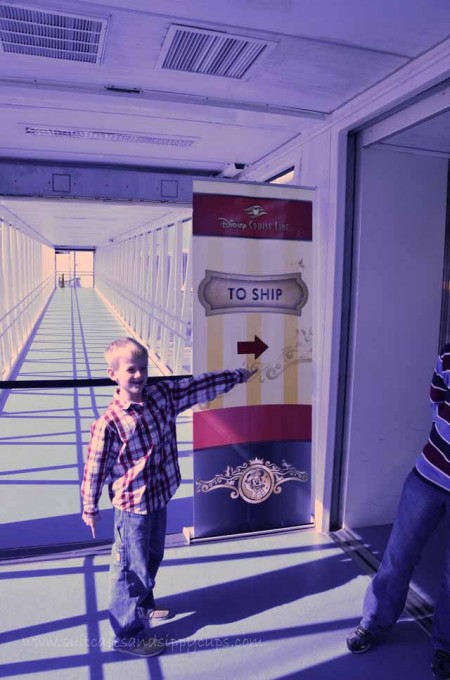 Boarding
When your boarding number is called, you will show your boarding card and your key cards and then you will be allowed to pass through to the ship. Two more stops are needed at this point: one to take a souvenir picture, and one to scan each key card and verify a matching picture. As a bit of Disney magic takes each person's head from the original security photo and matches it to the proper key card. It's a minor thing, but not needing to stand in line for each individual picture saves time and sanity.
The escalators take you from there to the bridgeway, and it's just a few more steps until you are on the ship. As a last perfect touch, each family is welcomed by name onto the ship with a grand announcement and a thunderous applause from crew members.