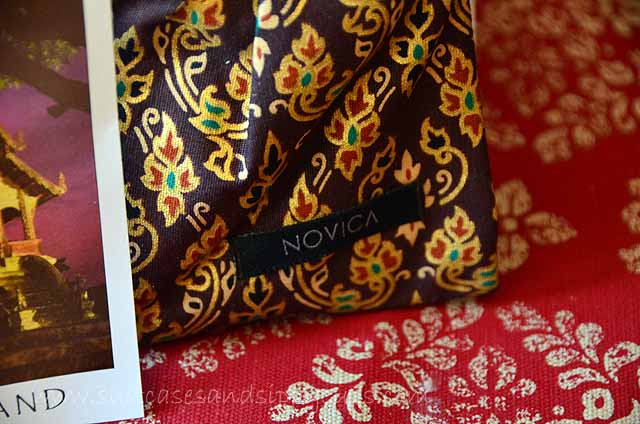 Clothing choices are most often highly superficial. Oh sure, there are clothes we wear for function or comfort (hello, my favorite yoga pants), but for the most part, we chose the clothes we wear because we want to look good. There's certainly no shame in that, but there is just a little bit of clothing nirvana happening when you can find clothes that not only make you look good, but make you feel good.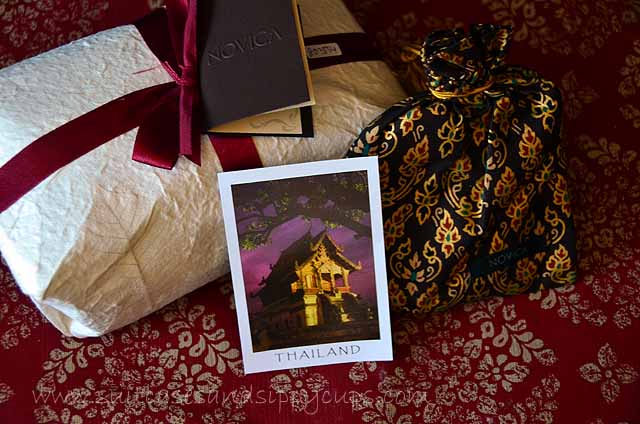 ~Novica gifts are wrapped and packaged beautifully and include a country card with handwritten note~
When Novica approached me about trying some of their products, I had no idea what I would find, but because I knew they were a fair trade company that was associated with National Geographic, I was intrigued. As I got to know the company, I was all atwitter to learn that Novica has partnered with over 2000 extraordinary master artists from all around the world to create one of kind, handmade works of art, including jewelry and apparel. These distinctive pieces represent locally sourced materials and techniques that connect the final product to the country of origin. Many of the artisans represented by Novica are located in developing countries, where life is humble and money making opportunities are scarce. This partnership has allowed the artisans the dignity and pride of following their creative passions while providing for their livelihood.
Knowing that I could own and wear an item that was handmade with pride by an artisan in another country, made my traveler's heart sing, and once I checked out the products, I knew I had to have more than one thing.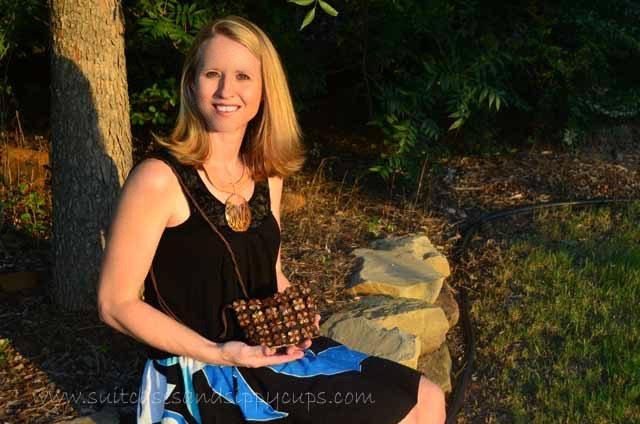 ~My Novica outfit~
So, I decided to buy an entire outfit from Novica.
Deciding what to buy was almost impossible. There were so many distinctive pieces with incredible stories from their creators. The shopping experience was so different from the typical mass produced, cookie-cutter goods I am used to buying. I felt invested in the pieces that I chose, and connected to the artisan that created them. I was a warm fuzzy feeling I have never experienced in any mall.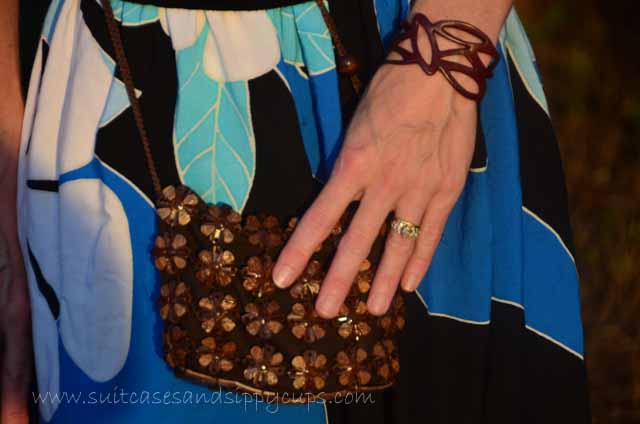 This skirt is hand painted by Insiyah, who lives in East Java with her daughter and husband. She takes pride in creating items that reflect the Batik style of Indonesia. Her goals include first helping her family to have a better life and better education and to build a business that will employ her extended family. In the future, she hopes to use her income to create a shelter for needy women and children in her town.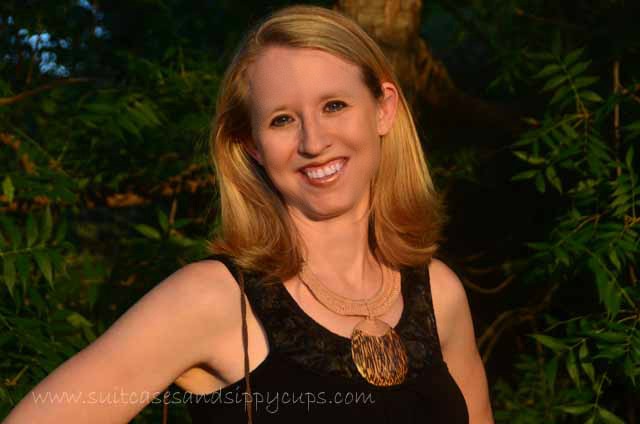 This necklace and purse were designed and created by Saisithon Saisuk from Thailand. She says, "I feel very proud of my work because I design it myself, I choose the materials, compose it and finally the piece becomes real. That's why I love it, and I hope my jewelry will be loved by everyone."
The necklace is hand crocheted in leather and attached to a polished coconut shell. I would have never considered that a coconut could be such a lovely accessory, but I love the stunning detail and texture. I especially love that this artist took something so plentiful and ordinary and made it into a wearable work of art.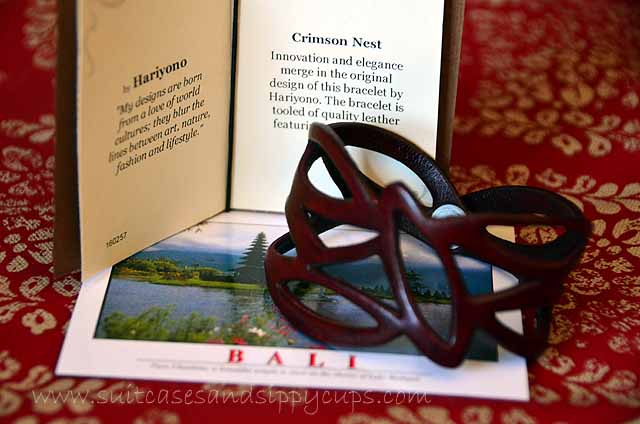 ~Handcarved leather bracelet with artisan card describing the gift and creator~
This bracelet is intricately carved from crimson leather by artist Hariyono from East Java. He first learned to tool leather as he grew up in his father's shoemaking shop. He eventually began designing shoes that were sold throughout Europe, Asia, and North America. After seven years as a shoemaker, he began to design jewelry using leather and other natural materials.
The bracelet is my favorite of my Novica items, both for its artistic value and its versatility. It seems to go with so many outfits and is a great conversation piece. In fact, the whole outfit is a unique enough that it starts conversations every time I wear it-and they are conversations that I am happy to share. Yes, let me tell you about my skirt from Bali, my necklace from Indonesia, and my bracelet from Java and while I am at it, let me tell you about the artisans that made these special items I am so proud to wear.
Today I am linking up witht the Pleated Poppy and Get Your Pretty On