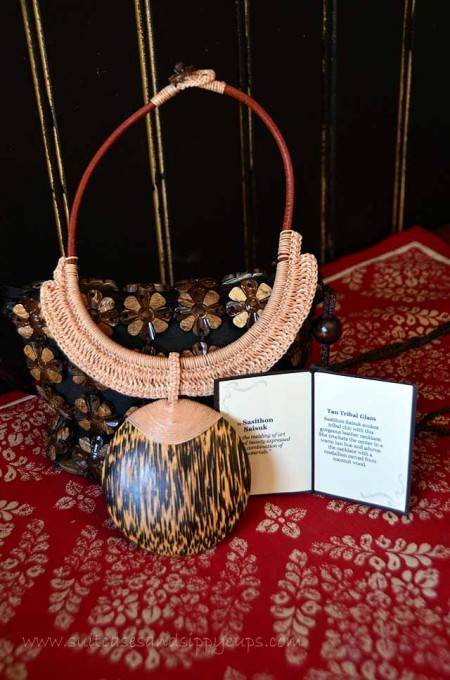 "That is a beautiful necklace," my dining companion gushed. "Where did you get it?"
I instinctively run my fingers over the mottled coconut shell pendant and thank her for her compliment. I was hoping to wear something really special for this dinner out in the Turks and Caicos with a host of well traveled journalists, and it appears that I have chosen my accessories wisely. This is the third time the unique necklace has caught someone's eye and sparked a conversation.
To continue the dialogue, I answer her question. "I got it from Thailand," I say proudly.
As a fellow traveler, her eyes light up, and she implores further.
"When did you go to Thailand?"
"I've never been to Thailand," I reply with a sly smile. That gives me to opportunity to share the origin of my necklace, a story I tell with as much vivacity as if I had actually traveled to the shores of Thailand and picked out the necklace myself. In fact, I might even be more excited about my little conversation piece because it has given me-a hometown girl with a wanderer's heart- a way to connect to people and places I have not yet experienced in person.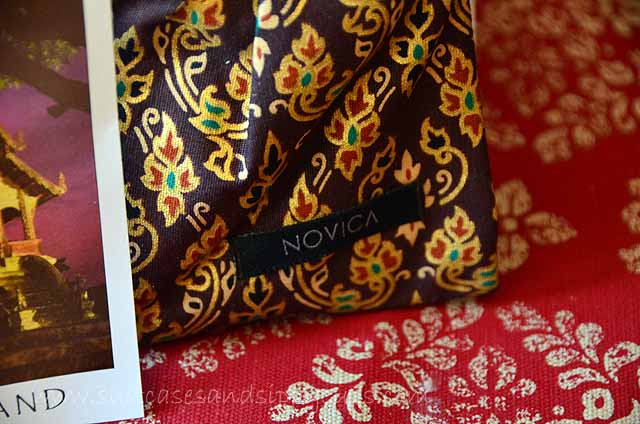 Novica Nation-A Fair Trade Organization with Feel Good Products
Novica, in association with National Geographic, has partnered with over 2000 extraordinary master artists from all around the world to create one of kind, handmade works of art. For over a decade, Novica has provided a platform that enables artisans to display their handiworks online and create an income using their unique skills. Often, these distinctive pieces represent locally sourced materials and techniques that connect the final product to the country of origin. That's enough to make a traveler's heart sing, but there is even more warmth that comes from the Novica business model. Many of the artisans represented by Novica are located in developing countries, where life is humble and money making opportunities are scarce. This partnership has allowed the artisans the dignity and pride of following their creative passions while providing for their livelihood.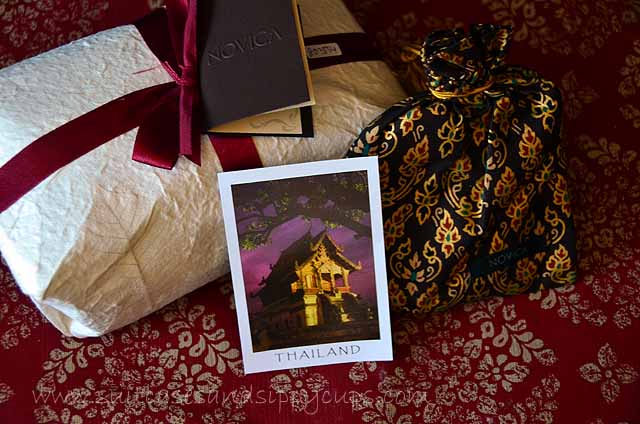 What to Expect from Novica?
Novica.com features a map highlighting the regions where the items are produced, so that visitors can search by region, craft time, or material. Products include furniture, games, jewelry, clothing, rugs, musical instruments and more. Unlike the mass produced crafts that are so common in stateside stores, each Novica creation has a story. In fact, the story is just as important as the craft.
Along with each craft, the artisan shares a bit about their life, their country, and their passion. It is a poignant reminder in a world where goods are cookie-cutter and expendable. The reminder is that there is a value greater, and sometimes intangible, to the end user to be found in a carefully chosen handmade item.
For such society conscious product, you might expect to pay a higher price, but that isn't the case. Novica items are affordable, sometimes shockingly so. They are also well made and durable, made with just the kind of care you would expect from a passionate craftsperson.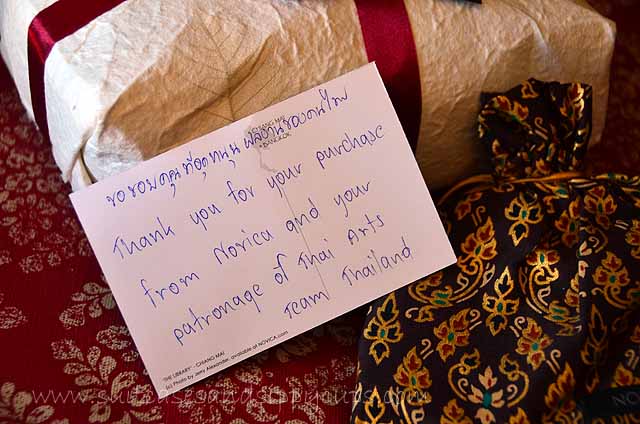 A Global Warm Fuzzy in my Mailbox
I truly treasure my conversation piece necklace, not only for its unique beauty and the value it represents to the artisan that created it, but also because it has just made me feel so darn good from the minute it arrived in my mailbox.
Packages are gift wrapped in either handmade paper, or reusable cloth bags that are almost too beautiful to open and reflect the country from which they came. Each product also includes a tiny book that tells a bit about the craft and the artisan. A mini postcard representing the country with a handwritten note from the creator completes the package, and the global experience that goes way beyond just buying a new bauble.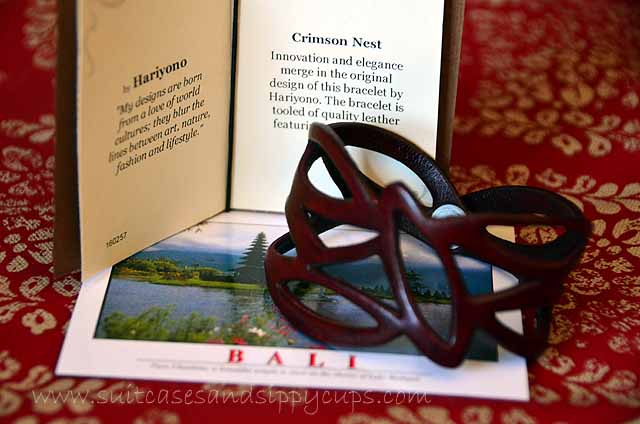 ~Beautiful Handcarved Leather Bracelet from Bali~
Pretty Purchases Lead to Global Philanthropy~Novica's Artisan Loans
Purchasing any kind of handmade good, whether it's of the flea market or Etsy variety, or an online curator like Novica has an unmistakable soul pleasing quality. It is certainly more gratifying than driving down to the big box store and picking a generic and mass produced item off the shelf. Novica takes this purchasing philanthropy a step further with Novica Artisan Loans. As a company that was created as a way to completely re-invent the way artisans sell their handcrafted treasures, this is an extension of that dream.
The way it works is that lenders (that's you) browse the available funding requests and choose an artisan and an amount to loan. Once the loan request becomes fully funded-maybe even from people all over the world-the funds are released to the artisan. That allows the purchase of raw materials, tools and supplies for local artisans, which not only allows them the opportunity to further their craft, but also establish a sustainable means of income for their immediate family and beyond. The trickledown effect drives stronger economy in the town or village of the artisan, creating a powerful ally in the defeat of global poverty.
Through terms created by Novica, each artisan repays the interest free loan, and that money is repaid to the lender-with a 15% bonus if the money is spent in the Novica store. The end result is the creation of beautiful crafts that represent a world culture, but even more beautifully, there is also the creation of a source of income that provides integrity and security for the recipient.
~Novica provided me with a gift certificate to purchase an item of my choice, but I loved the crafts and business model of Novica so much that I spent my own money to buy an entire outfit. I am now a loyal Novica customer and can't wait to make my Christmas list.~