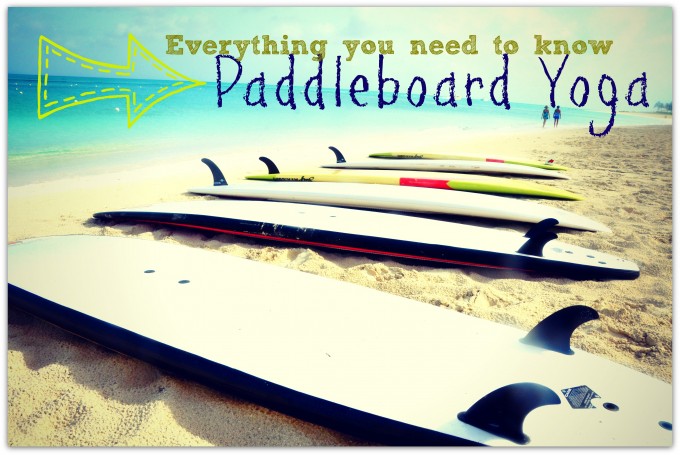 Yoga is supposed to be a sport that facilitates the calming of the mind, but at the moment, my mind is anything but quiet. Lying in a surrendered state known as child's pose, I imagine that I must look something like a panicked frog. Through the opening in my legs, I can see where the horizon meets the turquoise blue water. I wonder if I lay still enough, I can play possum, forcing the instructor with her gentle calls to give up the lesson and call it a day.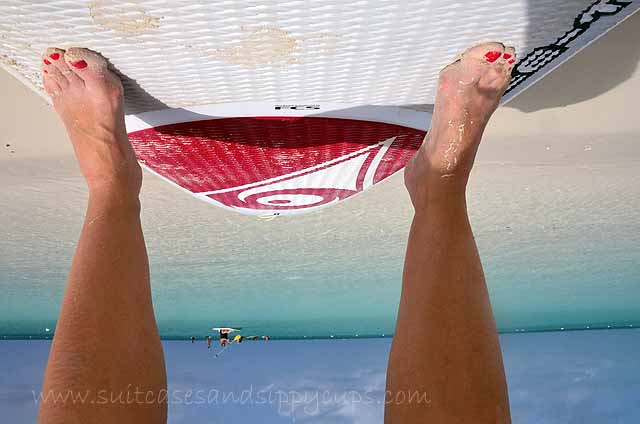 No such luck. She commands us all into downward facing dog, and my body obeys her hypnotic voice. With determination, I dig my toes into the rubber surface and thrust my hips towards the sky. I feel a bobble and I breathe rapidly, as I try desperately to stay centered and right myself. Quickly, I check between my legs and the sea and sky still meet horizontally, rather than a topsy-turvey version that would prove that I would imminently splash into the ocean. With ragged relief (and surprise), I look around and see that I am still upright in the midst of my first Paddleboarding Yoga class.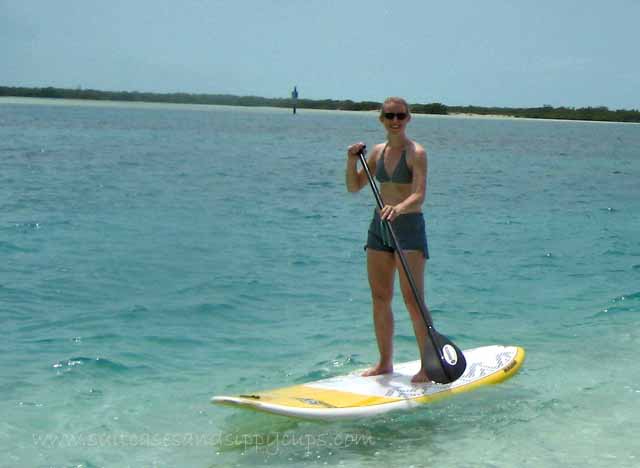 What is Paddleboard Yoga?
Let's break it down. Stand-up paddleboard, or SUP to his friends, is the latest and greatest in water sports. Hailing from Hawaii, it has spread like rippling waves to rivers and lakes across the world. Participants stand atop a giant surfboard and row with a single paddle. Think of it as a cross between canoeing and surfing that requires good balance and core strength. Yoga is a long-practiced (landlubbers) skill that combines balance, flexibility and core strength as the body moves through a variety of poses. It was only matter of time before these two exercise forms were married to create a double the zen, double the core crushing experience that both surfer dudes and yogis could appreciate.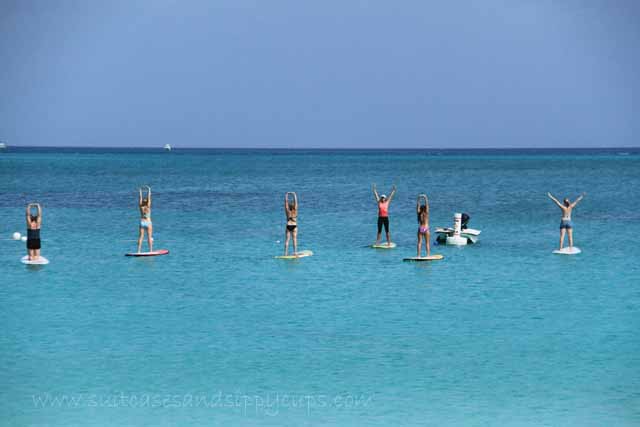 At its best, Paddle Board Yoga kicks traditional yoga up a notch, as the added element of using the ocean as your yoga mat activates and challenges muscles not normally used on land. That's great news for yogis who want to challenge their current gym workout, but for those of us who think Warrior 1 and Warrior 2 are extras in the latest Gladiator, it could spell very wet trouble. Despite the fact that Paddle Board Yoga sounded a lot like a prelude to copious amounts of swimming, I was determined to give it my best.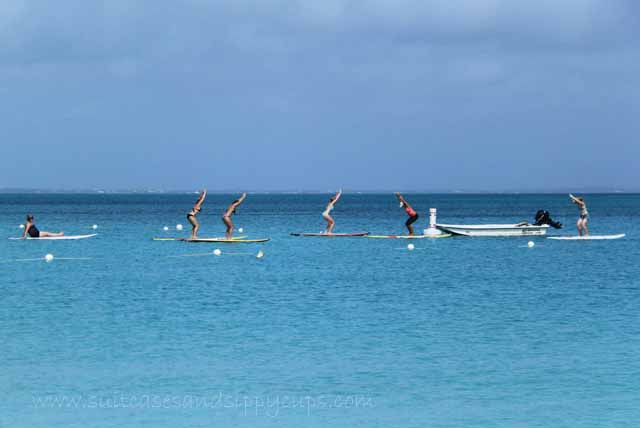 Are there any pre-requisites to Paddle Board Yoga?
Yoga and paddle boarding are both sports that are great for beginners as the basic skills can be learned very easily. However, when you combine the two, you do yourself a big favor if you know how to swim. As with average paddle boarding, there is a good chance that you could be in the water at some point, so swimming is a basic survival skill in this situation. Be sure to tell your instructor if you have any concerns about your swimming skills.
Beyond swimming, many instructors will encourage you to have at least a beginning paddle boarding class before combigning yoga and paddle boarding. Some experience with yoga on solid ground would also be a major boon, although it's not completely necessary. As long as you are comfortable with swimming, and willing to put those skills to use, you can tackle paddle board yoga with any level of skills.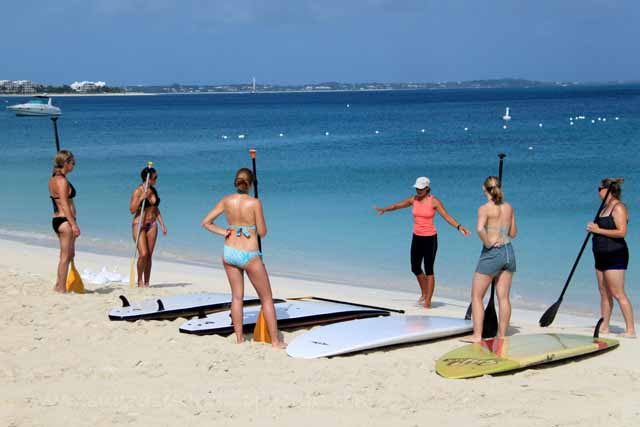 What to Expect at Your First Paddle Board Yoga Class?
Most classes will begin with a few stretches and introductions on the beach. Properly limbered, you grab your board (don't be scared) and head out into the water. A brisk paddle around will warm up your muscles and get your blood pumping, so that you will be ready for the serious business of yoga on shaky ground to begin. An anchor may be provided to keep in one relative spot if you are on choppy waters or in the ocean where the current could carry you away. Toss that anchor into the deep blue and take a deep breath. It's time to yoga.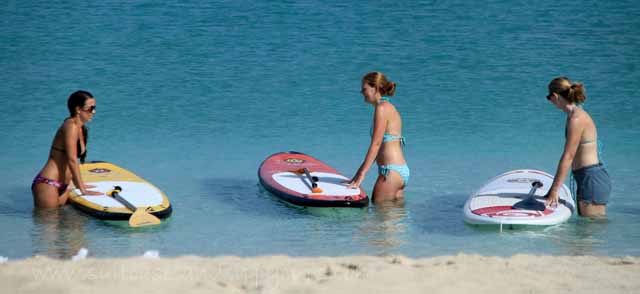 Your instructor will lead your through a series of poses and breathing exercises. If you have some familiarity with yoga, you will be able to follow the vocal cues without looking at the instructor. Any poses that can be done on solid ground can also be done on the paddle board, but your first class will begin with the most basic moves. If yoga is a brand new pursuit, position yourself so that you can see the instructor and follow along.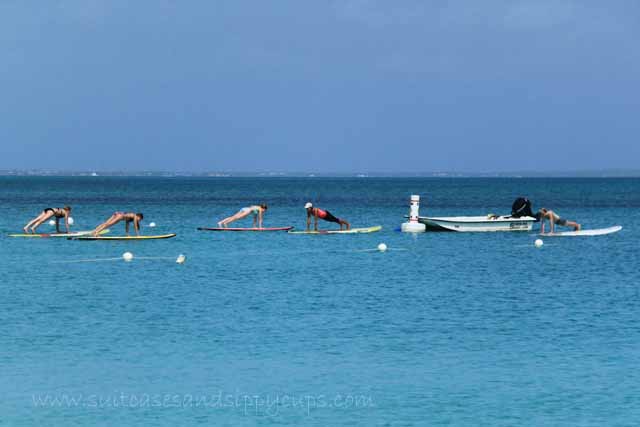 What Should I Wear for Paddle Board Yoga?
Swimwear is the first logical choice for this sport, and in most cases it is a good choice as long as you are confident in the coverage your swimwear provides. Just remember that you will be stretching and bending (and maybe flopping and floundering) so you will want to wear something free from wardrobe malfunction potential. Anything that you would wear for a typical yoga class would work too, as long as you can move freely and it won't weigh you down if it gets wet.
You might also want to add a sweatband to your SUP yoga outfit. Should you fall in and get wet, the headband will soak up any drips before they run into your eyes and nose. Nothing runs a good down dog like a bead of salt water dripping ominously towards your nostril.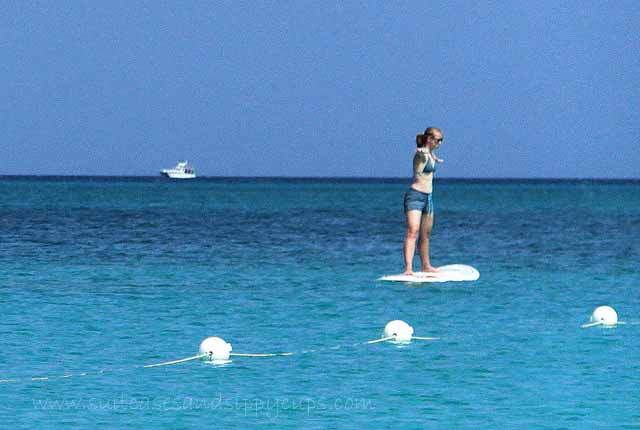 So, on a scale from one to headstand, how hard is Paddle Board Yoga?
I have to admit, it's not as hard as it looks, but it is hard. It's much harder than regular yoga (duh!), but since I tend to suffer from ADD any time I sit still, yoga has always been kind of a snooze fest for me. The added challenge of staying upright on a teetering board definitely makes the workout more challenging in a very fun way, especially if you happen to be a perfectionist who does not like to get her hair wet.
At the beginning of the lessons, it seemed to be all bobbles and near misses, but after some trial and error, my body seemed to acclimate to the movement of board and it became easier to flow from pose to pose. The key to success seems to be in slow, calculated movement. In my mind's eye, I was the picture of grace, but I am afraid that in reality, I looked more like a sloth trying to stay perched on a branch. Whatever the picture, I am happy to say that I stayed on my board throughout the entire lesson.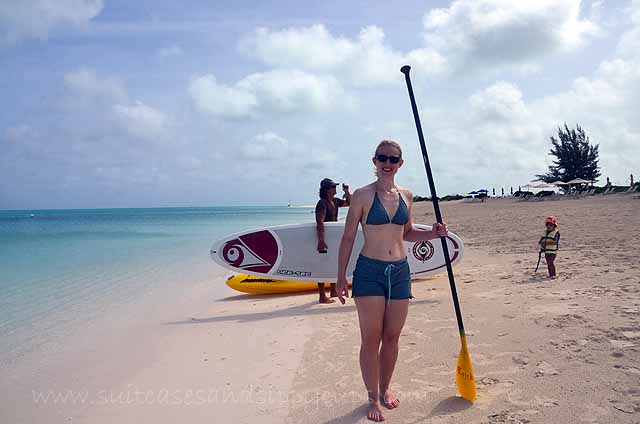 Other than the sun-kissed, yoga goddess instructor (who definitely DOES NOT count), I was the only member of our group who stayed out of the water. Staying on the board didn't seem to be the predictor of enjoying the experience, though. The frequent splashers seemed to be having just as much concentrated fun as those of us who were hanging on with every ounce of strength our toes could muster.
~My paddleboard yoga class was provided compliments of Ocean Club Resorts by Water Play Provo. They did not require that I express a particular viewpoint and all opinions are my own.~