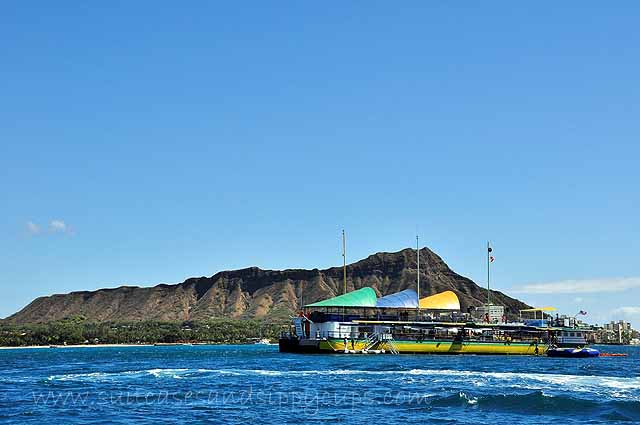 ~The Floating Island Paradise known as the Waikiki Ocean Club~
There are two things you will notice immediately when you step onto the famed Waikiki Beach-the amazing views, and the seemingly endless water sport options. There seem to be as many ways to enjoy the sparkling turquoise waters as there are grains of sand on the white beach. Equipment and lessons for stand- up paddleboarding (SUP), snorkeling, jet skiing, parasailing, surfing, and other water sports available are available to rent at a variety of stands that dot the beach, leaving you with only the problem of which activity to choose.
Decision making and compromise should never be a part of a day in paradise, so instead of settling for just one or two ways to explore the Hawaiian waters, why not have it all?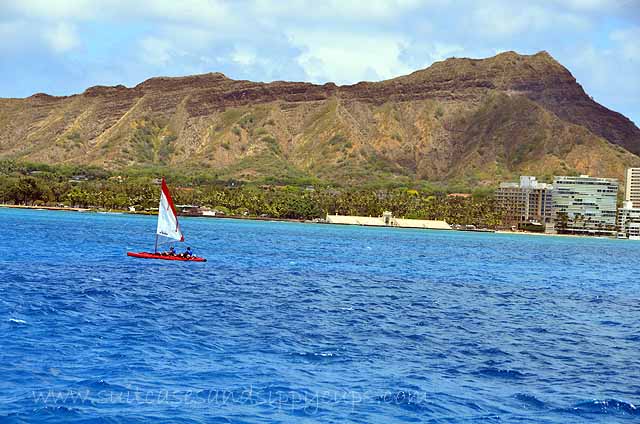 ~Serene views of Diamond Head far away from the bustle of the beach~
Waikiki Ocean Club-Unlimited Water Options
If there is a way to explore the water, you can do it on this 10,000 square foot "island" just off the coast of Waikiki Beach near the Hilton Pier. The floating playground is actually 145 long catamaran with two decks filled to overflowing with water fun. With all inclusive pricing you can snorkel with complementary gear, sun yourself on the 5,000 square foot upper deck, or jump to your heart's content on the giant ocean trampoline. Take a dive off one of three platforms or take a slippery splash from the deck slide into the warm ocean water.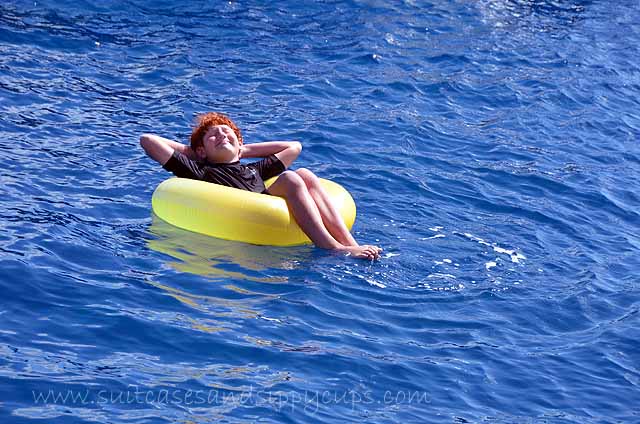 ~Yeah, it's like that~
What's Included and How it Works?
Waikiki Ocean Club is definitely an all-day getaway, and although you will just be a short boat ride from the beach, you will feel like you are in another world. Tickets are purchased at the kiosk along the beach, and then you will be whisked away to your "island" paradise. Tickets are $89 for adults and $49 for kids and include: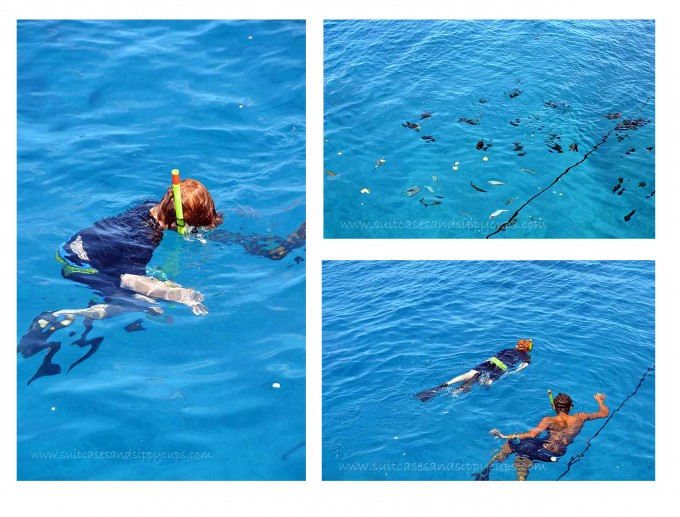 Snorkeling gear and access to the beautiful reef around the ship
Swimming platform, perfect for little swimmers
Three jumping platforms at 5, 10, and 15 feet above the water
Slippery slide into the ocean
A variety of floaties, toys, and life jackets
Ocean Trampoline
5,000 square foot sunning deck with teak chairs
Hands on Sea Creature Exploration
Free Wifi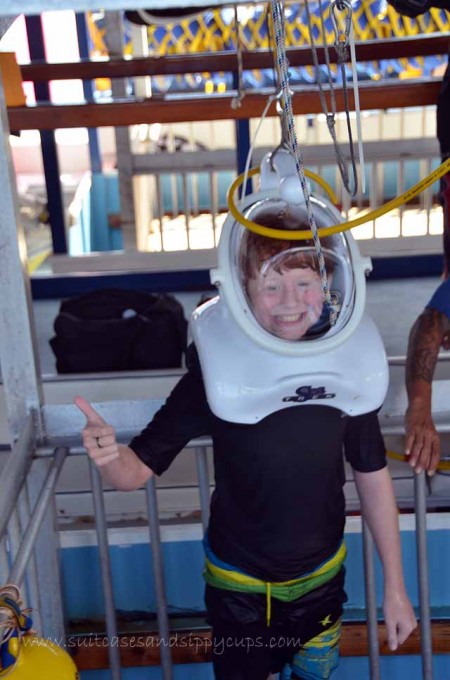 ~Helmet Diving~
All that is included in your price along with a friendly and knowledgeable staff, fully trained life guards, dive instructors, and water sport gurus, a full service restaurant and bar, and clean, spacious changing facilities. If you want to add even more to your day, you can arrange for additional water fun for a fee. These include:
Helmet Diving
Secret Reef Snorkel Tour
Introductory Scuba Lessons
Aqua Quads
Standup Paddleboarding
Ocean Kayak
Diamond Head High Speed Boat Tour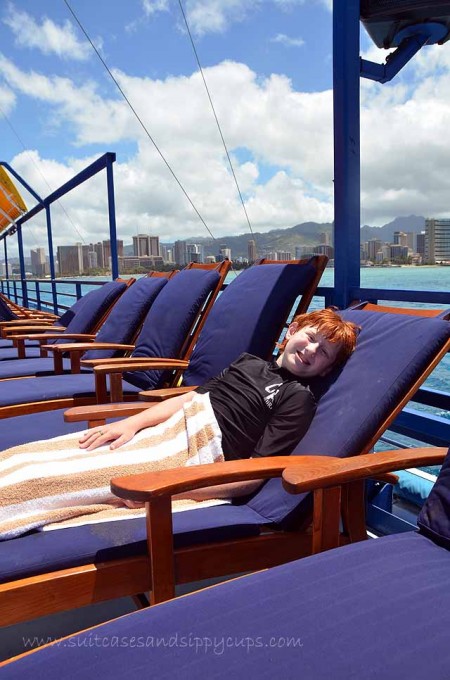 ~Relaxing is a big part of the day!~
Why You'll Love It and What Makes it Worth It!
So, let me lay it out for you: I don't really enjoy swimming or even really getting my head wet (crazy, but true) and my son, who was traveling with me, loves to swim, but has a pretty hefty fear of the ocean and the creature that lurk therein. Finding ourselves on a boat speeding towards a floating "island" water sport paradise seemed like a fairly half baked plan, and I suppose we were both a bit skeptical. Our skepticism was completely forgotten once we stepped on board the Waikiki Ocean Club and were welcomed by the most excellent captain and crew.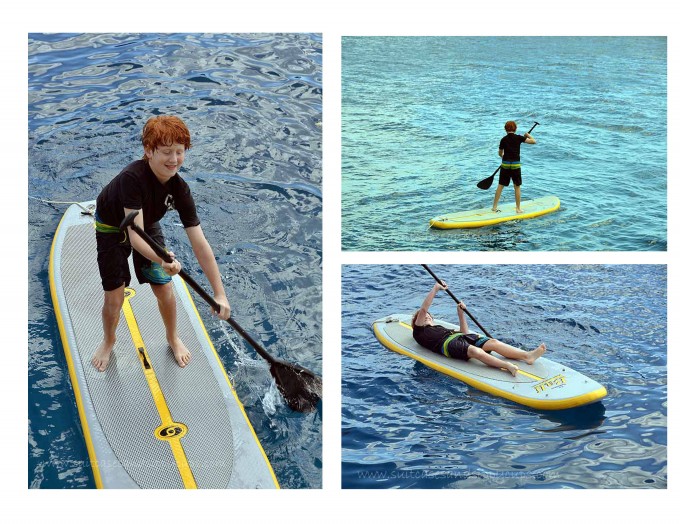 ~Stand-Up Paddleboarding~
As we were acquainted with the ship and the activities available, I couldn't help but notice the dream-like serenity of the boat. Waikiki is a beautiful, but busy beach and this allowed us to escape the crowds, but still soak in the turquoise waters with Diamond Head in the background. But, more than just another activity designed to entertain the tourists, the staff aboard the ship felt more like a family welcoming us to their floating home while they played the role of host perfectly. They were instantly attuned to our needs and took note of our interests (and fears.) Way more than just a typical "ride operator" each staff member seemed eager to make a new friend and just as eager to share their love of the water.
~Swimming, ocean toys, and trampolining are included in the base price~
The biggest delight for me, as a parent, was watching the staff interact with my son in a way that made his confidence in the water soar. One minute he was sidled up with the Captain, taking a impromptu knot tying class. The next minute he was standing with the dive master as they explored a tank full of exotic sea creatures. Then, he finally felt brave enough to venture out onto the swimming platform. Instinctively, one of the lifeguards sensed his trepidation and began chumming the water with bread crumbs to entice the fish to the platform and the boy to the water. Finally, the ocean trampoline proved too tempting and my son took a timid step into the ocean. Without a word, a lifeguard slipped into the water, grabbed him by the hand, and took away all his fears. Instantly, he transformed from the boy that was afraid of the ocean, to the boy that could not be dragged away from the ocean.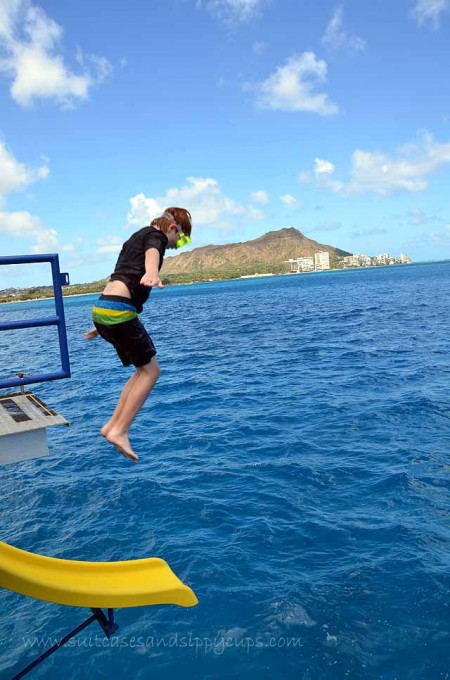 ~Geronimo!~
I watched as he tried out paddleboarding, kayaking, and snorkeling, and then he moved fearlessly onto diving and sliding off the back of the boat. He was so entertained by the infectious energy of the crew that I could have easily stayed on my perch in the sun and watched. But eventually, the draw of ocean trampoline proved tempting enough to entice me into the water. I even got my hair wet. Then we jumped like crazy. Surrounded by the clear water, we laughed and jumped and rolled around on that giant trampoline until our sides hurt. Onboard, the whole crew laughed and clapped along with us, knowing that their hospitality and energy had created a family moment that we would never forget.
Our admission to the Waikiki Ocean Club was provided compliments of Oahu Tourism Board. All opinions are my own.