Welcome to Travel Tips Tuesday! I'm joining with

Walking On Travels

to share our best travel tips. Join us please by linking your travel tips at the bottom of the post.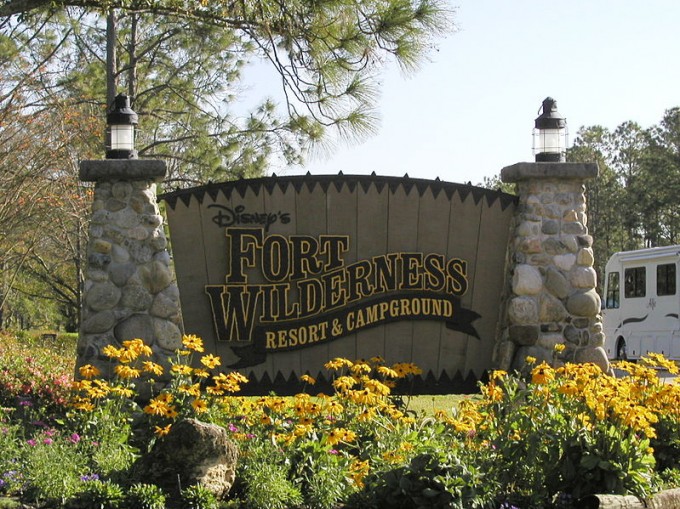 When it comes to Disney, you could say we've done it all. In fact, you might say we've done too much. In ten years, we've made six visits to Orlando and Disney has always been the biggest draw to call us back to the city. With so many visits, we have had a chance to try out the many different ways to "do" Disney. We've stayed onsite at both value and luxury Disney resorts. We've stayed offsite in Kissimmee to get the best possible hotel rates. We've even rented a house near Disney and made the drive into the park each day. We finally had a chance this fall to finish our lodging tour de Disney this fall when we camped at Fort Wilderness.
With all this Disney lodging experience, each stay offering different pros and cons, could we pick a favorite? Absolutely! Our hands down favorite was our most recent stay at Fort Wilderness. Camping Disney style has many benefits, but it is the many unique aspects of Fort Wilderness that make this our favorite Disney stay.
What Makes Fort Wilderness the Best and Most Unique Lodging at WDW?
1. You can check in from the comfort of your car. If you are renting a cabin, you'll still have to schlep yourself inside to check in, but if you are camping, you will drive up to the Outpost and check right in. After a long drive, sometimes it's the little things that make the difference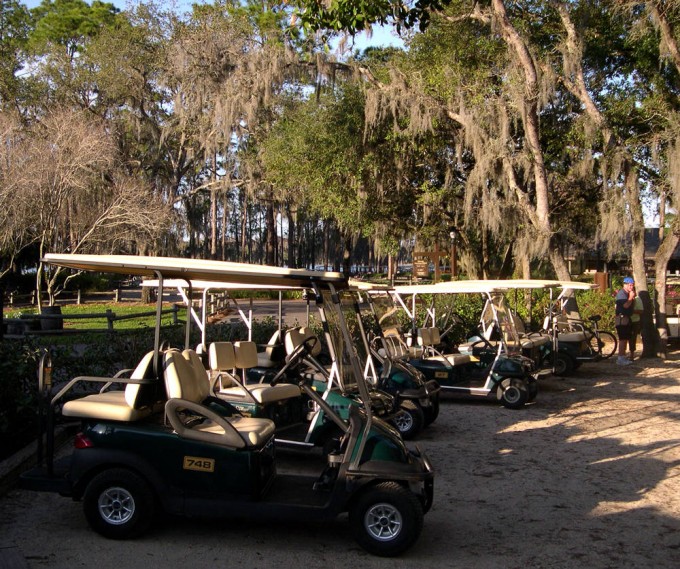 2. Golf Carts. Everywhere you look at Fort Wilderness, you'll see families zipping around on their golf carts. Fort Wilderness is HUGE, so it's not surprising that people would want a little personal transportation. When we first arrived, the golf cart really seemed like unnecessary extra cost, especially since we would be spending our days in the park. But, since we had a day just to chill around the campsite, we decided to indulge in a little golf course style luxury, and it turned out to be one of the best memories of the park. The golf cart made it easy to zip over to the pool, the campfire, and any other activities. But, the most fun was grabbing a blanket and some hot chocolate and just driving around after dark with the kids and recapping our Disney fun.
3.One of the best kept secrets in the Kingdom is the prime fireworks watching place that is the beach at Fort Wilderness. Skip standing around on Main Street with people pressed all around you, and head for the beach. On the beach you will have room to sit and relax and the kids can play in the sand or on the playground while they wait for the fireworks. Music from Magic Kingdom is piped into speakers on the beach, and the views are unobstructed and spectacular. Best of all, there are no crowds to fight when the fireworks are over. You just jump in your golf cart and head back to your campsite.
4. The Hoop de Doo Revue is the longest running and most popular dinner show offered at WDW. With reservations available up to two years in advance, you know this has to be something special. All you can eat dinner is served along with plenty of singing, dancing, and corny jokes.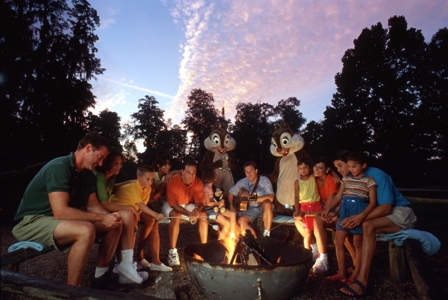 5.Sing Along Campfire. The campfire program is a free nightly event that is open to all resort guests. The program begins with a sing-a-long, led by a Disney cast member, during which you are invited to roast marshmallows around two fire rings. Snacks of all kinds are available at the nearby chuck wagon. During the sing-a-long, Chip and Dale make an appearance and sign autographs. A Disney animated feature is shown on a large outdoor screen to end the evening.
6. Fastest transport to the Magic Kingdom. Fort Wilderness offers an exclusive ferry from the beach directly to the Magic Kingdom. It's a much lower volume of people than any other transportation option, and it is ideal for families with little ones who might want to pop back to the campsite for a nap in the afternoon.
7. More Decorations than anywhere else in the park. Disney knows how to do holidays, but Fort Wilderness is a Disney holiday on steroids. Fort Wilderness guests are in on the fun, as each campsite seems to try to outdo the next one. Many families make a holiday tradition of staying at Fort Wilderness just so they can make their decorations bigger and better than the year before. It is truly not to be missed.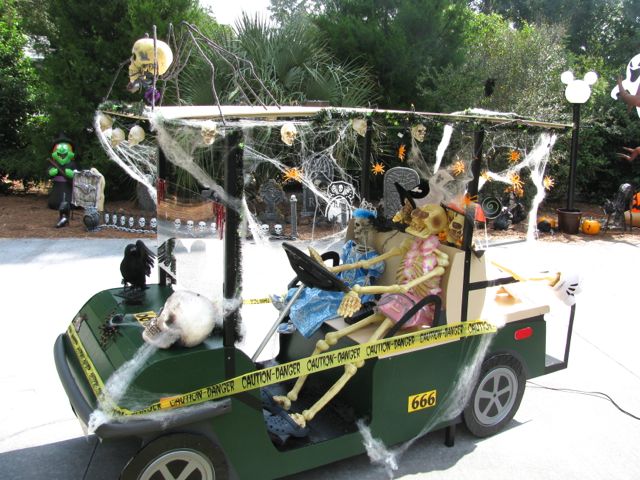 8. Special Celebrations. Along with the over the top décor comes special celebrations that you won't find at any other place in WDW. This is the only place where guests can actually be a part of a Disney parade. At Christmas, Halloween, and Fourth of July guests decorate golf carts, bicycles, or even march as a part of the annual parade. It's a great way to become a part of the Disney magic.
9. Wilderness activites onsite. There is enough to do at Fort Wilderness that you could stay at the resort and never get bored. Horseback riding, archery, boating, bicycling, and fishing are just a few of the many outdoor activities that are available at the resort.
10. If you want the convenience of being on the Disney property, but still want to have a bit of retreat from the Disney madness each day, this is it! This property is the real deal, and even though you are minutes from the Magic Kingdom, you will feel as if you are camping in a secluded wilderness. "Privacy-enhancing landscaping" is the Disney description for the tons of trees that they strategically place between each campsite to make you feel as though you are camping alone. This is a true retreat where you can kick back under the stars and feel the stress of the day melt away.
Curious about Cabins? Take a look at this tour from the Traveling Praters.