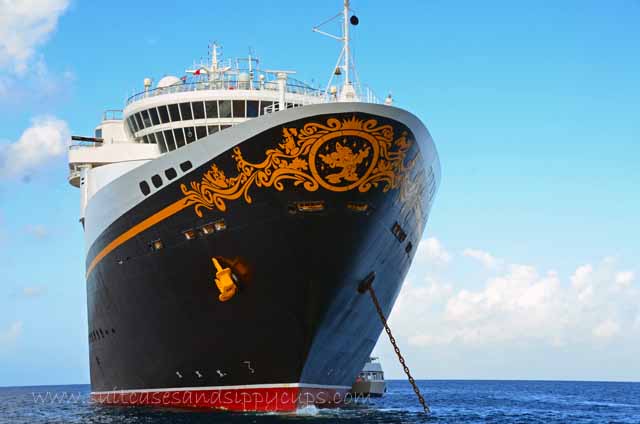 If you are looking for a family friendly cruise, there is no question that Disney has the corner on the market. They also have the biggest price tag. When you begin researching cruises for the family, you will find that you can book a similar cruise on another cruise line for less, sometimes much less. So, is a Disney Cruise really worth the extra cash?
The answer is yes, it's absolutely worth it, and also it may not be worth it at all. In other words, you need to know what you are looking for in a cruise and what you expect to get for your money.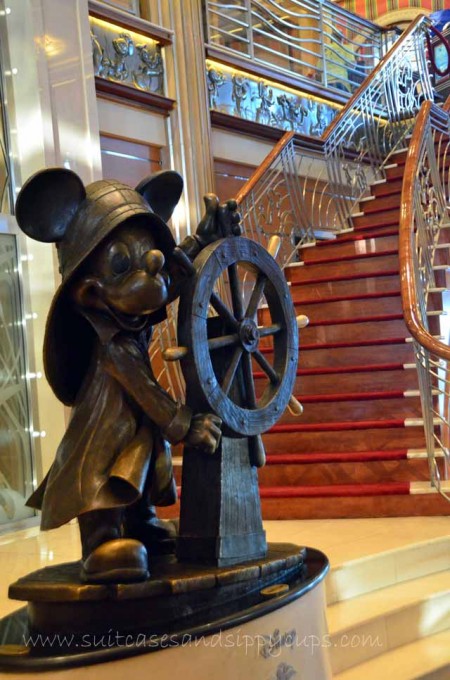 So, what are the reasons to choose a Disney Cruise over another cruise line?
1. You want a kid focused vacation. If you are planning to cruise with kids, Disney is the sure winner. Other cruise lines haven't completely missed the boat (that's so punny) with family friendly amenities, but the focus of the activities and amenities is on adults first with add ons for the little ones. Kids are more of an afterthought on other lines. Disney Cruises are built on kids and their enjoyment first.
2. You want a family friendly environment. One of the huge differences between Disney Cruises and all other cruise lines is the missing casino. They have to make up that revenue somehow, and that is part of the reason that you pay a higher premium. You will enjoy this family friendly focus in every other area of the ship, and in your shipmates. (More about that later.)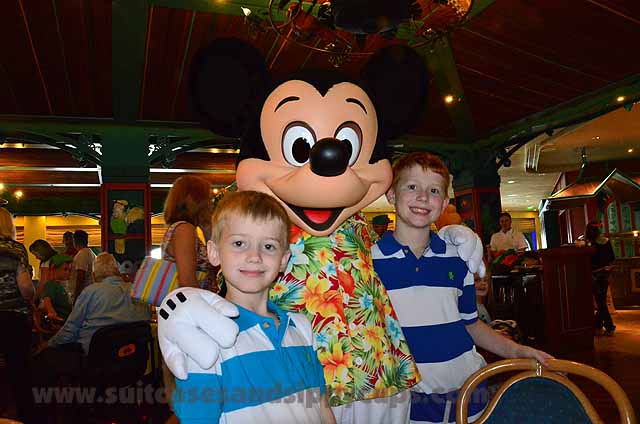 ~Breakfast with a Friend~
3. Your kids love the characters. You can't have Disney without Mickey, and there is certainly no shortage of The Mouse and his friends onboard. If you have kids who can't wait to meet the characters, you will not be disappointed. Of course, this is a feature you won't find on any other cruise line. Meeting Mickey Mouse in the hall on the way to dinner can make your whole trip.
4. You are a Disney Freak. If you have your mouse ears in a place of honor and you get tears in your eyes when you hear "When You Wish upon a Star," there is really no other cruise line for you. You will not be disappointed with the all the Disney details you find onboard, and you will find kindred spirits among your shipmates.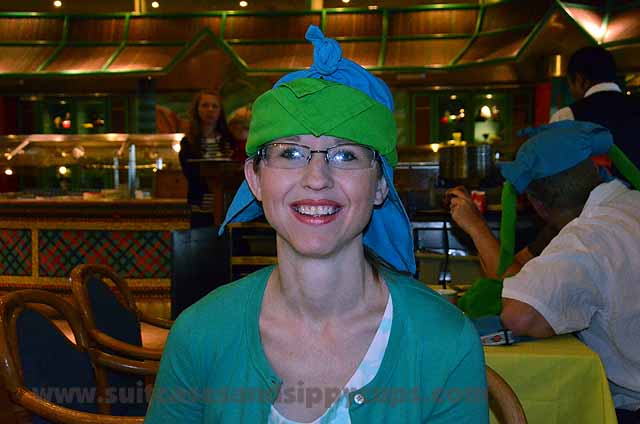 ~Silly napkin hats are standard fare on a Disney Cruise~
5. You want kid focused entertainment. The kid focus of the ship continues into the shows onboard. Nightly shows on the main stage are the highlight of each day, and each show is designed with elements that kids will love. Don't worry; the grownups will love them too. They have just the right amount of Pixie Dust to thrill all ages.
6. You want to be surrounded by other families. The majority of guests onboard will be families or people who understand that they will be surrounded by kids. That's good news if you are worried about your little darlings ruining someone else's vacation. It also means that your expect a certain family friendly standard of behavior from your shipmates, which means you are much less likely to hear profanity, or see gratuitous drinking.
7. You have an infant. Disney has the lowest minimum sailing age on the seas at 12 weeks, and is the only major cruise line that offers nursery care for babies under two.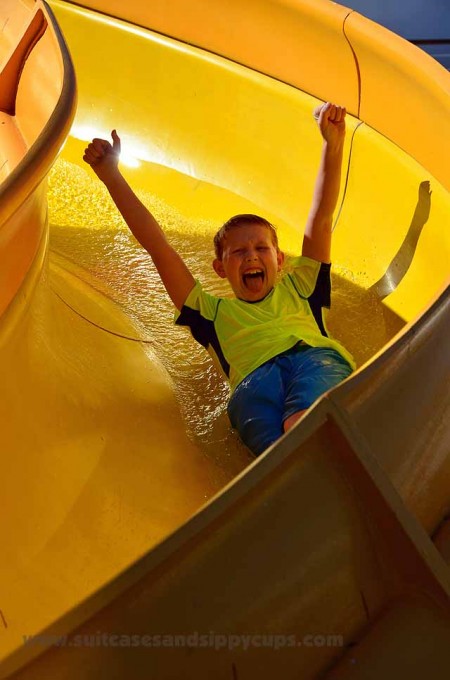 Yeah, it really is that awesome!
8. You want the extras. All cruise lines have their own version of the extras, so you have to educate yourself about the extras that Disney offers vs. other cruise lines. Bigger staterooms and free soda are two big "extras" that you can expect on a Disney Cruise. Also, they have their own island. That's pretty tough to compete with.
9. You want the "Disney Difference." Employees who are always smiling and never say no have become a fabled part of the Disney experience. But this isn't just the stuff of legends; Disney really does have a way of going the extra mile in service and experience. Cruise lines in general seem to be the leaders in impeccable service, but somehow, Disney finds a way to edge out the competition.
10. You want a magical experience. There is a certain je ne se quoi that goes hand in hand with any Disney experience. Some people think it's the masterminding of Disney marketing, while others believe it is the bits of genius leftover from the imagination Walt Disney infused into his visions. Wherever this magic comes from, it is a part of what makes a Disney Cruise more than just a vacation.
~Disney Cruise Lines provided my family with a six day cruise. They did not require that I provide a particular viewpoint and all opinions are my own~