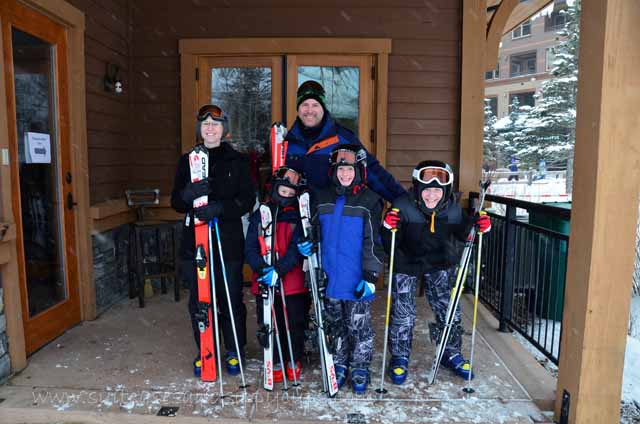 Our recent family trip to Colorado was a trip of firsts. It was the first time that my kids had seen real snow -not that Texas fake stuff that's measured in mere inches. It was the first time that they had explored the mountains and experienced any kinds of winter sports. It was also the first time for all of us to strap on some skis, and attempt to glide-and not fall down the mountain.
While I was mostly focused on the not falling part of the skiing experience, I was also thrilled to have my first chance to dress for real winter weather. In my home in Texas, the weather doesn't often allow me to wear thick winter sweaters or chunky scarves and hats. I was thrilled to dig into the deep recesses of my closet and pull out some pieces that would be perfect for the chilly weather, although I will admit that was some research to be done to learn about après ski wear. Armed with my research into fashionable winter wear, I packed my bags for a week in Colorado.
Day One: Travel Day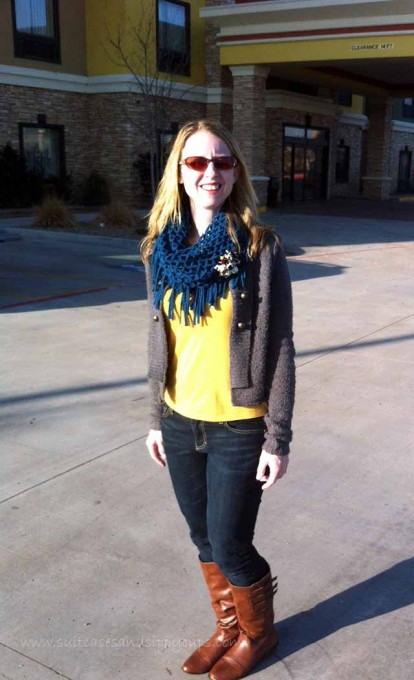 Outfit Details: Mustard Yellow ¾ length sleeves from Macy's,Skinny Jeans,, Gray, military inspired sweater from Target, camel colored boots, Chunky, teal lattice weave scarf
Outfit Notes: Our first day of travel was a challenge to pack for because I knew that I would be in the car for long hours, and need to be comfortable. I also knew that I would be starting the day in the warm Texas air and ending the day in chilly Colorado. Comfortable layers were a must, and I also wanted to layer in such a way to maximize my space in my suitcase.
I chose to wear a pair of skinny jeans I knew I would need later in the trip, as well as a sweater and scarf that would be a part of my outfits later. If I am packing for a trip that includes boots, I will always wear those on my travel day to save the weight and space in my suitcase. That's pretty much how this outfit came together, although I am completely in love with the mustard yellow/teal combo.
Day Two: At C Lazy U Ranch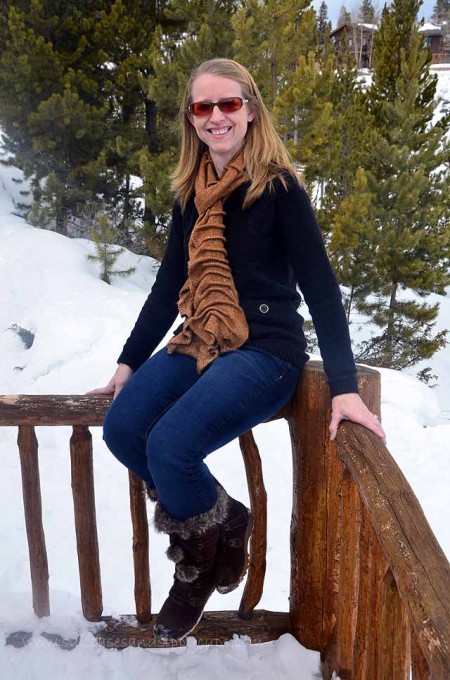 Outfit Description:Ralph Lauren black, cable knit sweater with brass buttons,skinny jeans,

brown fur lined boots,Fossil harvest gold scrunch scarf
Outfit Notes: We had been told in our packet at the ranch that many people dressed "Winter Chic" for dinner, so I came prepared with nicer dress wear, but never needed it. It turned out that "Winter Chic" seemed to loosely translate to "don't wear your ski pants," so jeans and a scarf were the perfect dinner wear at the ranch.
Day Three: At Winter Park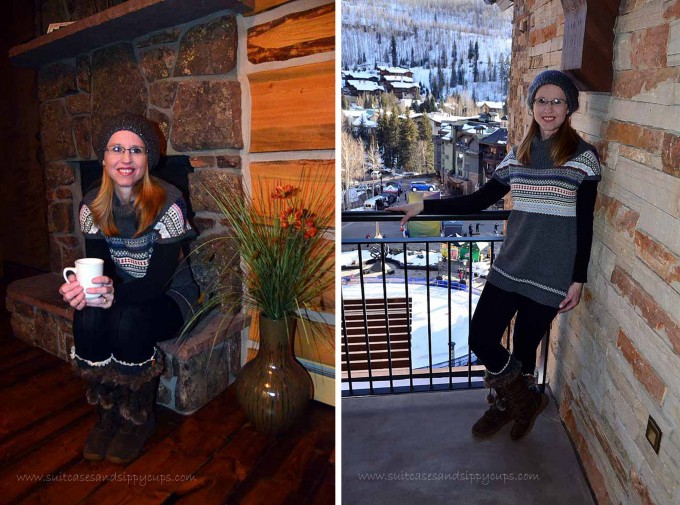 ~One Outfit, Two Cities~
Outfit Details:Tommy Hilfiger patterned gray sweater, patterned leggings, brown fur lined boots,silver woven beret from Target, grey embellished legwarmers
Outfit Notes: This outfit was my first attempt at real "après ski" wear and I was completely thrilled with the outcome. Thanks to the end of the season sales in Texas, I was able to get every piece of this outfit new for less than $50 for the entire outfit. I even found the boots last minute at a resale shop. I felt like I had won the lottery when I saw these in my size for only $14. So sweet!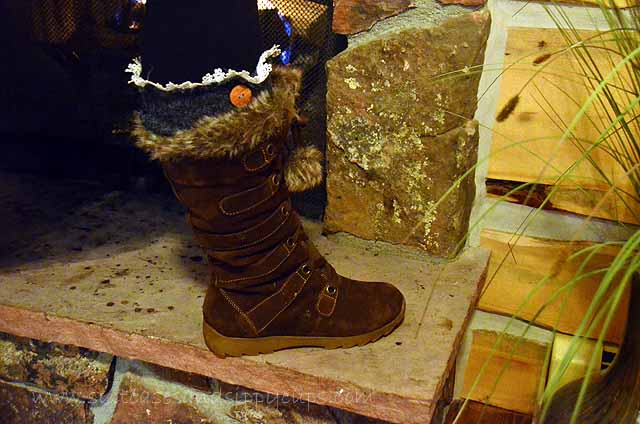 ~Closeup of leg warmers~
By the way, I loved this outfit so much; I wore it twice during our vacation. To be fair though, I wore it two different cities, and I figured they both deserved this outfit. Also, I totally paired these leggings with a pair of thick black tights, both for warmth and fat containing properties.
Day Four: Winter Park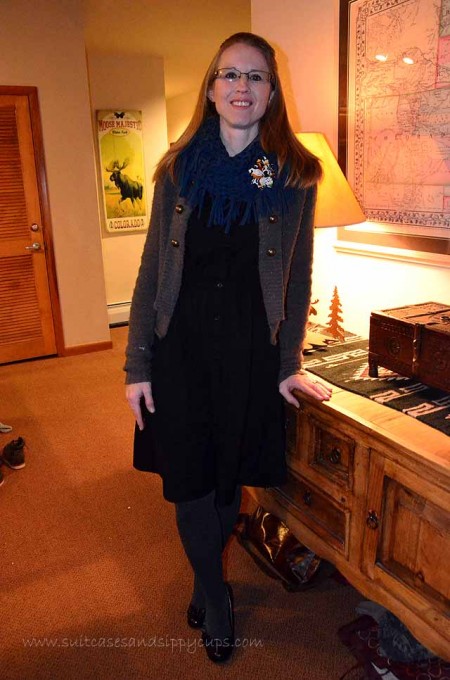 Outfit Details: Black, elastic waist dress,grey, sweater tights, gray, military inspired sweater, black heels with ruffle detail, chunky, teal lattice weave scarf, flower pin from Hobby Lobby
Outfit Notes: Unlike the previous outfit, this outfit was built from old items in my closet that I had never really found a great way to wear. This dress is really a summer weight, but paired with a sweater, tights, and a warm scarf was perfect for the cold weather. I loved the comfort of this outfit. It felt like wearing a warm blanket, but looked so put together. The shoes were a little pinch-y, but look at them! They were totally worth it!
Day Five: Vail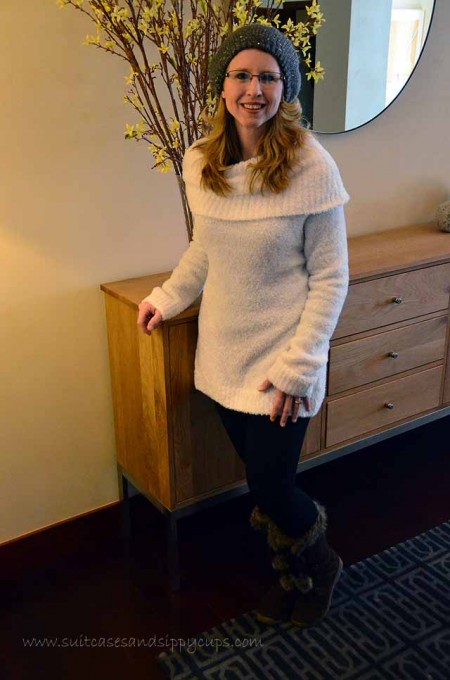 Outfit Details: White, cowl neck sweater,black, textured leggings, brown, fur lined boots,silver, chunky beret from Target
Outfit Notes: Getting tired of these boots yet? Yeah, me neither. Again, I paired black, textured leggings with an oversized sweater. I wanted to wear this cowl neck sweater like a hood to fit in with the posh Vail fashion scene, but my kids made fun of me until they were rolling on the floor laughing, so I wore it the "normal" way. What do they know anyway?
Fashion Lessons I Learned
1. Hats and scarves are such fun accessories, and I must find a way to incorporate them more into my regular Texas wear.
2. Kids are tough critics. Ummm….yeah.
3. I can't afford to shop in Vail.
~Today I am linking up with The Pleated Poppy and Get Your Pretty On~