Over the weekend, the weather dictated that we were wearing shorts one day and bundled up in sweaters the next. Such is the standard weather in early spring in Texas, as we transition from winter to not winter. We natives generally enjoy this period of fair weather, for we know that the predictability of hot and humid summers is coming all too soon. This type of weather swing, typical between seasons, makes it very difficult to pack for a trip. If you are hoping to pack light and avoid baggage fees, it is even more challenging. The key to solving this travel packing challenge is to choose wardrobe pieces that will work for all weather and get ready to layer.
Keys to Packing for Warm and Cool Weather
Choose a color palette: I chose navy, yellow, and gray with teal accents. I was hoping the colors would strike a balance between the seasons, and that they wouldn't show grubby handprints when my kids used me as a napkin.
A mixture of summer and winter weight fabrics: Layering is a fine art that is the perfect solution for the mixed up seasons packing.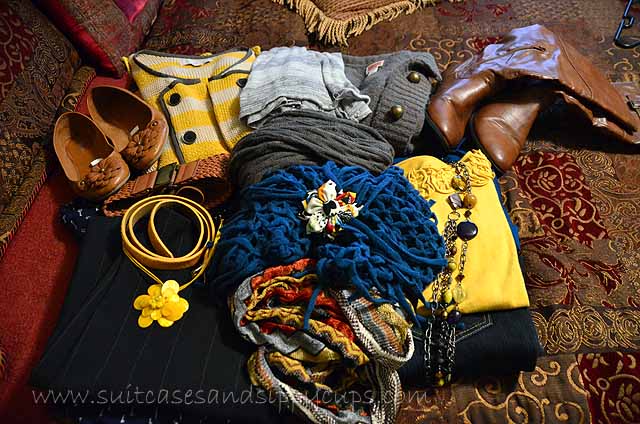 What's in My Mixed Up Season Suitcase?
Short sleeved teal shirt from the Limited
¾ length sleeve mustard yellow shirt from
Navy shirt dress from Old Navy
Navy skirt from
Skinny Jeans from Target
Grey Striped Sweater Vest from NY and CO
Grey Military Sweater from Target
Yellow and white sweater from The Loft
Grey Infinity Scarf
Teal Basket Weave Infinity Scarf
Multicolored scarf
Two necklaces-one long, one short
Camel riding boots
Camel flats
Grey Sweater Tights
Two belts-one thin, one thick
Okay, Let's Make Some Fashion…or Something Like It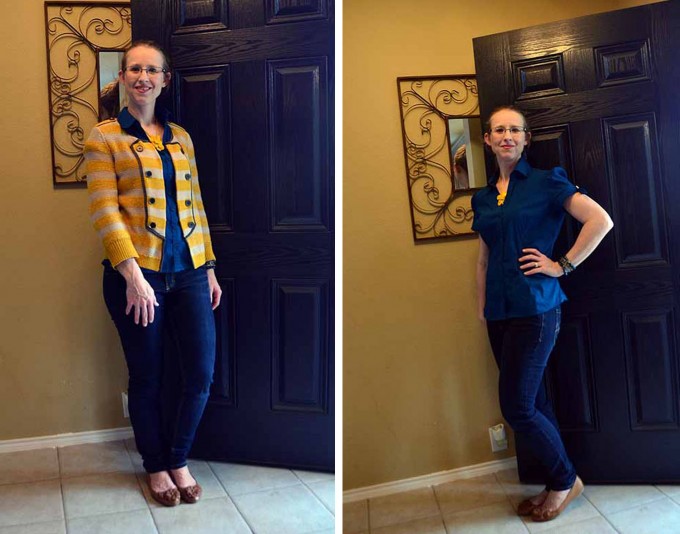 This is a simple warm to cool weather outfit-perfect for sightseeing during the day and then a little dressier with the sweater at night. There are two things I notice when I look at these pictures: # 1-This the angle that life looks like when you are four feet tall and #2: Ohmygoodness, my hands look just like my mother's.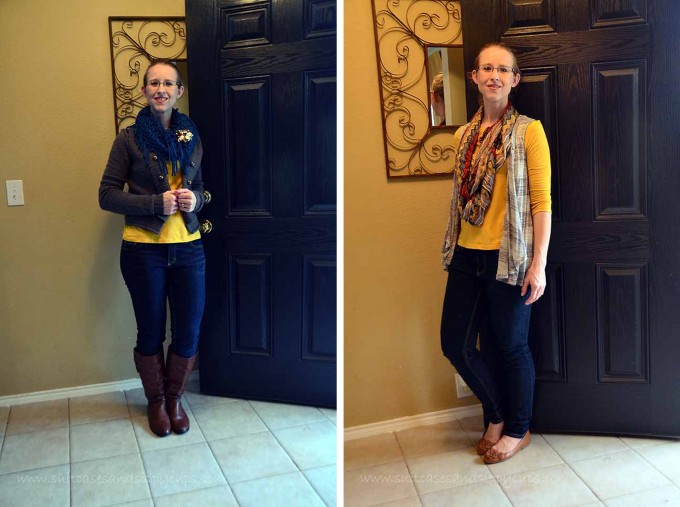 I can't decide if I want it to be warm or cold when I look at these outfits. I like them both so much, but I am confused why my knee feels the need to pop up when I pose for these pictures.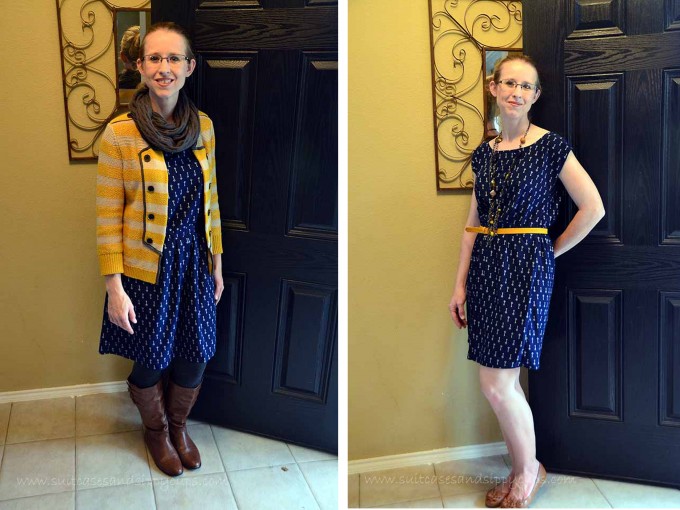 I bought this dress to wear on a cruise in January-a trip on which I spent clearly no time in the sun. Until it gets warm enough to wear sans pasty white leg covers, I am thrilled to find a way to style this dress for double duty.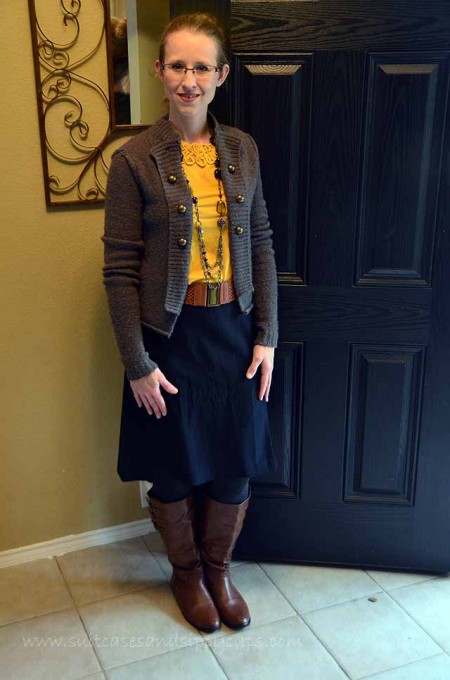 This is my favorite of all the outfits, and it could be easily worn without the sweater if the weather was warm. I can definitely see the imperfections in this outfit, though. It feels a little cluttered. I can almost hear Coco Chanel whispering the advice to look in the mirror and take off one accessory and I want to whisper back "Shut up Coco, I like it just the way it is." I can also hear my mother telling me to iron my clothes. She won't bother whispering, though. She'll use the phone.
~Today I am linking up with Get Your Pretty On and the Pleated Poppy~