An incongruous mish-mash of people in groups of threes and fours were gathered in the parking lot of a park in Grapevine on what felt like the coldest early spring morning ever to dawn in Texas. One group consisted of a mom and dad with a passel of kids, the youngest sporting a giant pair of goggles as he peered from behind his stroller awning. Another group was four teenagers, dressed all alike from head to toe, noticeable particularly because their matching tutus were flouncing in the air as they jostled from side to side stay warm. A pair of fit 20-somethings showed off their seriousness with all the right gadgetry and pre-running warm-ups. And then there was me and my two middle boys right in the middle of the pack.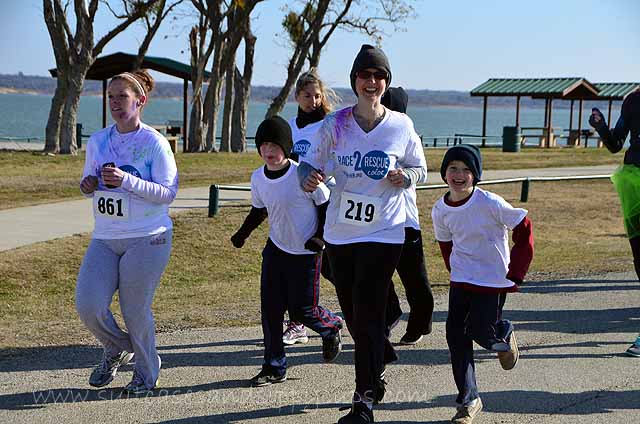 It was a group that could seemingly have very little in common, and there was nothing that really bound us together. That is, until the air horn sounded at the starting line and we all raced off in a tsunami of colored dust to kick off the Rescue Her Color Run. In that moment, we became Color Runners.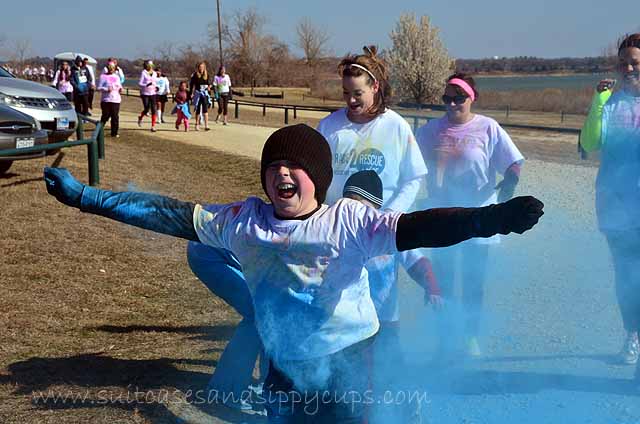 I have always wanted to do a Color Run. Really, who wouldn't? It's like a combination of the best parts of Willy Wonka and Alice in Wonderland (not, the weird ones with Jonny Depp-that's a different kind of trip) all rolled into a ball of Technicolor. But when I found a Color Run that benefitted a safe house for slaves in India, I knew it was kismet. One of my goals for this year was to find a global cause that we, as a family, could contribute to as a way to learn more about the world and the struggles of the less fortunate.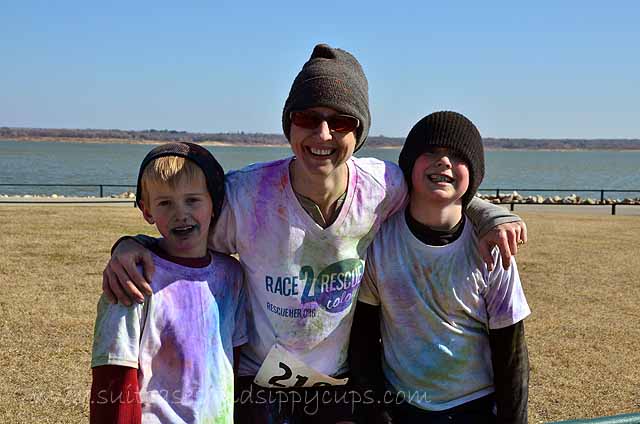 ~At the Finish Line~
I also had a more personal goal in mind when I asked my kids to join me in this endeavor: I wanted to find another way to create a memory bond with my growing kids. I really had no idea what to expect from my first color run, but it seemed like any event that involved running around while color was flung about like pixie dust would have a high probability of being a memory maker.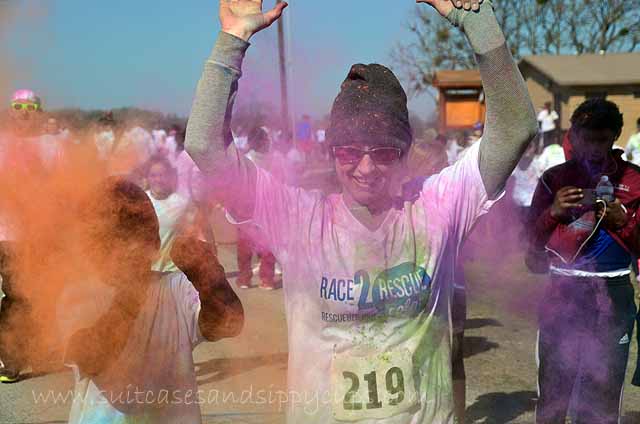 And I was right. I made memories with Super Toddler and his family. I formed a kinship that spanned the years with the Tutu Twinkies. I even swapped stories with Mr. and Mrs. Spandex. But, most importantly, I made an unforgettable memory with my middle boys-the kids that are sandwiched between and can't claim to be the oldest or the youngest. As our spirits were buoyed along by the connection formed through color craziness, we were wild and full of silliness. Sharing a silly moment filled with pure joy would have been good enough in my book, but as we neared the finish line, my ten year old son slipped his hand in mine, so that we could cross the finish line together. That quiet gesture in the middle of the raucous celebration of cheers and color will forever be one of my most precious memories.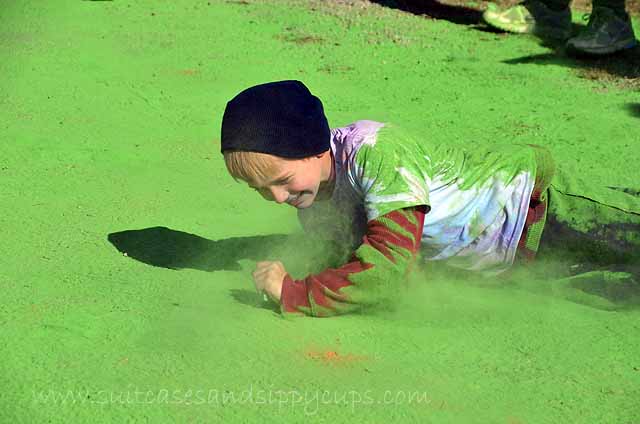 ~If you are going to do it, go all the way!~
Tips for Running in a Color Run
1. Not a runner? Not a problem. This is a run, not a race. Some runners may be watching their times and trying to beat their personal best, but many (most?) runners are just there to have a color blasting good time. Some people will walk the entire distance and some will only run when they feel like it. Don't let your fitness level keep you from joining the fun.
~Seriously, right in the kisser?~
2. Keep your mouth closed. You would think this would be a "duh" statement, but so many people at our Color Run had the tell tale signs of "Open Mouth Syndrome" in the form of Technicolor teeth when the skipped across the finish line. I really think the color stations just made people so happy that they smiled widely through the color blast, resulting in a mouth full of color. Colored teeth can be fun, but spitting and hacking because you've filled your lungs with smurf colored dust just takes away from your awesomeness. When you approach the color station, take a deep breath and close your mouth as you revel in the color explosion.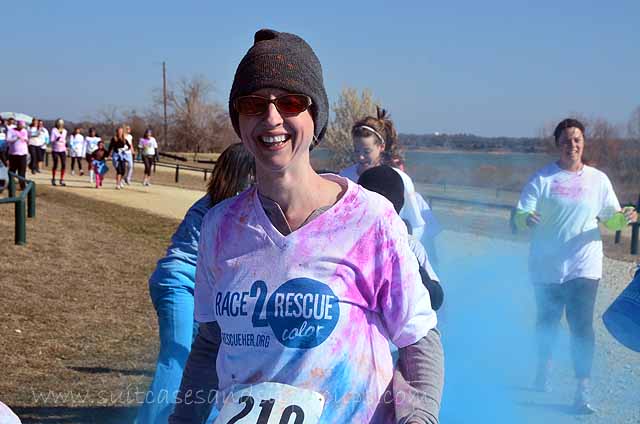 ~Rockin'…er….average sunglasses~
3.Protect your eyes. The colored cornstarch really is non-toxic, but it does sting a little if you get it in your eyes. Your quest to become a rainbow of colors will be so much more fantastic if you don't have to worry about getting dust in your eyes. The easiest (and coolest) way to do this is to wear a rockin' pair of shades.
4.Tuck some tissues in your pocket. I was successful in protect both my eyes and mouth, but after a few color stations my nose was tickly. I had to borrow some tissues from another runner (who was obviously better prepared than I) and I was so grateful. As a bonus fun fact: this is probably the only time these colors can come out of your nose and you don't need to go to the doctor.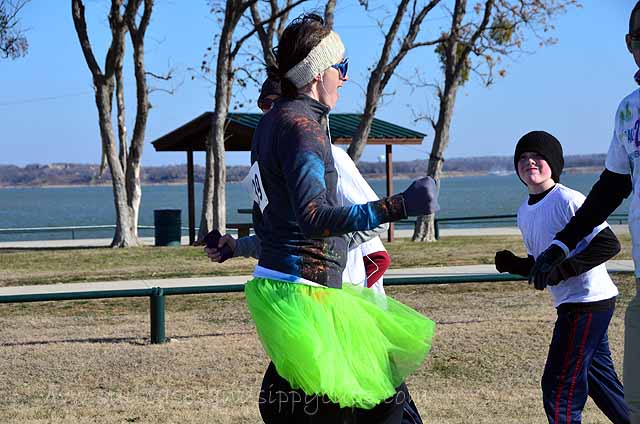 ~Check out that Tutu~
5.Dress the part. White shirts are the standard uniform for any color run, but there are so many outfit choices that allow you to make a totally awesome statement as you blast your way through the showers of color. I loved checking out the colorful socks, headbands, and even tutus that teams of runners were sporting at the finish line. I'm not sure I can pull off a tulle tutu myself, but I sure appreciated the whimsy of watching the fabric flounce across the race path. Moral of the story: running with a tutu makes it more fun!
6.Grab a few friends. Remember how running in 7th grade gym was more boring than Ferris Bueller's history class? Yeah, this is nothing like that. The atmosphere is playful and full of life, and you'll want share that feeling with someone who really "gets you." It's just more fun with a friend, and besides, you'll need someone who loves you enough to tell you when your teeth are green with pink spots.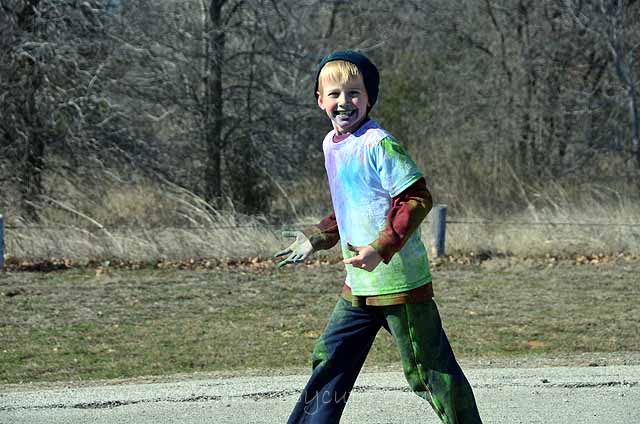 7.These colors do run. The colors will sit on your shirt like a fine mist until they are met with water. That causes the colors to run, but if you want a uniform color bleed, you will want to protect you white shirt from any….glistening you might do during the run. (There's no sweating in Color Runs.) A white tank top underneath your race day shirt will absorb any offending color running liquid before you are ready for it.
8.Plan for a thorough scrubbing. All the official literature says that the color is completely removable, and while that is true, some of the colors seem to want to party a little longer than others. Blue was the sticky color for us. We all kept a bit of a blue color around our lips and fingers for about 24 hours. If we had gone to church the next day, I am sure that more than one person would have wondered if we were getting enough oxygen. A good hot shower, and a loofah with some elbow power will remove most of the color.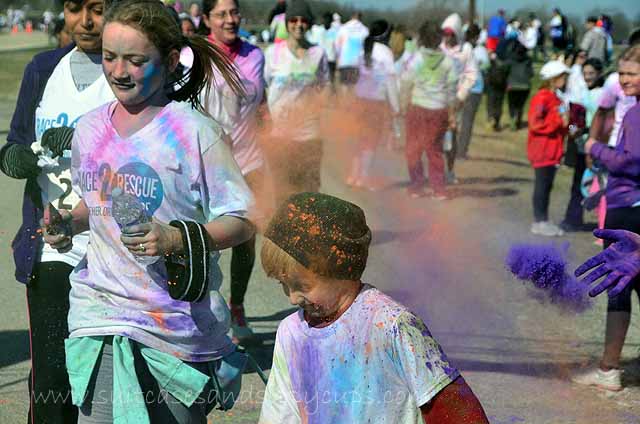 ~No, really it's fun!~
9.Protect your car. Unless you are walking to the run, you are probably going to have to put your colored self back in your car at some point. A towel or sheet over the seat will ensure that all the color stays on you and off of your car.
10.Create a colorful souvenir. You will want to remember the colorful chaos of your day and while pictures are a must, you can also save your race shirt as a splendid reminder that you are awesome enough to run around letting people pelt you with colored dust. Spray the shirt with vinegar, working to ensure a complete soaking of both the front and back. Allow the shirt to dry in the sun, if possible, and then tumble in the dryer to set the color.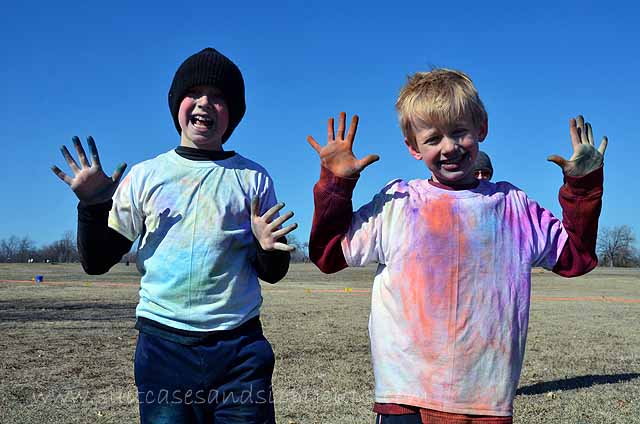 ~Time for a bath~