Today, I am thrilled to have Elaine from Carpe Travel sharing her expertise about her home state of Colorado. Be sure to hop over to her site and check out how she makes travel possible with two little girls in tow. Our family has toured the
Mollie Kathleen Mine
during a road trip to Colorado Springs,but I could have used some of these tips before our visit.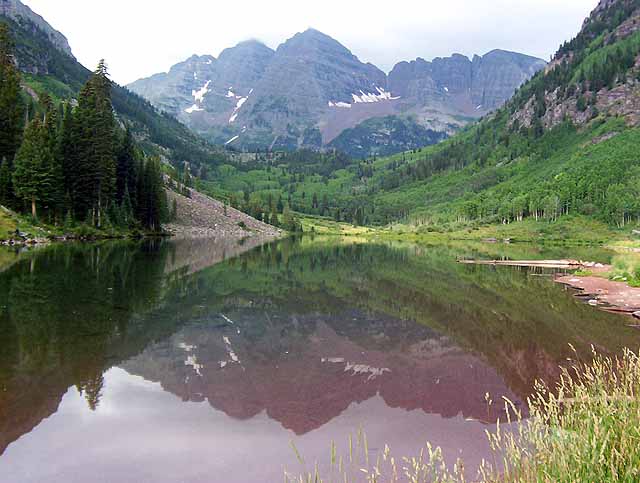 ~Maroon Bells of Aspen~
Tip to Prepare Kids for Mine Tours To Ensure a Good Experience
When people think about Colorado, outdoor activities like skiing, hiking, camping or white water rafting typically come to mind. Colorado also offers a range of educational adventures for families, including mine tours. These tours are one of the best real-life virtual time machines families can do to learn about an era that shaped the state of Colorado. They're also a great way escape a hot summer day and potentially strike it rich at the same time. While mine tours are great history and geography lessons, they can also be scary for kids if they don't know what to expect. Here are a few things to keep in mind and do to prepare your kids before taking them on a mine tour.
1. It's Darker Than Dark
The first time I went on a mine tour and we began descending into the tunnel on an old, rickety open train cart, we had only the lights on the wall of the tunnel to light the track and what laid before us. When the guide ended his spiel on how this was the commute a miner took each day to get to work, the lights went out. It was dark. Not just a little dark. Darker than dark. I kept opening and closing my eyes to make sure it wasn't my eyes playing tricks on me. No, being a few hundred feet inside a mountain is simply dark. Again, this is part of the experience,that transportsyou back into what mining life was like. The lights do come back on within a few minutes and some hard hats may be equipped with a light. But, word to the wise, if you have kids who are terrified of the dark, this is not the best thing to help ease that fear.
2. Escape the Heat but Prepare for the Cold
Doing a mine tour is a great way to escape the heat on a hot summer day. But, when you descend 100 to 1,000 feet underground, the temperature changes. A lot. Those summer tank tops, shorts and sandals are no longer appropriate attire. Grab a jacket or a long sleeve shirt to make sure everyone is comfortable. Some mines will have long sleeve jackets you can borrow but these are typically one size fits all, and sorry, I'm not an XL,and neither are my kids.
3. Hard Hats
Everyone who enters a mine is required to wear a hard hat. This rule holds for mine tours,as well. Most kids will think this is fun, BUT for those who don't like keeping hats on their head, (aka my kids) it can be a bit of a struggle. Make sure your kids are aware they get to wear a cool hard hat like real miners do – and that the mine has a rule requiring them to leave the hat on.
4. Great Group Activity
Large families welcome! But space is limited… Some mines will allow you to book a group tour ahead to ensure everyone can participate. Call in advance to set this up. If you have just a few members in your party, you will be combined with other families or groups on the tour. As a parent, we all know that has its pluses and minuses.
5. Drink Up
In Colorado travelers are repeatedly told – "drink water to stay hydrated to avoid altitude sickness." This is another one of those reminders. When you are doing a mine tour, you are already going to be at a higher altitude since you have to be on a mountain to do the tour. But, keep in mind, you will also be descending rather quickly down the mine shaft for part of the tour. It may only be a few hundred feet but it could also be a thousand feet. And then, you'll be climbing back up in less than an hour. The changes in altitudes can be a lot on your body, especially if you are not used to being at altitude.
6. More than a Tour
Some mines in Colorado house museums, offer lunch or breakfast and allow visitors to pan for gold or silver outside the mine in a nearby river or creek. Not all mines are created equal, so determine what you want to get out of the tour and match that with a mine.
7. Bring a Treasure Bag and Change of Clothes
As I mentioned in the last tip, many mines allow visitors to mine for minerals in a nearby creek. This is a lot of fun for kids to do, especially on a hot day. You can get away with rolling up your jeans and stepping into the water, but if you have little ones who like to splash, bring an extra change of clothes or a swim suit they can wear for panning. If you are one of the lucky ones who strike it rich, you'll want to take those treasures home. The mines won't have anything for you to carry your things in, so come prepared with baggies – ziplocks or plastic grocery bags – to transport your treasure home.
8. Weather Permitting
Mine tours are not a rain or shine type of activity. Think shine only. Mines close for tours if the weather is poor with rain and snow being the main culprits for closings. Check the weather before you head out. And, to be safe, schedule your tours earlier in the day (before noon),if you can. In Colorado, and other mountain areas, storms typically come through in the afternoons.
9. Comfortable Walking Shoes
One wouldn't think you would be doing too much walking on a mine tour but you do. Most tours aren't drive up, park and jump on the train cart that takes you down into the mine. No. You must typically walk up a bit to get to the entrance of the mine to begin the tour. Once inside, you do get out of the train cart and you're allowed to walk around a little. Best to wear comfy shoes that aren't open toed (avoid rocks, dust and stubbing your toe in the dark).
If you're looking for a few mine tours in Colorado, here are a several options. Are there any other tips we should include here? Please add them to the comments.
Mollie Kathleen Gold Mine Tour
Elaine N. Schoch is an avid traveler who is busy exploring the world, usually with her two kids in tow. She shares her adventures, family travel tips and a lot of mishaps on CarpeTravel.com and @elaineschoch.