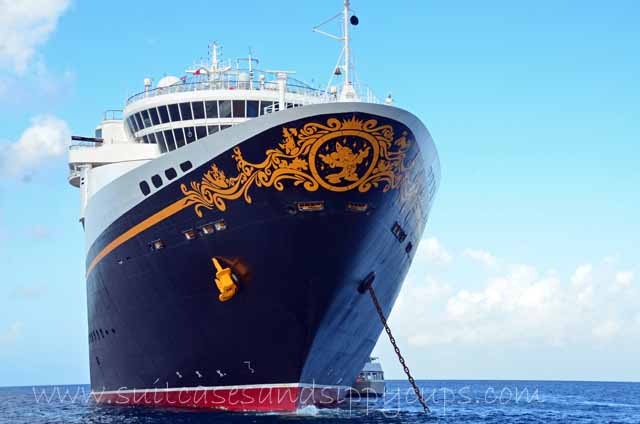 There is no shortage of activities and entertainment aboard a Disney Cruise, but many of the activities seem to involve having kids in one place and parents in the other. There's certainly a time and place for that, but we also wanted to find ways to make memories that involved all of us. Vacation is first and foremost a way to reconnect as a family, so we started looking for low key ways we could spend some time together as a family onboard the Disney Magic. Not only did we want to find ways to spend time together that we don't normally enjoy at home, we also wanted to find places on the ship where we could enjoy some privacy and make some memories together.
How to Find some Family Time Aboard a Disney Cruise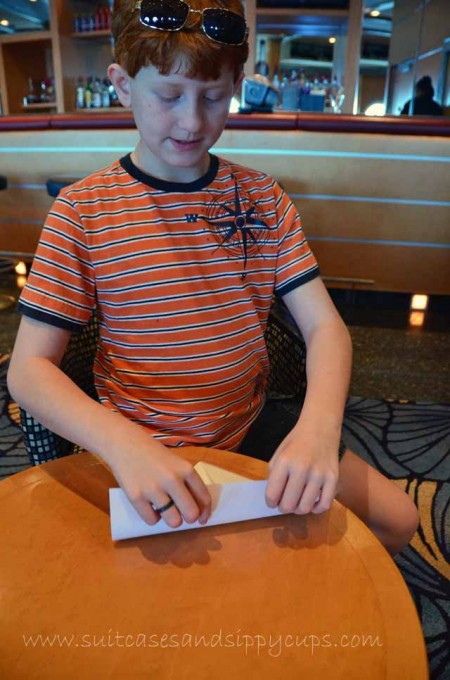 ~A quiet place to fold paper airplanes is a great way to spend a day at sea~
1. Grab a table and a board game at Diversions. We were onboard the ship for several days before we even knew that this place existed. Apparently, we weren't the only ones, because it was almost always empty when we visited. Board games, foosball, and a Wii with tons of games are available for entertainment. The kids loved grabbing a table, a game, and a parent to enjoy some concentrated family time.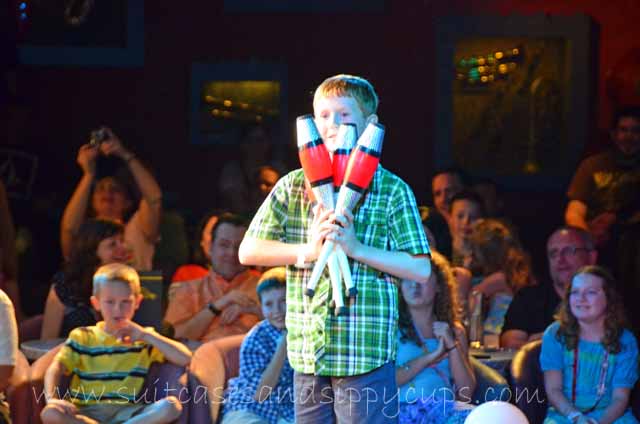 ~A bit of audience participation in the Cabaret Show~
2. Don't miss the Cabaret shows. Ignore the less than family friendly name; these shows are some of the best on the ship, and a great way to enjoy some time before or after dinner. Disney has planned this hour perfectly. It falls between dinner and the main show (or the main show and dinner, if you have late dining) and fills that hour with family friendly fun. During our cruise, we saw a hypnotist, a comedy juggler, and a comedy percussion show. These shows were the highlight of the trip for the kids!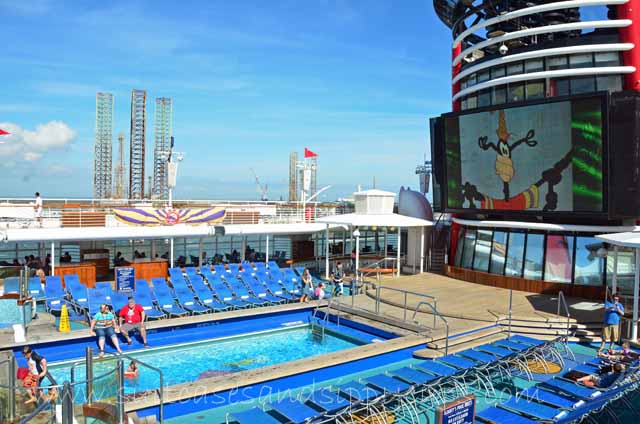 ~Goofy Pool and Funnel Vision~
3. Plan a late night swim and movie. Movies are shown throughout the day on the Funnel Vision, a giant screen on the funnel above the pool. But they are hard to see in the bright sunlight of day, and it is even harder to get a deck chair during the crowded sunlight hours. Movies at night are a much better choice, especially for older kids who aren't ready for bed as soon as dinner is over. In the evening, the deck is very quiet, so it is a perfect low key way to enjoy the pool and some family time.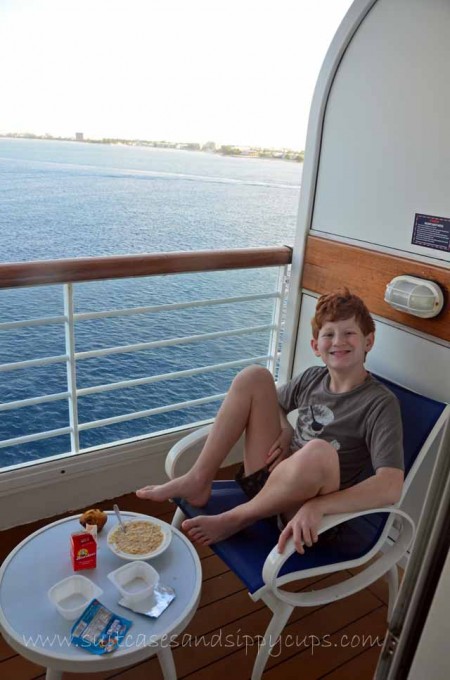 4. Order Room Service. Doing things that would never happen at home is one the things that makes vacations memorable. Obviously, we don't have room service at home, and despite the requests, I am not likely to implement that feature anytime soon. Ordering room service for breakfast gave us a much more leisurely start to our day, and was certainly appreciated by the kids who had been staying up way too late watching movies and swimming. It was actually one of the best memories of the trip to sit on the balcony and just enjoy a quiet breakfast together. The kids loved it so much that they requested room service for lunch, and we enjoyed a lazy lunch that included sitting together and watching old cartoons.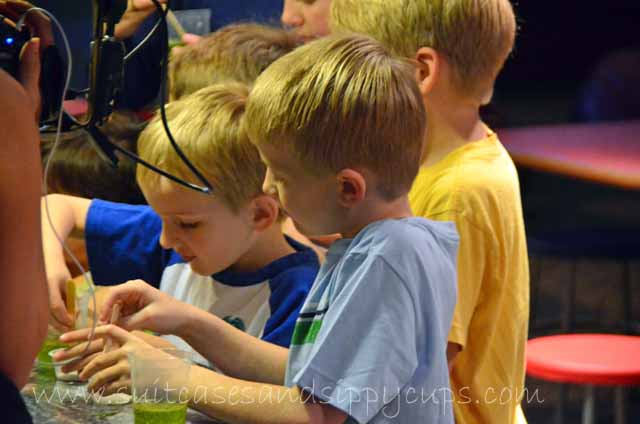 ~Making Flubber~
5. Check your Schedule for Kids Club Open House. During regular child care hours parents are not allowed in the kids' club area for safety reason, but there are Open House hours scheduled every day. This is a perfect time to try out some new activities with your kids, like making Flubber or Chocolate Chip Cookies, or just play with the really cool toys. Doing science experiements and other messy activities is something I wish I had more time to do at home, so this was a perfect way to spend time with my boys.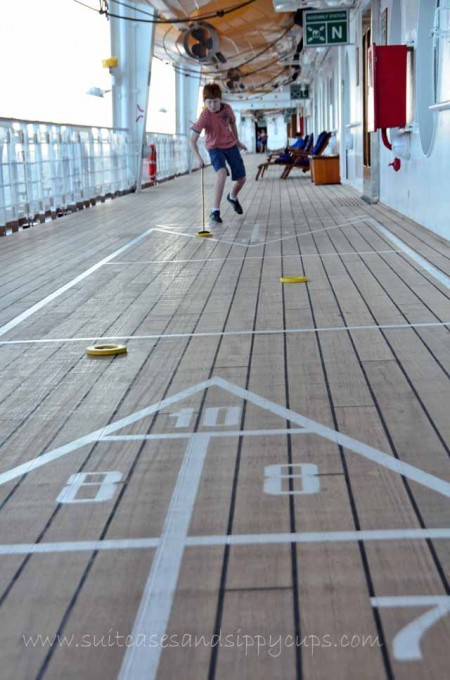 ~There's always time for Shuffleboard~
Tips for Scheduling Your Day Aboard the Disney Magic
Once we were onboard the ship for a couple of days, we finally hit a rhythm that worked great to maximize our family time. Most of the nightly shows on the Main Stage were also available as a matinee. Attending the matinee freed up some time in the evening after dinner and allowed us to hit the pool and other areas when it was much less crowded. In the evening, we would enjoy our dinner at the early dining time, and finish just in time to get a good seat for the Cabaret shows. At the end of the show, we would race back to our room and grab our swimsuits. The majority of the other guests were either at dinner or watching the show on the Main Stage, so the pool was relatively empty. The bonus of the quiet time on the ship was that the kids could enjoy a movie played on the Funnel Vision while they swam and the mister and I could enjoy the hot tub, or just sit and talk quietly on the deck. Also, there was no need for sunscreen. Double Score!!
~Disney Cruise Lines provided our tickets aboard the Disney Magic. They did not require that I express a particular viewpoint and all opinions are my own~