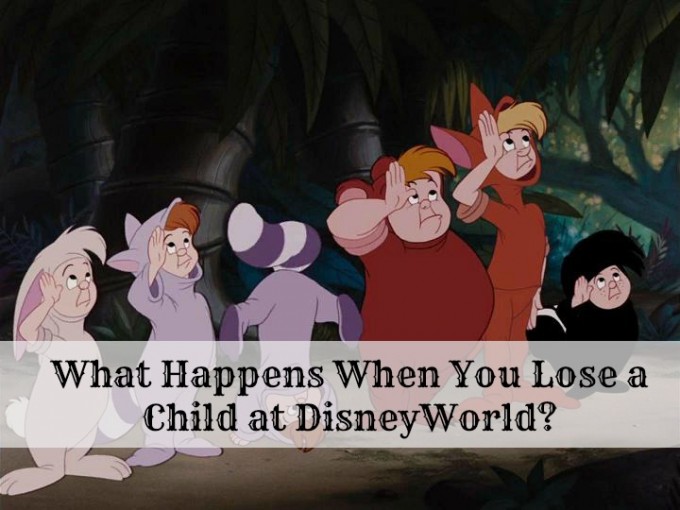 Somewhere between Peter Pan's Flight and Big Thunder Mountain Railroad, we got distracted by the short lines at It's a Small World and that is when it happened. As we ducked into Small World and counted heads, we realized that we were one kid short. Nothing to panic about, of course, because once the kids are old enough to move through life without holding the hand of an adult, it's not uncommon to have some stragglers. We did a quick scan of the crowd expecting to see the lost boy, but didn't see him. We expanded our search to the passageway between the two rides and the nearest restroom and still we had a missing boy.
That's when the strategy changed somewhat and we began posting adults at places we had come from and the place we had gone to and in between. Because we were dealing with a child old enough to know the safety rules to stay in one spot if you realize you are lost, so we felt confident he would turn up in that area. It didn't take long though, for the confidence to waver and my mind to wander to dark place. At that point, I figured it couldn't hurt to enlist the help of the Disney staff.
That is when my front row seat to the lost child process at Disney began.
The Lost Child Process at DisneyWorld
I grabbed the first Disney employee I found, who happened to be a manager, and explained our situation. Immediately, his faced changed and his training took over as he began to speak to me in his calm, in control 911 operator voice. I know the tone in his voice and his demeanor was designed to keep me calm, but at that point I was still very calm, and I felt like maybe I needed to panic. He continued to stay ultra calm and assure me that everything would be fine, as he collected information about the lost boy that would help us find him. Throughout the entire process, which lasted about 30 minutes, he regularly kept me apprised of the next step, and peppered his speech with positive affirmations that they knew what they were doing.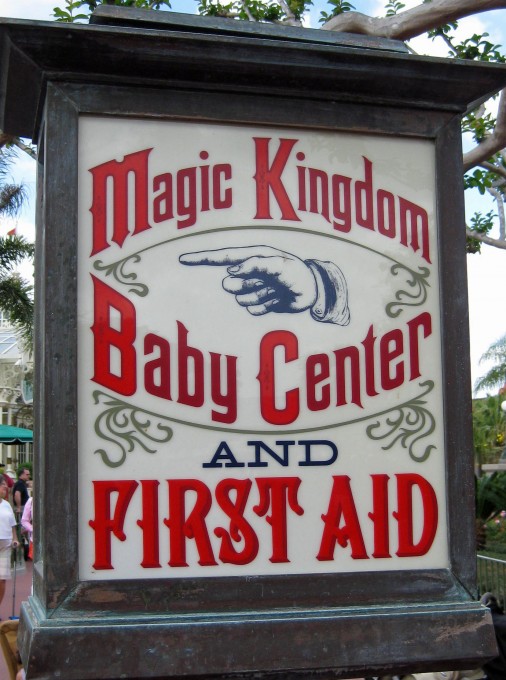 The first step he took after gathering information from me was to phone 'Lost Child' at Disney and simultaneously check to see if our lost child was there and file a report with his description. The next thing he did was to radio to a central location to spread the word that we were looking for a child. The initial call spreads throughout the area where the child was last seen. He informed me that his radio call would put out a report to every ride operator in the Fantasyland area to begin looking for our child. That call also activated every available employee in the Fantasyland area to begin looking, as well. Like a ripple through the crowd, I could actually see the news reach the employees, and instead of looking for trash they were looking for my son. The system worked with seamless precision, and that made me feel more at ease.
Disney's general policy is to not enact this system until 20 minutes have passed to be sure that the child is indeed lost. In our case, since we were dealing with an older child who knew what to do when lost, they started the process a bit early, but at the 20 minute mark, the system kicked into another gear. At that point the manager walked me over to the nearest shop where he could use a phone and he began to make a phone call. Just at that moment, my phone buzzed in my pocket and it was a Disney employee who then passed the phone to my very relieved son. I was somewhat disappointed that I had to end my fact finding mission, but very grateful to have found my son.
Found, But Not Reunited
Of course, that is only half the story. An entirely separate piece of the process was happening across the park with my lost boy. He was the only member of the family who had stuck with the original plan and continued on the Big Thunder Mountain Railroad. About half way there, he realized that he was alone, so he came back to Peter Pan, but we were scurrying around and he couldn't see us easily. So, back to Big Thunder Mountain Railroad he went, and when he didn't see us or our stroller, he knew he was lost. He immediately found an employee and asked for a phone so that he could call his parents. As I was advised by my new buddy over at Fantasyland, once he made contact with that Cast Member, she was released from her regular duties and she stuck with him until he was found. That was comforting to me and meant that he was alone for very little of the 30 minutes we were separated.
Lost Boy's new friend over in Adventure Land radioed to a manager to let him know that she had a lost child, and at the same time requested a phone that could be used to call his parents. At that point they sat down where he was found, and began to get to know each other. On the other side of the park, we were frantically searching, but Lost Boy was happily making a new friend. Once he received a phone, the Cast Member helped him to call us, but the call took two or three tries to go through, and then we were finally in touch.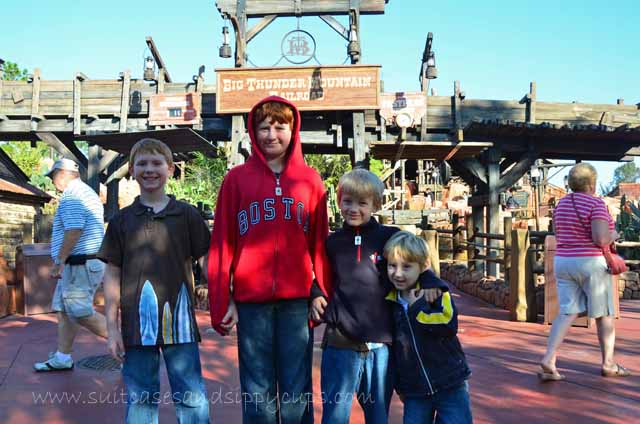 ~My Boys: Adding Gray Hairs to my Head with Every passing Day~
Together Again
When I arrived at Big Thunder Mountain Railroad, my Lost Boy was happily chatting with his new friend, but he was thrilled to see his mom and I was thrilled to see him. The Cast Member was extremely complimentary of how responsible and calm he had been through the process, and even she seemed relieved that we were reunited. Like everything else, Disney does finding lost children with excellence.
After that, we were left to swap stories and give random side hugs in celebration we made our way across the park back to some well earned ice cream.