Today is Travel Tuesday Tuesday!! Think of this as a clearinghouse for the best travel tips from around the internet. Please link up your posts at the end of this one and share your best tips from your travels.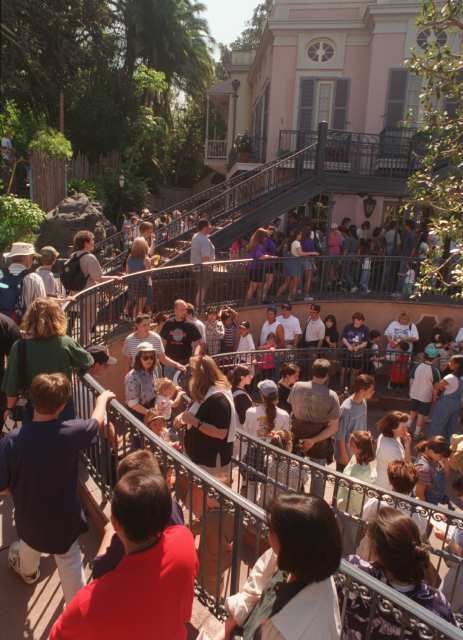 Disney World could be the happiest place if it weren't for all the lines. Most visitors have heard of the FastPass that allows you skip the longest lines, but many guests with little ones aren't using the Rider Switch Pass to it's fullest potential. The Rider Switch Pass allows two adults with a child under the height requirement for any ride to swtich spots without needing to wait in line twice. That's great for a couple of grownups, but if you have older kids that also want to ride, it can pay off in spades. Stick with me and I'll share my secrets for how to work the Rider Switch Pass to the max
Disclaimer: Despite thinking of myself as an out of the box thinker, I am a huge rule follower. If the seat belt sign is on, I am wearing my seatbelt. If there is a line that must not be crossed, I will happily keep my toes behind said line. Just admitting that I have in any way hijacked the rules leaves me with a pit in my stomach like I am sneaking out behind the school during second period-which I NEVER did, by the way.
So, on the one hand, I'm feeling a little guilty about working the Disney Rider Switch system. On the other hand, I have been in every diaper changing station between here and Fantasyland, and have used enough wipes to clean cotton candied hands and faces to paper the entire surface of the Epcot globe. I feel like that's enough to earn me a few perks.
Now that we have that out of the way, here is a step by step method of how you too can be a slightly guilt ridden Rider Switch genius. This system will allow each adult to ride at least once and the older kids who meet the height requirement to ride three times. Score one for the kids!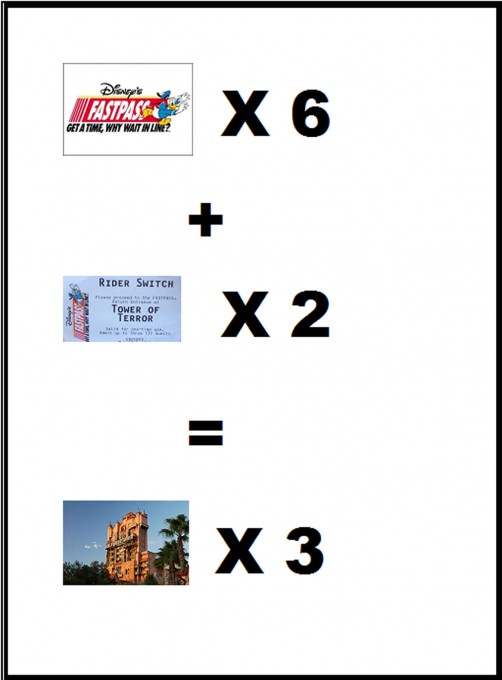 This is my kind of math~the mad formula to total Disney domination!!
How to Use the Rider Switch System to Ride Big Rides Without Waiting in Line
Step One: You've got to have a baby. I recommend using your own.
Step Two: You've got to have two adults. Again, go with someone you know, otherwise it will just be weird.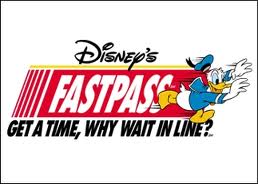 Step Three: Hit the FastPass line and get a FastPass for the ride of your choice. (This is really just a bonus; you don't have to do this if you are not awesome enough to want to ride the same ride three times in a row.)
Step Four: Present yourself and your baby and your extra adult at the FastPass line. Ask for a Rider Switch pass for whoever is not riding and then send the adult with any other children who can ride along to enjoy the ride.
Step Five: While your family is taking the first ride, treat yourself to some ice cream for being the one who unselfishly waits with the baby. Feel free to give the baby some ice cream too. (Especially if he is a fourth child and you no longer have any standards.)
Step Six: Meet your family at the ride exit and try not to look too gleeful as you pass off the ice cream bedecked baby to the parent who went first. Before you hit the ride for round 2, take both adults to the regular line (don't forget the baby) and ask for another Rider Switch ticket. Put that in your pocket for round 3.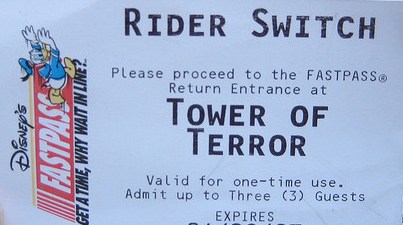 Step Seven: Here's where you have to understand the nuances of the Rider Switch/FastPass system to know how to make this work for your family. The Rider Switch pass will allow up to three riders, so if you have two older children, you are golden. In our family, there are three older children, so it was necessary that we have an additional ticket for the second ride. Fortunately, our "baby" is old enough to actually need a ticket to Disney, but not tall enough to ride the rides, so we used his FastPass as the additional ticket. Round Two required one FastPass and one Rider Switch Ticket.
Step Eight: With our last FastPass and our last Rider Switch pass, there is room for one more go around. You can draw straws for who gets to go on the ride one more time and who gets to take the baby for another round of ice cream. That's Round 3, and should be enough to make for a magical day and some absolutely thrilled kids.