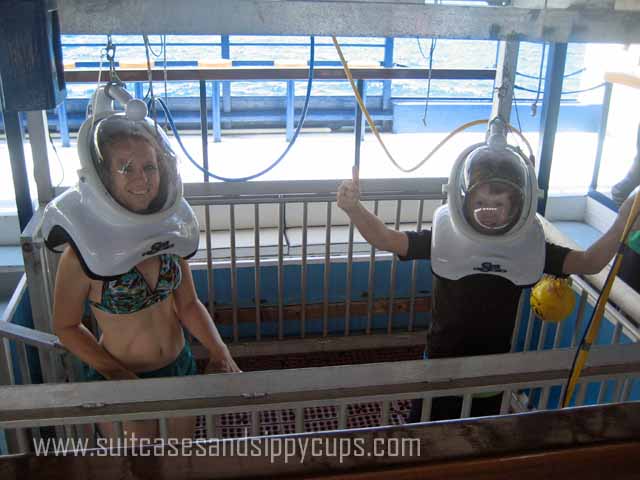 Quick! Imagine you are standing on a platform with various tubes and accoutrements holding you in place. Suddenly, the platform begins moving and you realize that you are slowly sinking into the water. The water level persistently rises higher and higher until a pulse of panic forces you to realize that, in seconds, you will be completely submerged underwater. So, what do you do? Under normal circumstances, you would scream or fight, perhaps even begin gnawing at the tubes to free yourself. But, if you are preparing for your first helmet dive, you will want to take a deep breath and get ready for your underwater adventure.
What is Helmet Diving and How Does it Work?
Helmet Diving is an ideal way for non-divers and even non-swimmers to experience the splendor of the undersea world. Wearing an astronaut style helmet that provides a constant air supply from the surface, participants descend 15 to 30 feet into the ocean. The weight of the helmet keeps divers submerged as they explore fish, turtles, and other underwater creatures under the guidance of a certified master diver. Unlike scuba diving, your head and face will stay completely dry, there is no need for any special equipment, and you will breathe normally. The diving helmet works by constantly forcing air into the helmet which also prevents water from entering the helmet.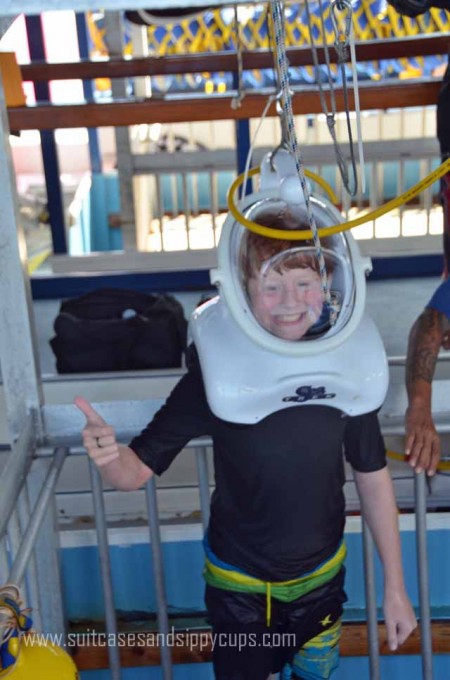 Who should try Helmet Diving?
Helmet Diving is an ideal family experience that can be enjoyed by both young and old. Most diving locations have a lower age and weight limit (usually 8 years old and 80 pounds) and require that you are in good health. Other than that, the only requirements are that you can walk and you can breathe. No special skills-even swimming-are required to helmet dive. This is an ideal introduction for scuba diving and can be a natural bridge between snorkeling and other underwater explorations. It is especially ideal for those who have fears about scuba diving, but would like an opportunity to feel the water surrounding them completely without needing to get their heads or faces wet. Glasses wearers can even wear their glasses through the process.
Our Helmet Diving Experience
Helmet Diving was one of the unending list of activities offered aboard the Waikiki Ocean Club in Honolulu, HI, where were fortunate enough to be spending a sunny day in June. To everyone's surprise, including my own, I was skeptical of this particular activity. I am a certified diver, and so I have plenty of training and experience with underwater sports, but I was still scared silly a bit fearful. I think my experience with diving actually worked to my disadvantage in this situation, because the equipment in helmet diving is much different from typical diving. In scuba diving, you are taught to know and trust your equipment, and you are ultimately responsible for the safety and security of that equipment. There is a certain amount of comfort in popping a regulator into your mouth that is firmly attached to a tank of the air that sits on your back. That bulky gear is an ever present reminder that you have secured your ability to breathe underwater.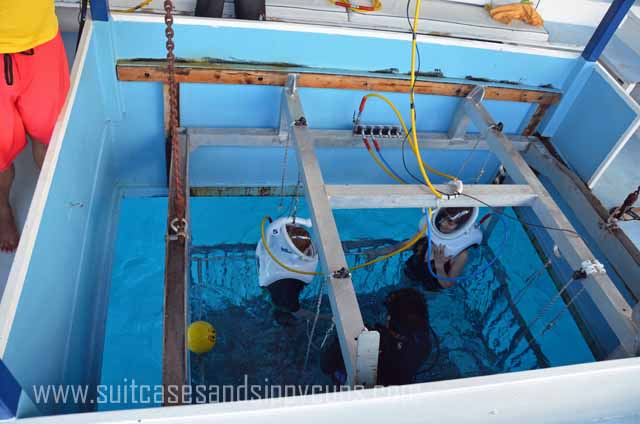 Helmet diving is much different. A helmet is placed on your shoulders, and although it completely covers your head, there is a wide opening below your neck. While wearing the helmet, you can freely reach into the helmet to adjust your glasses, pick your nose, or whatever you might like to do. It doesn't take long to realize that if you can reach in, then the water can certainly follow. Positive air pressure forces fresh air into the helmet and consequently forces the water out, but as long as air is invisible, it is still a great game of trust to don the helmet and expect the magic air from the great and powerful air machine above to reach your lungs.
I explained all of this to the patient and kind Australian divemaster aboard the boat, and I must have done it with the crazy look in my eyes, because he was very gentle and reassuring through the entire process. The Waikiki Ocean Club setup involves standing on a platform above water while the helmet is lowered into place. Once the air is flowing, the entire platform is lowered into the water until you are finally submerged completely underwater. In the interest of full disclosure, it is a completely unnatural and slightly horrifying experience to stand on that platform as water inches closer and closer to your head. As the water reached my neck, I was using a combination of deep breathing, meditation, and cursing silently in my head just to keep me on the platform.
Once underwater, I was able to clear my head with a few ragged deep breaths, and then really take in the surroundings. That's when it became magical. It was much easier and more comfortable than scuba diving. I didn't need to worry about clearing my mask or mess with the taste of rubber from the regulator, nor did I have to fuss with regulating my buoyancy, as the platform kept me in place. It was a freeing experience that felt somewhat like a moon walk on a distant planet where the scenery was breathtaking and serene.
The operators were kind enough to let us try again after our first experience and knowing that I could trust the equipment and the operators made it an even more enjoyable experience. I especially appreciated the investment that the divemaster and helmet operators made in ensuring that we were comfortable and confident. When we reluctantly ascended after our second dive, the entire platform erupted in applause and it was impossible for us to wipe the smiles from our faces, as my son and I excitedly talked about the sites we had shared underwater. I appreciated the applause as a gesture that we had found a way to conquer our fears, but also as a welcome into the club of enthusiastic helmet divers.
~Oahu Convention and Visitors Bureau and Waikiki Ocean Club generously hosted us during our helmet dive. They did not require that I represent a particular viewpoint, and all opinions are my own~