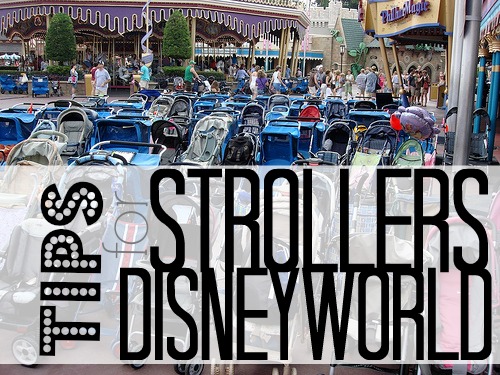 Theme Parks are billed as the happiest places on earth, and they most certainly are designed with family fun in mind. So, why is it that on any given day at DisneyWorld(or the like) you can look around and see kids of all ages in full blown meltdown mode with parents who look like they might join the meltdown party any minute?
I'll tell you why, and it's really not the fault of the theme park. It's just that by their very nature there are pitfalls at every turn that threaten to take the fun out of the experience. It's things like waiting in line, and crowds, and maneuvering the giant rolling weapon stroller that heighten the horribleness. But, the worst is the "sea of strollers."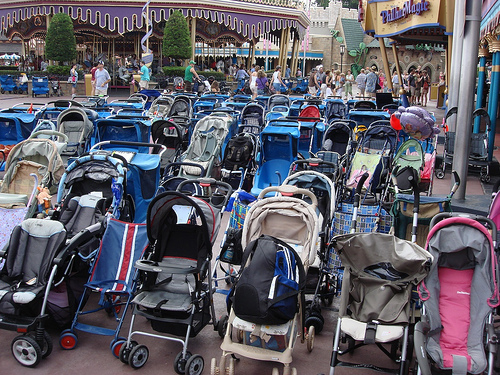 What's that you say? It's the row upon row of strollers that are haphazardly ditched in designated areas to wait patiently for their little riders to return from standing in line and pushing through the crowd. It's meant to be a convenient and concise way to store your stroller while you're off on a thrilling ride. The thrill comes to a screeching halt when you come back to the dreaded "sea of strollers" and try to find your particular grey and black stroller that, of course, looks just like all the other grey and black strollers. What's worse is that those wicked Disney people actually move the strollers around. Consider yourself warned: Your stroller will not be where you left it! Don't be fooled into thinking they do this to help you. It's all part of a cruel game to see which parent breaks first.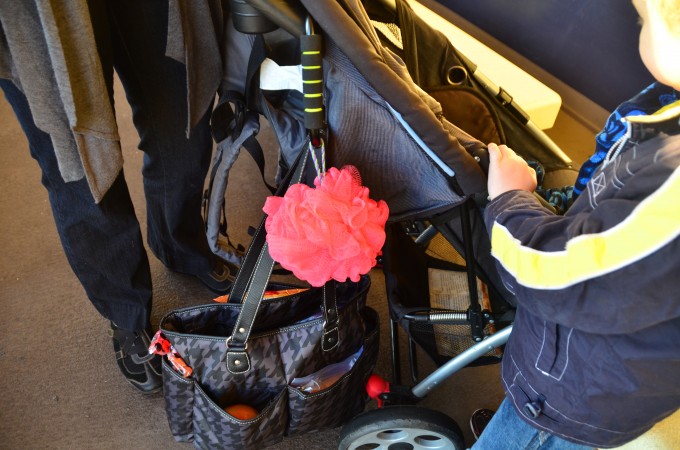 In light of these condemning stroller facts, you have to play smart. You need to mark your territory. No, not like that, of course! Find something bright and colorful and attach it to the handle of your stroller. A bright ribbon works perfectly, but if you want to be able to find your stroller and mortify your older kids all at once, a big pink poofy bath sponge is the way to go. Then you can easily scan the rows of strollers and find yours in a flash.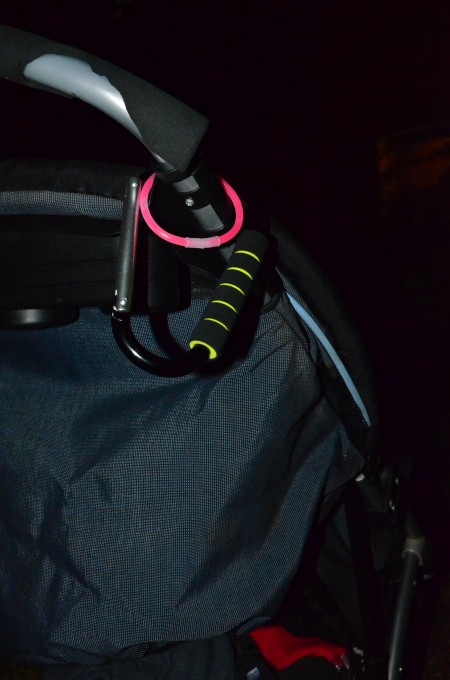 You'll have to make a quick change when the sun sets, so you can continue to find your stroller. If you think stroller hunting is challenging in the day, wait until you have to do in it the dark. Bring along a glow necklace and attach it to your handle where it will glow like a beacon of hope.
Congratulations! You've used your smarts to outwit the sea of strollers. I wish I could help you with the lines or the crowds, but until I've perfected my magic crowd erasing wand, you are on your own there. Who am I kidding, if I ever perfect such a contraption, I'm keeping that bad boy to myself. So, you'll be on your own either way, but at least you'll have your stroller.