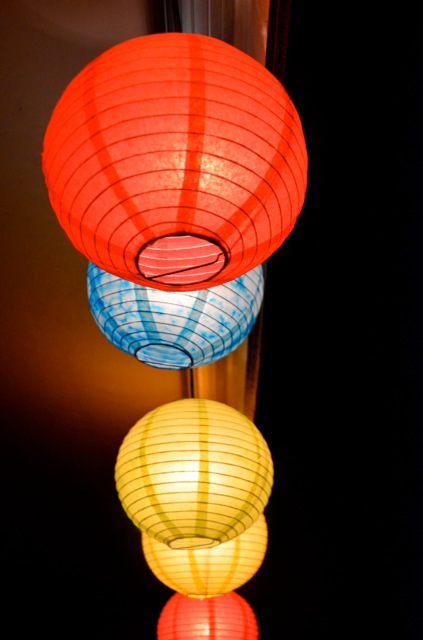 Unlike the typical brick and mortar home, RVers tend to concentrate their decorative efforts on the exterior of their rigs where it can be enjoyed by fellow campers. Exterior lights are one area where each individual can let their personality shine <pun totally intended>. Flamingos and palm trees tend to be a perennial favorite, but there are as many options as there are campers-big fat Santas, beaded rope lights, classic dome lights. Not wanting to be the plainest camper on the block, I was determined to find a set of lights that reflected me.
One day, while I was shopping for something wholly unrelated, the perfect set of lights called my name from the shelf. It was one of those shopping moments where you feel a little tingle of joy in your soul and you know you have to have it. Before me was a string of glorious paper lanterns, each about the size of a dinner plate, in colors reminiscent of a sweet summer Popsicle. It was a splurge, not because they were expensive, but because I don't often succumb to products outside the realm of practicality. But, I bought them anyway, satisfied that the festive colors and celebratory texture fully reflected my personality.
I quickly realized that aesthetics had completely won out over practicality, for being made of paper the lanterns were exceptionally fragile and not in any way weatherproof. With each use, it was necessary that I gingerly open each lantern and place it delicately on the strand, a painstaking and tedious process. More than that, even the morning dew took a toll on the tender paper, weakening the structure and running the popsicle colors.
Still, once the lights were hung, they glimmered exquisitely over my camper and gave me a feeling of deep down happiness.
Not only did these lights make me happy, but they actually became an integral part of life in camp. At dusk, the boys would look across the row of campers to find the paper lanterns to lead them home from playing. When we returned late at night, we only had to search for the candy colored glow to find our way in the maze of campers. These beacons were what made our house on the road feel like a place where we belonged.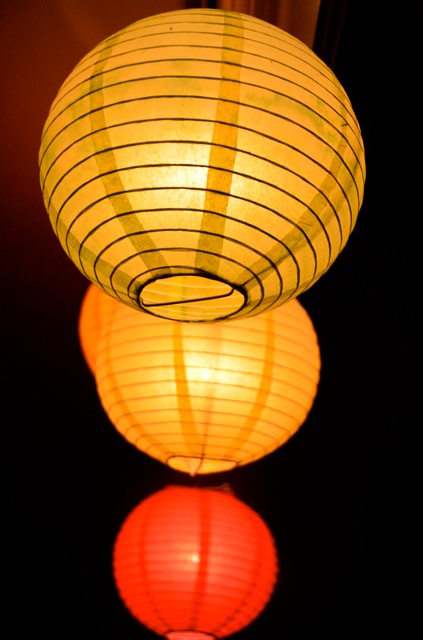 On our final day, I gently began the process of taking each paper shell off the holder and folding it for the final time. With each lantern, a burning sadness gripped at my throat and troubled tears kicked at the corners of my eyes. Sullenly, I ignored both of these signs of unwelcome emotions and set to the task at hand.
And that's when the paper of one lantern ripped, destroying the lantern and releasing a floodgate of tears and sobs.
With torn paper in my hands, I cried. I cried with relief that we had set out to travel this road with our children and we had completed the task. I cried with sadness that a plan I had lovingly nursed for six years was over. I cried with anger that I couldn't make it last longer. I cried with fear that I would never again in my life feel as alive and fulfilled as I had felt in the past 80 days. I cried with the anxiety that we would go home and be unchanged by these experiences.
And I cried because the stupid paper lantern had the audacity to rip right there in my hands on the last day of this most epic journey. Plus, it was the lime green one, and it had always been my favorite.
As quickly as they had started the tears subsided, for I am as stingy about emotion as I am about pretty decorations. With one piece of the favored green lantern in each hand, I gathered my thoughts and then the reality of the moment hit me hard.
I knew from the moment I opened the box that these lanterns were not created for longevity. The designers totally gave up any long lasting hope in favor of exquisite beauty. You just can't have it all. I could have had lights that lasted for years, but I would have had to give up the bright colors and the crinkled texture that made me squeal inside every single time I saw them.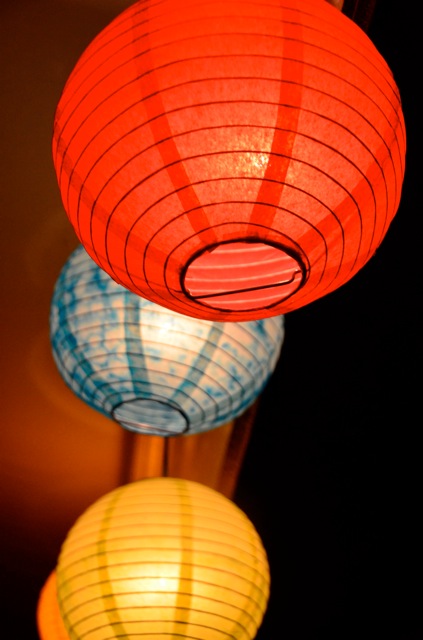 It was a Steel Magnolias kind of moment. I chose to have 30 minutes of wonderful rather than a lifetime of nothing special.
And of course, I am not just talking about the lanterns anymore.
I knew from the minute the trailer left the driveway that this trip couldn't last. We created a lifetime of memories in just 80 days, memories that are so rich that they can't be properly expressed in any words in my dictionary. That kind of epic experience is, by its very nature, a fleeting experience.
All the best moments in life- a first kiss, the smell of a newborn baby, a life changing journey-are the best because of their ephemeral beauty.
They are a brief flash that shines bright and burns out fast. If you are lucky, you stood fully facing the burning glow and captured every shining minute of its fleeting vision. So that when it is over, you hold those treasures firmly and forever in your hand as proof that you once had the courage to do something so temporal that it had the power to generate a lifetime of memories.