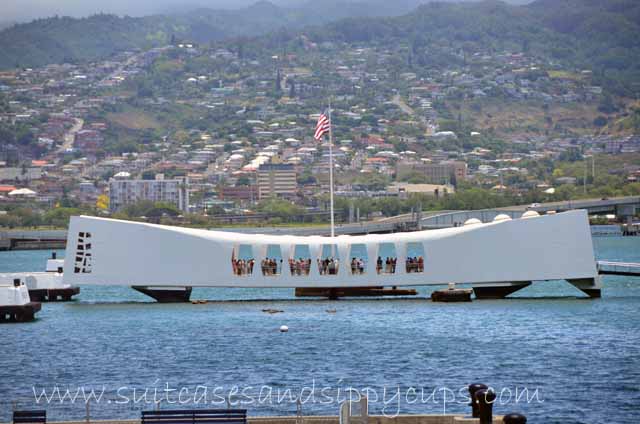 Pearl Harbor is the most highly attended tourist attraction in the Hawaiian Islands, and with the epic place it holds in history, it is definitely a must visit. It also has the potential to be the most frustrating tourist attraction in the Hawaiian Islands with limited tickets, wacky bag rules, and general confusion about where to go and how to get there. Check out these tips before you visit to make your family visit to Pearl Harbor smooth and easy.
Arrive Early. Really. Even if you were late to your wedding and every event since, you must be early to Pearl Harbor. Tickets and parking spaces go fast. On some days, all the tickets for the day can be gone by 10 am, so you must be first in line.
Speaking of tickets, tickets to the Pearl Harbor Memorial are free, but are limited. Currently you can reserve tickets online at the National Park Service for a $1.50 per ticket. Those reserved tickets are often booked up to six months in advance, so make your reservations as soon as possible.
Walk up tickets are first come, first served. Tickets are time stamped for an introductory movie that leads to boat boarding to take you to the monument. Even if you arrive early, you may have several hours to wait before your ticketed time. Fortunately, there are plenty of activities around the monument to fill your time.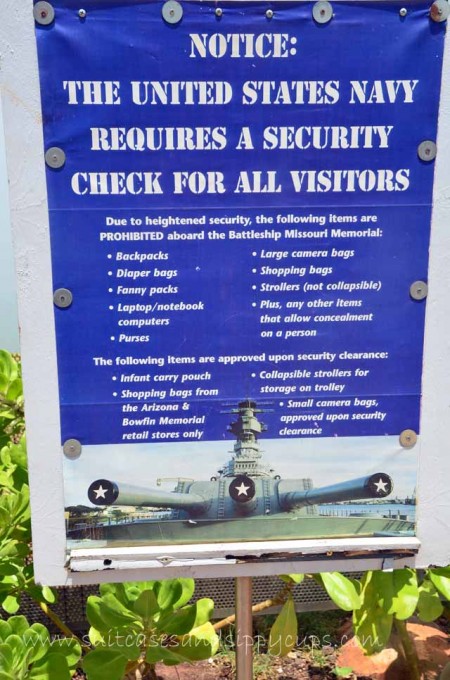 Bags of any kind that conceal the contents are not allowed on the Pearl Harbor Memorial. A bag check is available, but the bags are not secured in a locker, so you will definitely want to keep your valuables with you. If you need to carry more than you can fit in your pockets, you have a couple of choices.
Bring along a clear ziplock bag or other bag that allows you to see the contents. You are allowed to carry these bags and will make it easier if you are traveling with kids and need tons of gear.
If you don't bring your own clear bag and still feel that you need one, go directly to the nearest souvenir shop. Buy a souvenir and ask for a big bag. Those bags are allowed on the monument and can be used to carry your belongings.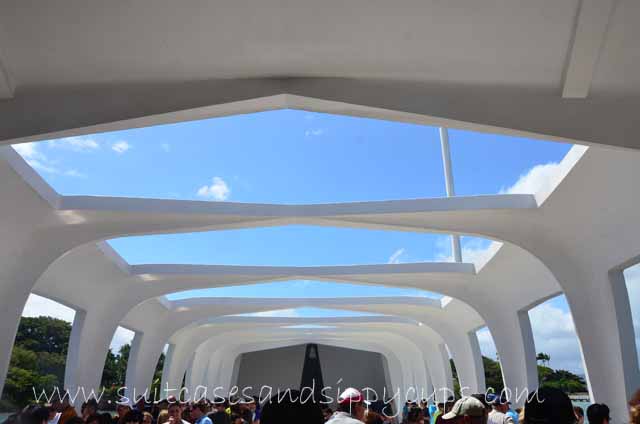 Strollers are recommended for use in the park, but are not allowed in the theatre, on the boat, or on the monument. Strollers are also a great way to carry your belongings sans bag.
Use the restroom before starting the movie/boat loading process. There are "officially" no toilets on the monument, but a little birdie told me that if you have an emergency there is a toilet available. Better to be safe, though, and use the restroom before boarding.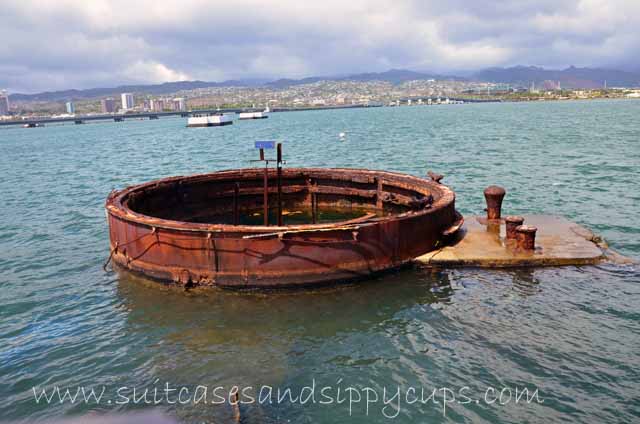 Expect your time on the monument to be fairly short. It is only about 10-12 minutes before the boat will return for pickup and you will be expected to board. Don't worry about needing to get in line until instructed to do so by a Ranger. There will be a seat for you on the boat. Use your time instead to explore and take pictures.
Eating near the monument is very limited. A snack bar is available with sodas, candy, and chips, but not much real food. A food court is also nearby, but is limited to hot dogs and nachos. For better food options, plan your day so that you can lunch at the nearby Pacific Aviation Museum.
Want tips for how to schedule you day at Pearl Harbor? Check it out!
Now it's your turn to share your favorite travel tips. Link up below add your best ideas to Travel Tips Tuesday.