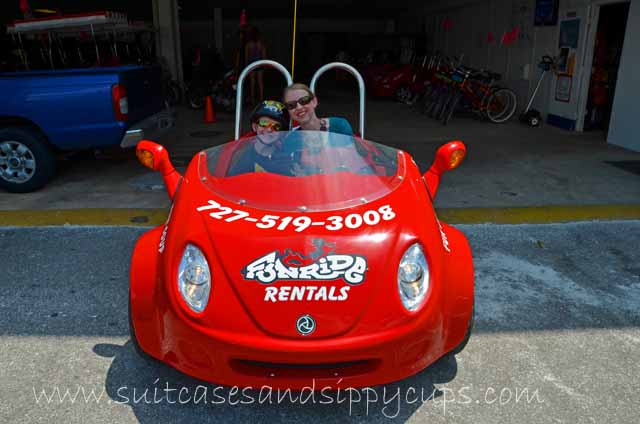 With a final helmet adjustment and a Roadrunner-esque "meep-meep" of the horn, we were out of the parking lot and onto the open road. After a few days in Clearwater, FL, we were looking for a unique way to explore the beach and city, and Fun Ride Rentals seemed to have the ride we were looking for. Although they proudly offer just about anything you need to rent on wheels –from scooters to beach strollers-we had chosen a zippy red "Fun Coupe."
If you aren't acquainted with the awesomeness of this vehicle, let me paint you a picture. The three-wheeled craft sits on a scooter body with two seats and an engine that whirrs like it should have a wind up key in the back. Despite the toy like appearance, the "Fun Coupe" can travel up to 40 mph with its twist and go mechanism. Unlike a toy car, there is a learning curve to driving this eye-catching machine-and it is a learning curve that can sometimes feel like a death wish.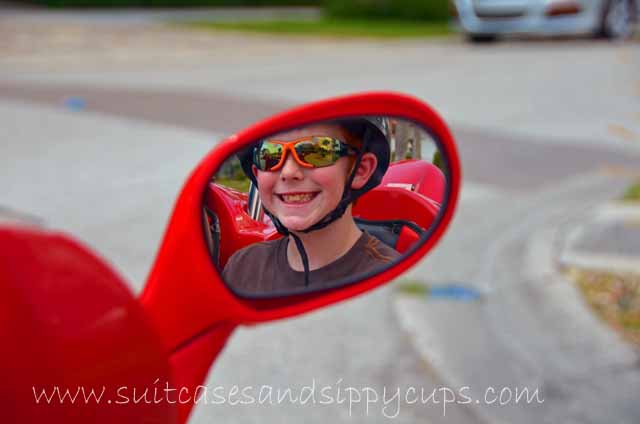 Very quickly, I learned the basics tenets of Fun Coupe driving:
Listen to the nice ladies at the front desk and DO NOT go around the nearby traffic circle. Traffic circles are dicey in a normal vehicle. In a low profile fun coupe, it is a recipe for screaming like a girl and praying every prayer you ever learned.
Fun Coupes are so low to the ground that you will be dwarfed by every other vehicle. Suburbans and SUVs are rolling Goliaths in comparison. Just don't look up so you won't be forced to be reminded of your mini size.
Never drive into a dead end. With no reverse, the only way out is to get out of the car and physically turn the car around. If there is a way to do that without looking like an idiot, I never figured it out.
Use the horn-a lot! It makes people smile and wave, and to be honest, that is half the fun.
After losing my religion at the traffic circle, we made it into the residential section of Clearwater and that is when I was able to relax enough to really enjoy the ride. It was a relaxing tour of the city that allowed my son and me to soak up the sun and enjoy talking while we tooled around the streets. Bottom line: It was the most fun way I have ever taken my life into my own hands.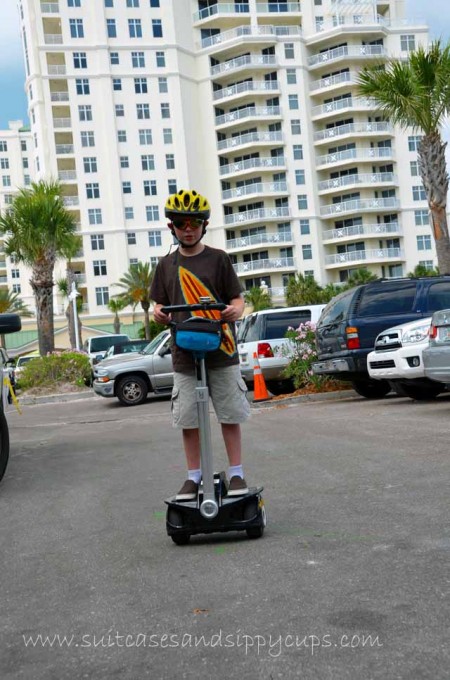 Back at Fun Ride Rentals, I was hoping to try something a little tamer, but the boy was vying for ride on a Segway. Segway tours often have an age limit of 10, and I was afraid that my nine year old was about to be disappointed. Fun Ride Rentals came to the rescue, though, and offered us the option to take a spin on a "Fun Glider." Fun Gliders are smaller, more lightweight, and have a smaller wheel base to allow kids as young as seven the ability to control the craft.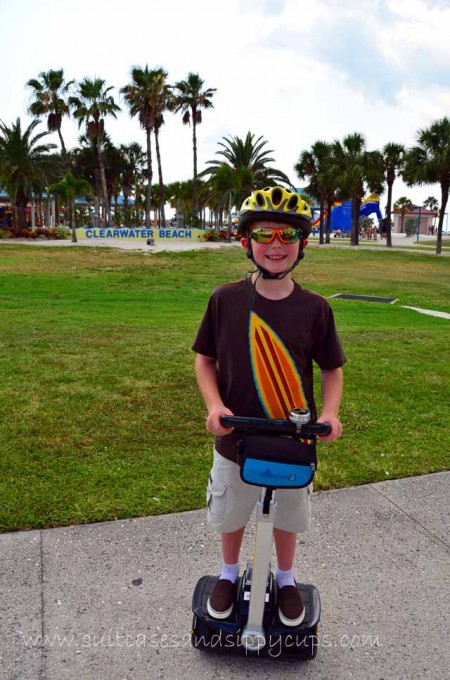 With a simple parking lot lesson, we were off to explore the Pier and check out the great ocean views. Although this was a less intense ride overall, I still managed to embarrass myself a time or two. Evan, who at nine years old has the eye rolling at mom schtick down to an art, didn't even notice. He was too busy enjoying the freedom of his ride, which is exactly how you want to feel when you are zipping along next to the beach.
Know Before You Go:
Fun Ride Rentals is located in the parking garage of the Hilton Clearwater Beach Hotel.
If you have any needs that involve wheels on the beach, you can find it here. Beach Wheelchairs and beach strollers are two necessities that can make your time at the beach more fun.
For families, bicycle surreys can fit up to eight comfortably, with child seats built into the front of the cart.
Training, helmets, locks and maps are provided with the cost of rental.
~Fun Ride Rentals offered me complimentary use of their vehicles. They did not require that I express a particular viewpoint and all opinions are my own.~