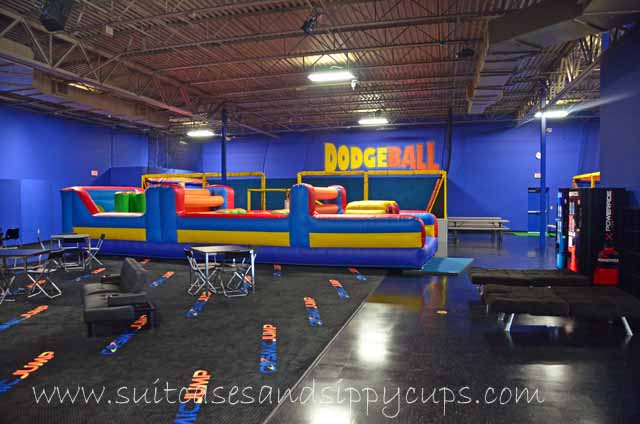 There's a new place in town where bouncing off the walls is not only appreciated, it's expected! Cosmic Jump Lewisville is the newest indoor jump park in the Metroplex and it is the perfect place for kids to jump off all their extra energy during the dog days of summer or a rainy Saturday afternoon.
Kid Tested Activities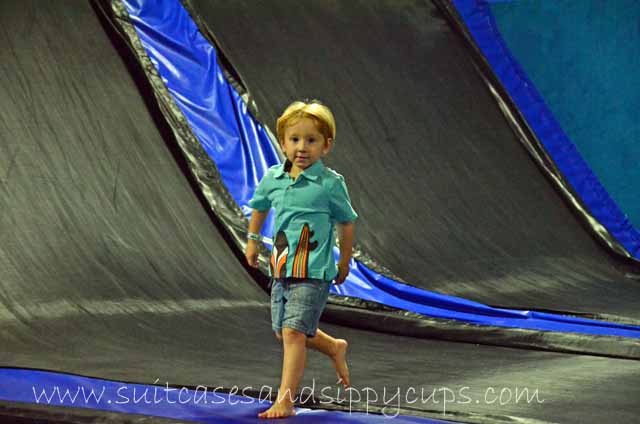 Although the 15,000 square feet of trampolines take center stage, this place is wall to wall action for every age and interest. Two sets of trampolines, a larger area for kids 8 and up and a smaller area for kids 7 and under are the place for jumping, flipping, and generally going crazy. My kids loved climbing to the top of the trampoline mountain and sliding down the other side.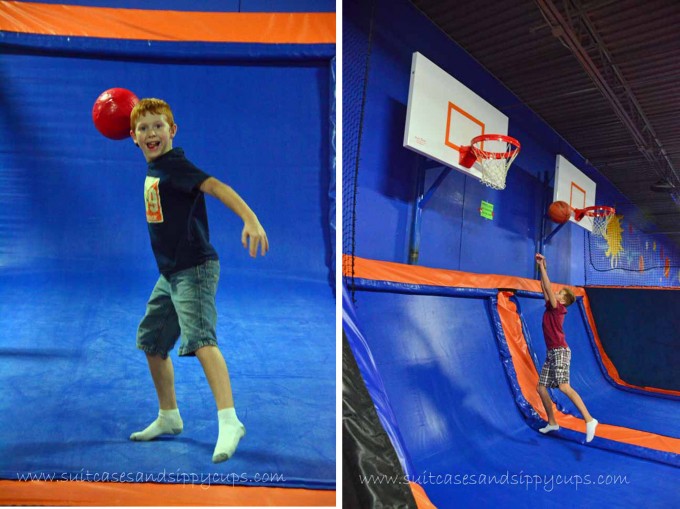 For sports lovers, there are two slam dunk courts (one for younger kids and one for older kids) and two dodge ball courts. During our visit, one court was in use for serious dodgeball games-complete with a referee and the other court was open for free play and jumping. Unlike the "knock out your front teeth" hard balls of the past, these balls are soft and squishy for more fun (and hopefully less trauma).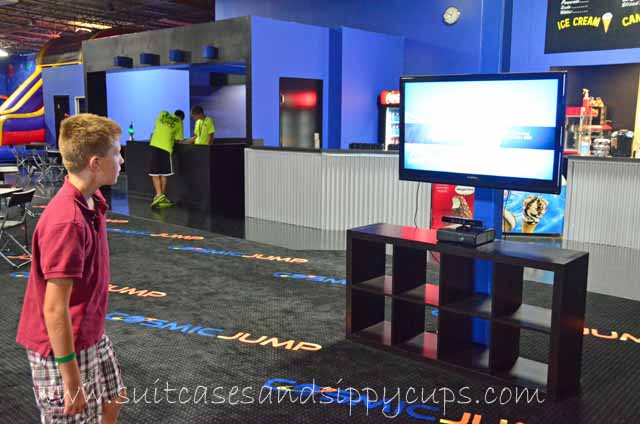 If you're feeling a little winded (which happens much more quickly than you could imagine) you can enjoy the X-Box sports arena or dance party. And if all that is still not enough, the inflatable obstacle course and slide is available too.

Parent Approved Space
With all that, you know the kids are going to love it, but will the parents love it too? I have to say I am very picky about the indoor playspaces I take my kids to, and this place met all my requirements and then some. First of all, it was squeaky clean and although there was fun music playing, it wasn't so loud that I couldn't have a conversation. There was plenty of comfortable seating for moms and dads to have a place to relax while the kids played. The Jump Guards struck a perfect balance of being present to promote safety, but not too restrictive so that the kids couldn't enjoy the fun. All Jump Guards are trained in CPR and First Aid, as well.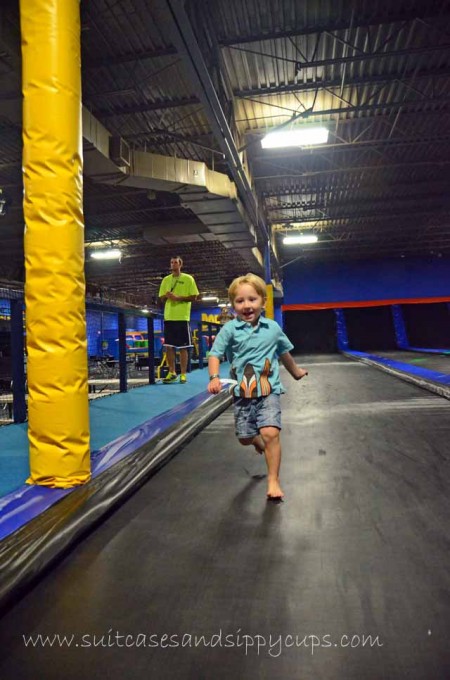 Most importantly, the space is open enough that I could stand in one corner of the room and see across to the other side to check on what all my kids were up to at a glance. It's imperative to be able to stay near the younger kids and supervise their fun, while still being able to ensure that the big kids haven't turned the dodge ball court into a WWF arena.
Practically Perfect in Every Way?
Well….almost. Usually, I can find a thing or two that could be improved at a new facility, but everything at the new Cosmic Jump was just about perfect. One thing that could help would be to create a barrier of some kind between the big kids area and the little kids area. Little kids can easily wander into the big kids slam dunk zone, and if your kids are like mine, you'll have a tough time making them stay on their side without some kind of visual barrier. I also have one word of caution about the dodge ball court. Dodge balling is quite the competitive sport and even with the soft balls, younger kids may find it a bit too intense. Use your best judgment with your kids.
Birthday Party Blast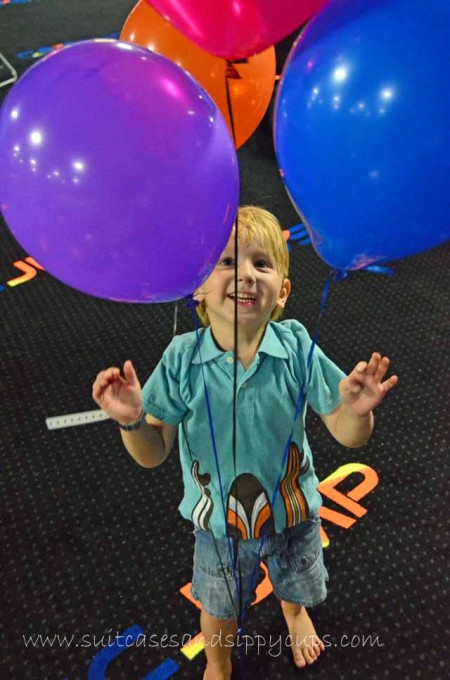 Cosmic Jump is a great location for a birthday party with tons of fun options to choose from. We chose a self hosted birthday party which included two hours in the Jump Zone and a dedicated table for our guests on the main floor. This is really a do-it-yourself party (no assistant is provided and you must bring your own tableware), but it is a very affordable option for a fun birthday. Takeout pizza can be ordered for your group if they work up an appetite with all that jumping. Other jumptastic parties appealing to all ages are available, as well.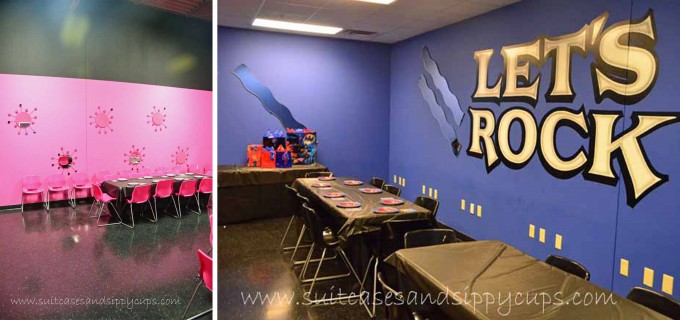 Private parties in the very pink girly room or the ultra cool blue room begin at $350. For tweens and teens, a Club Cosmic party is a perfect fit with dance music, blacklights, and glow sticks galore for jumping fun in the dark. For a great big kid party, or even a memorable company party, books a Nerf Gun Party. Nerf Guns are available for rent from Cosmic Jump, but saving yourself from the barrage of Nerf darts is up to you.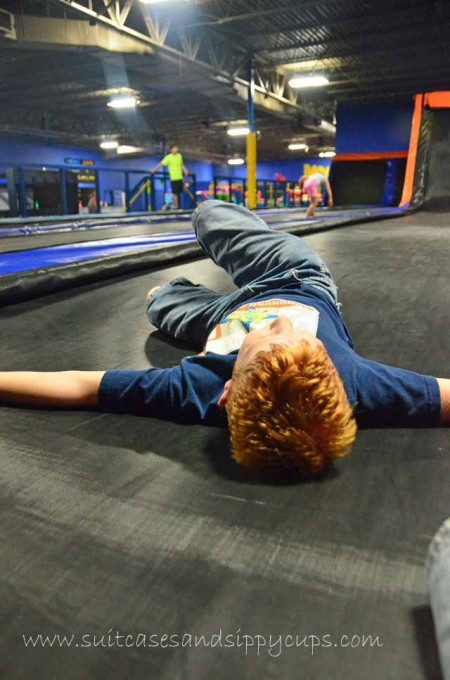 Know Before you Go:
Hours are Mon-Thurs 10-8pm, Fri-Sat 10-11pm, Sun 10-6pm
Prices are $12 for the first hour and $6 for each additional hour. Ask for the Cosmic Deal for Two hours of jumping for $16
Socks are not required
Outside food and drinks are not allowed.
Two hours of jumping is the best buy, but even an hour is enough time to really jump until you drop.
~Cosmic Jump provided me with a complimentary self hosted birthday party. They did not require that I express a particular viewpoint and all opinions are my own~