It's Travel Tips Tuesday! I'll be sharing my (hard earned) tips about visiting the Houston Space Center and I would love for you to join Walkingon Travels and I by linking up your best travel tips. Old post or new post, it doesn't matter-just give us some travel tips!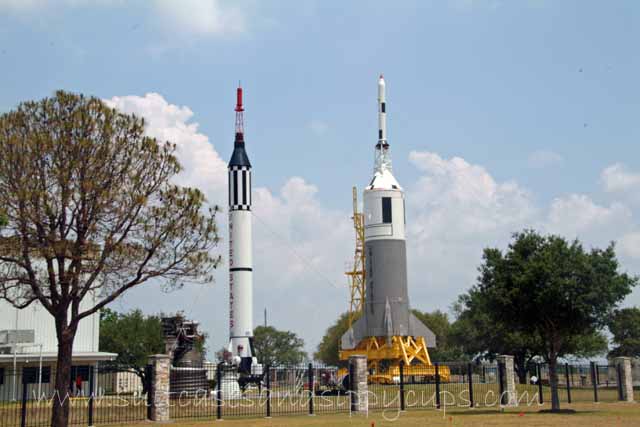 "Houston, the Eagle has landed." Those words spoken in space were transmitted directly to Mission Control in Houston, TX, solidifying Houston's place in the history of space exploration. Visitors can experience their own little part of space history with a visit to the Space Center Houston. The Space Center is a perfect family destination, offering something for all ages, and interests, but it is easy to become lost and frustrated with the lack of information and the overwhelming number of choices. What should I do first? Is this attraction age appropriate for my kids? What can I skip?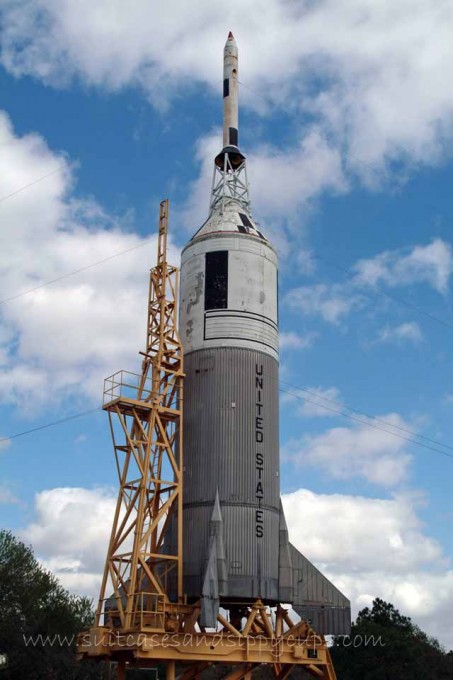 After four visits to the Space Center, I feel like I've collected enough insider information to make your day in space a bit less disorienting. Check out these tips so that you can avoid the "Houston, we have a problem" syndrome of your first visit to Space Center Houston.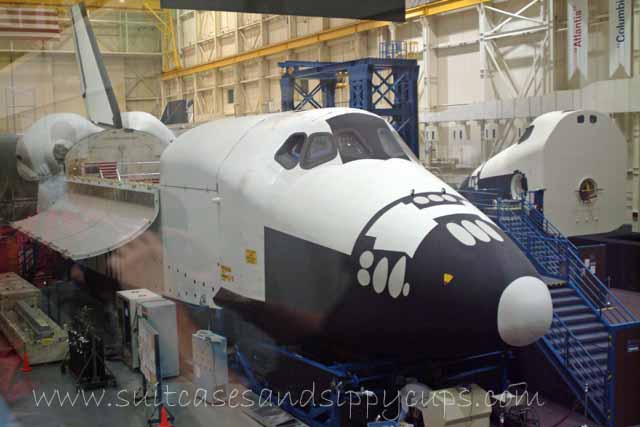 The Basics
First, let's get some of the details out of the way.
If you want to see it all, plan to stay all day.
Not all attractions are kid-friendly. Some are slow and packed with intellectual information, which for many kids is just plain boring. Kids 8 and up will enjoy most parts of the Space Center, but under that age, it could get dicey. Know your kids and the attractions.
This is not the Kennedy Space Center, and it's just not as good. If you have been to the Kennedy Space Center, you will likely be underwhelmed by the Space Center Houston. That's not to say that SCH is bad, it's just not as snazzy. Adjust your expectation accordingly.
Pre-planning is a must. I highly recommend that you arrive at least 30 minutes prior to opening to grab a daily schedule and plot out your day. Late seating is not available for most attractions, and without careful planning you will be late all day.
If you are short on time, the must-sees are the Tram Tour and Starship Gallery. These are the truly unique exhibits at SCH. Everything else is gravy.
Parking is $6, but if you take my advice and arrive 30 minutes before opening, you will find the parking booth unmanned, so you can park for free.
Nasa Tram Tour
This is the crowning jewel of the SCH and takes you on a 90 minute tour of the working Johnson Space Center-home of Mission Control.
As soon as you enter the Space Center, proceed directly to the Tram Tour and wait in line. The lines will only get longer as the day goes on.
Important notes for parents: Restroom facilities are limited. There are no refreshment areas available. Strollers are not allowed on the tram.
I recommend the tram for ages 8 and up. There is a lot of sitting and a lot of listening on the tour. Parts of the tour are fascinating, especially if you are a space history buff, but could be tedious for kids. Well behaved little ones will do fine on the tour, but expect to be shuffled off to a cry room, if there is any extra wiggling or noise. If your heart is set on the tram tour, break out the touch phone for a few minutes to give little ones something to do.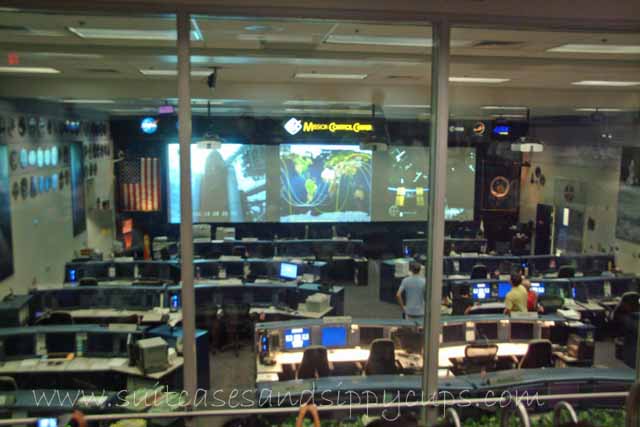 There are two tour choices: Red line and Blue line. Both tours will take you to Saturn V Rocket Park. The Red line takes you the Astronaut Training Facility and the blue line takes you to Mission Control. Mission Control will give you more a history of the space program feel, while the Astronaut Training Facility focuses on current space missions.
Sit near the driver to best hear the tour.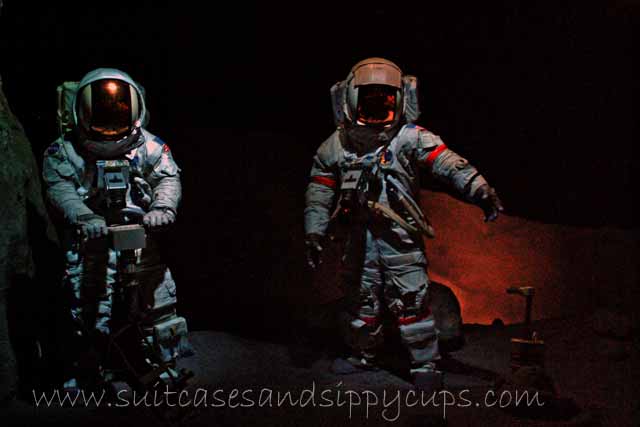 Starship Gallery
Relive the triumphs of the manned space flight program with multiple artifacts and exhibits. The Starship Gallery also features the world's largest display of moon rocks, including specimens you can touch.
This exhibit is suitable for all ages.
Entrances are timed to prevent crowding by beginning the exhibit with a 15 minute movie. The movie is fantastic, but if you would like to skip it with a wiggly toddler, just proceed all the way through the theatre and out the exit doors to see the exhibits.
If you want to avoid the theatre altogether, you can enter the gallery through the back entrance located behind the Kid's Space Place. This sets you up to view the exhibit in reverse chronological order, but it allows you to see the exhibit at your leisure.
Don't miss the chance to touch the moon rock.
Most of the exhibit is quite dark to highlight the artifacts. Plan accordingly if you have kids that are afraid of the dark. On the plus side, this is a great place to coax a little one to take a stroller nap.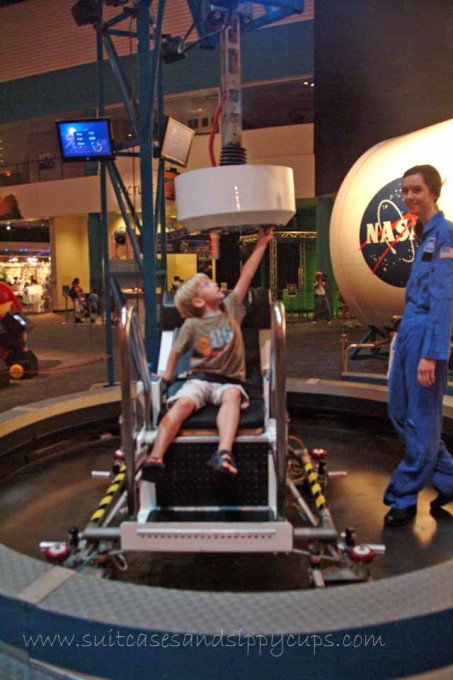 Space Center Theatre
Imax films exploring space are shown on the giant 5 story screen.
Films are 30 minutes and show every half hour
Suitable for all ages, but feel free to skip if you have seen an IMAX film before.
Blast Off Theatre
Theatrical presentation designed to totally immerse you in the sensation of blast off.
This presentation is loud. Little ones may be frightened.
Theatre is standing room only. Move to the front to be able to have a view of the screens.
After the blast off, you move into a seated theatre where you will be briefed by a NASA employee about current space missions. Expect this to be about as exciting as you Algebra 101 class and plan for your kids accordingly.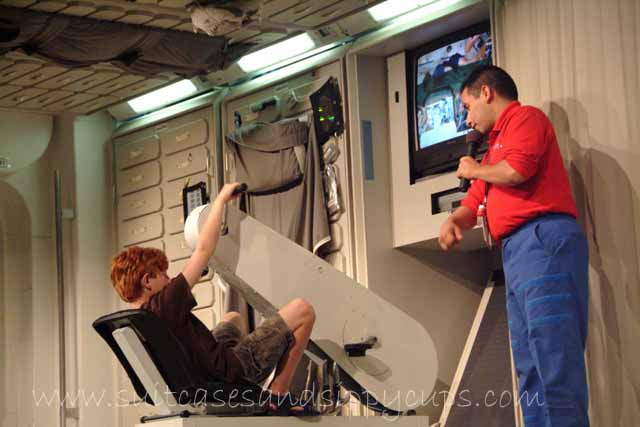 Living in Space
This live presentation presents the challenges of living and working is space.
Bleacher seating is limited, so arrive early if you are visiting on a crowded day.
A participant from the audience (usually a kid) is chosen for each presentation. Grab a seat in the front row if your child would like a chance to be chosen.
Standing room is available and there are some activities near the stage that could keep active little ones busy while parents kept one ear on the presentation.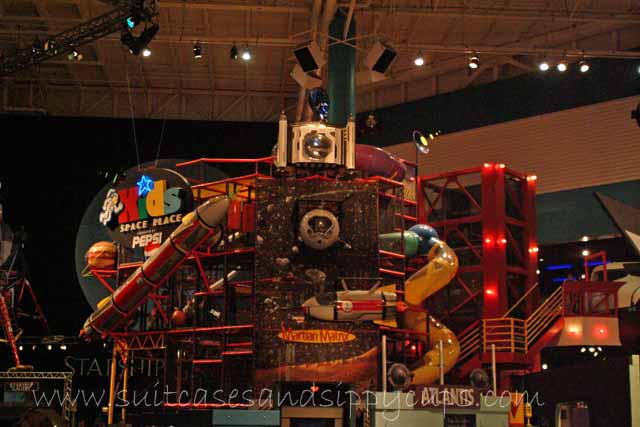 Kids Space Place and Martian Matrix
Quite possibly the coolest playground in the galaxy.
The playground is not recommended for kids under 4, but smaller kids are always tempted to jump into the fun. Don't worry you won't be the only parent huffing your way up the small passageways to rescue your toddler stuck at the top.
There is a height limit of 56" that is strictly enforced at the beginning of the day and less stringently followed as the day goes on.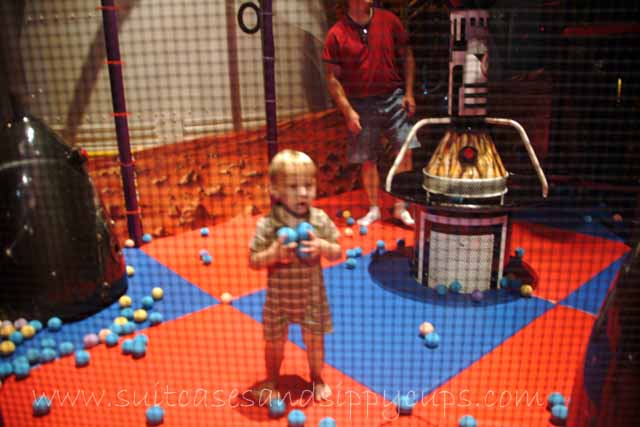 Monitors are available to help parents see into the bowels of the playground to keep an eye on little ones.
Bleacher seats next to the playground make a perfect meeting place for families.
Foam balls launched from the upper levels of the play structure are a part of the fun in this playground. The balls do not hurt, but there is always a kid or two that is surprised by the balls and ends up crying.