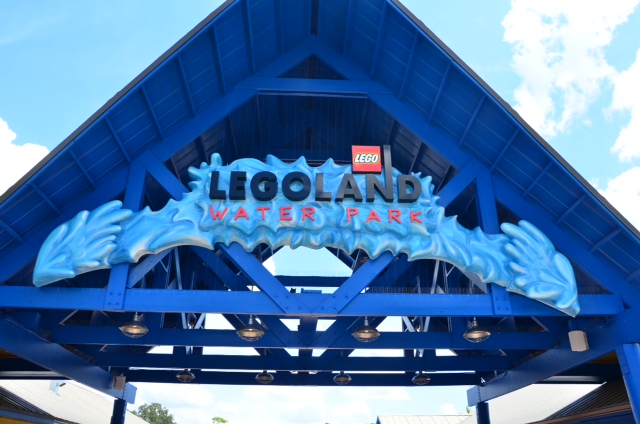 LEGO Master Builders have been hard at work on their newest creation at LEGOLand, Florida-and it is guaranteed to make a big splash. Legoland Waterpark invites visitors to take the plunge beginning May 26th, and is certain to be the best spot in the park to cool off for 2012 and beyond. Check out the seven sections of the park where you can dive into fun for all ages.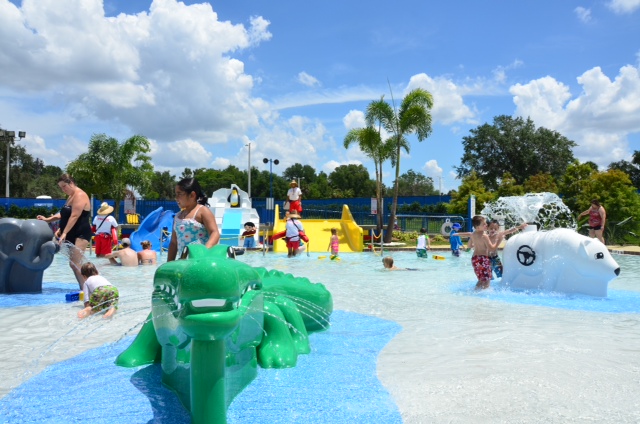 Duplo Splash Safari
Toddlers and other vistors under 5 years old rule the pool in this interactive space that features larger than life Duplo characters and gentle slides. Water depth is safe for smaller LEGO lovers and parents will love that they can see the entire park from any seat in the area. Be aware that there is very little shade in this area, so lather on the sunscreen before the splashing begins.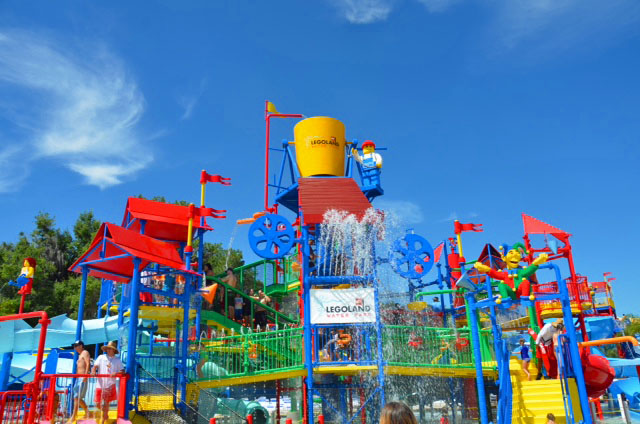 Joker Soaker
You can't miss the bright colors and splashy surprises of this interactive playground that offers something for every member of the family. Kids of all ages will flock to the various wheels, knobs, soakers and slides that allow them to be a part of water park action. Seven slides-three for kids above 36 inches and four designed for kids above 42 inches, intertwine through the various levels of the playscape for even more kid friendly fun. At the center of the action is the 300 gallon soaker bucket that surprises visitors with a thrilling torrent. Now if only you could find a way to harness all that kid and water energy, you could claim a victory for renewable energy.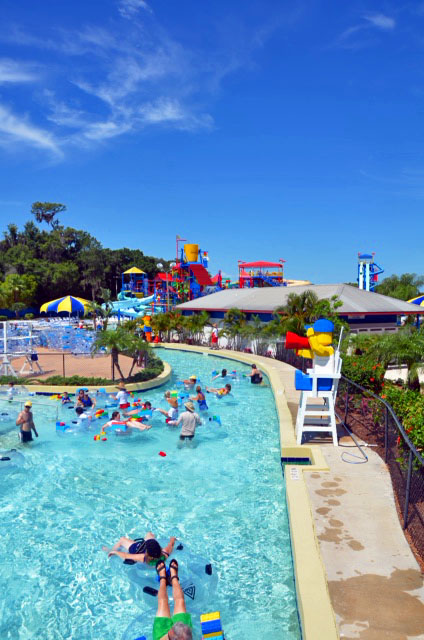 Build a Raft River
It just wouldn't be LEGO if there wasn't a way to construct a creation of your own. The Build a Raft River allows families to craft a one of kind vessel and set it off on its maiden voyage along the lazy river. As you float along the tree lined, 1000 foot lazy river, you can add new pieces to your raft to keep the fun riding right along with you.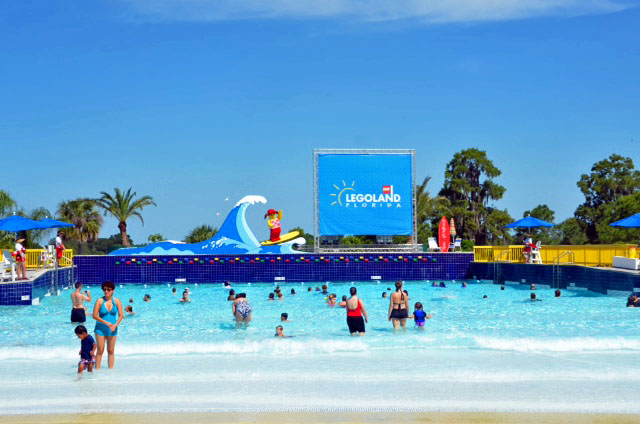 LEGO Wave Pool
A perfect spot for families to gather to cool off in the gentle waves as they lap against the shore, or brave the deeper waves for a gnarly good time. A friendly blue line is a great visual reminder for kids under 42 inches to stay at a depth where they will be comfortable and safe. A nearby Imagination Station offers another place for kids to put their building skills to work to build a design that is part inspiration part hydration.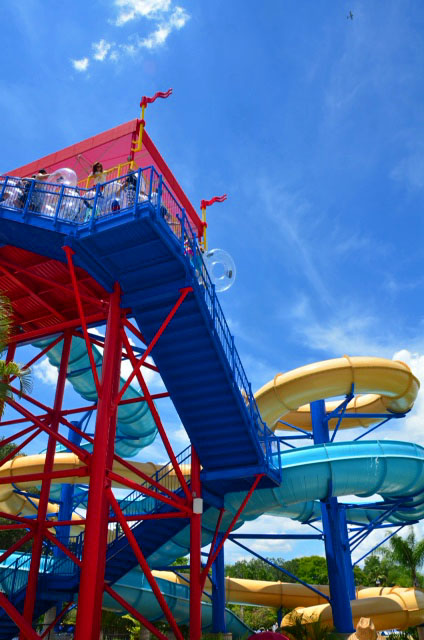 Twin Soakers
Choose a single tube, or double the fun and ride with a friend down 375 feet of intertwining waterslides. Will you choose to have the sun as your companion as you jet down the blue slide, or will you plunge into the darkness of the enclosed orange slide? Whatever you choose, you will zip into a refreshing pool and be ready to ride again.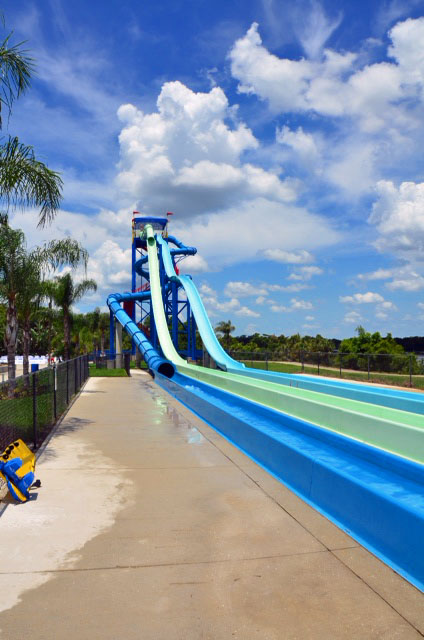 Splash Out
At the tallest point of the waterpark, thrill seekers can speed down the 60 foot drop along one of three unique rides. The dark blue enclosed body slide slings riders around pitch black twists and turns where you won't catch your breath until you splash into the pool below. For a slightly gentler ride to the bottom, you can slide down the humps and bumps of the light blue slide. Or if you want to risk it all, choose the green slide and plunge straight down and see who can make the biggest splash.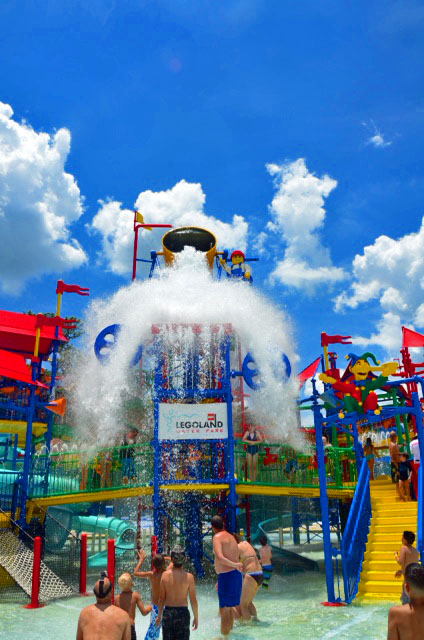 Food, FAQs and Other Details
Food is available at the Beach and Brick grill which features kid friendly favorites and adult approved meals. The selection is somewhat limited compared to the rest of the park, so you might want to grab a bite in the main part of LEGOLand before you head over to the waterpark.
Water shoes are highly recommended for this park and can be purchased in oh-so-cute LEGO styles. The park has limited shade and the sidewalks get quite hot in the summer sun.
Safety is the number one concern at the park, and because the park caters to ages 2-12, the safety standards are higher than any other waterpark. For, this reason you may find lifeguards are extremely strict about adhering to the posted regulations.
LEGOland park admission is required for admission to the waterpark. Tickets to the waterpark are $12 for ages 3 and up and $3 for ages 1-2.
~LEGOLand provided me with two complimentary tickets to LEGOLand. They did not require that I express a particular viewpoint and all opinions are my own.~