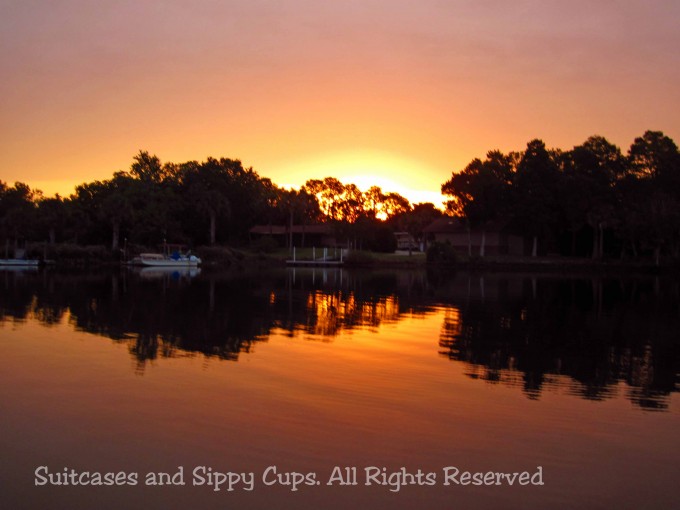 "I've never seen this time of day before. So, this is what sunrise looks like!"
"72 degree water. That's warm, right?"
"I love the slimming properties of this wetsuit. I wonder if I could get away with wearing one of these all the time."
"Do manatees bite?"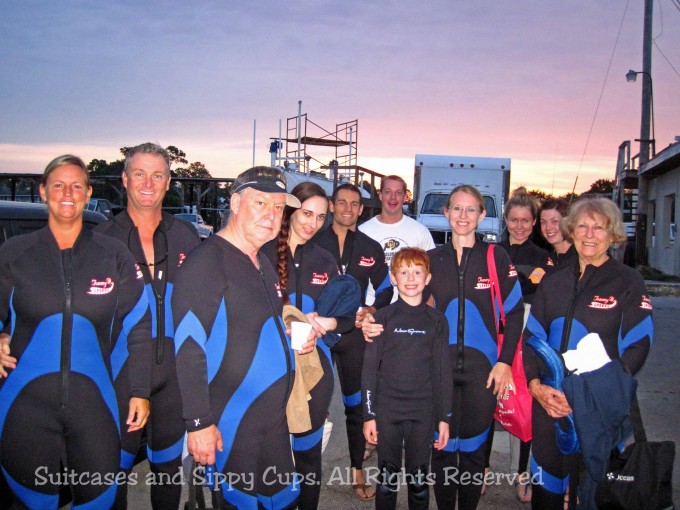 These were my pre-dawn thoughts as I rode out into the Crystal River aboard the River Ventures Manatee tours in Crystal River, Florida. My nine year old son and nine other intrepid, coffee-laden snorkelers had risen early enough to catch the 6:15 boat into the spring fed river that is home to the West Indian manatees. At a constant 72 degrees, the water temperature is the perfect habitat for the tropic loving giants and an equally welcoming atmosphere for travelers who want a chance to get up close and personal with the cows of the sea.
Snorkeling tours are available from a host of boats along the river, but we chose River Ventures because their price included all the necessary gear, plus continental breakfast and their photo packages of the tour were reasonably priced at an additional $15.95.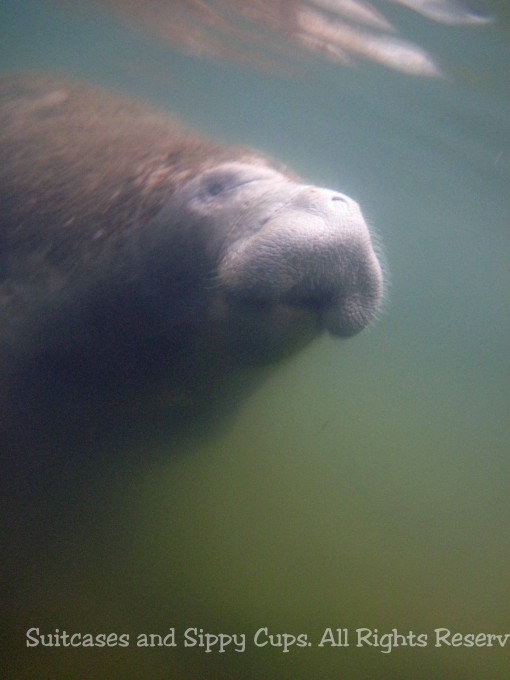 Our day began with a mandatory film that instructed us on proper manatee interaction and then we were quickly ushered into our wetsuits and headed out for a short van ride to the river. Once on the boat, it was a slow ride into the channel as we watch a gorgeous sunrise and learned more about the creatures we would have the privilege of swimming among. The slow ride also gave me a chance to worry wonder about any difficulties we might have with the trip.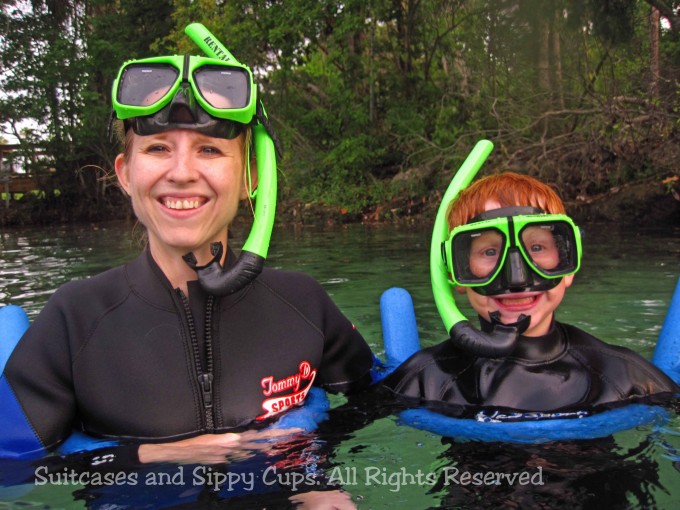 I was curious as to how Evan would take to snorkeling. He is notoriously awesome at just about everything he tries, but I still wondered if he would need help and if I would be able to help him. I am notorious lousy at buoyancy when scuba diving or snorkeling (which they tell me indicates a low percentage of body fat, but I have plenty of physical evidence to the contrary), so I was concerned about how to deal with that. My biggest thought was about how cold the water would be and how much of a baby I would look like when my teeth started chattering. I had a fleeting thought about accidentally running into a creature the size of a small car, but I pushed that to the back of my mind and took the now or never jump into the water.

Our first manatee sighting was in the shallow water, which was murky and I immediately had difficulty with floating. At least the water was warm, as advertised. Evan was easily able to navigate the water with a pool noodle to keep him afloat and I needn't have worried about his experience, as Larry the Captain took care of him and made sure he had a fabulous experience. This manatee was sleeping in the shallows, and judging from the layer of moss on her back, she had been sleeping there for some time. The sleeping pose allowed us plenty of time to float over her and stroke her back, but we quickly returned to the boat to head for clearer water.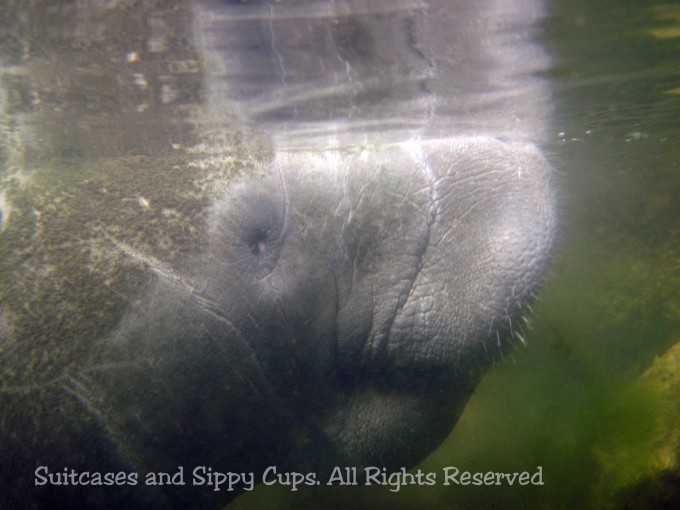 Normally, the manatees make their presence known with only a nostril peeking out of the water for a breath, but our next sighting was a huge gray back that arched above the surface of the water near the edge of river. Manatees need to eat 10% of their body weight every day, so they are often found along the edges of river munching on the grass. Once in the water, we learned why the manatee was munching so intently at the edges-she was over 2000 pounds and the largest manatee our guide had ever seen. As she contentedly munched away, we were able to get a good look at her, and since I have no semblance of pride, I also used a pool noodle on this trip and had much better buoyancy. While the grownups stayed at a distance, Evan swam up and had an intimate encounter with the massive creature and came up beaming from ear to ear under his snorkel mask.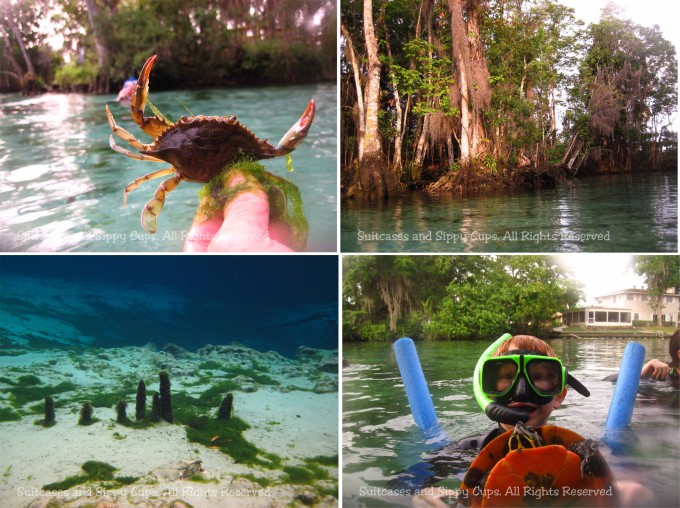 Because we were able to find manatees so quickly, we had time to swim down Three Sisters Spring, which our guide promised would be just as exciting as meeting the manatees. The spring was crystal clear with excellent visibility, giving us plenty of chances to see fishes, crabs, and even a red bellied turtle. Our captain was again an invaluable resource, as he snapped pictures and found creatures for us to check out up close. The spring was such a relaxing location, with the early morning light hitting the bald cypresses that dripped with Spanish moss, but soon numb fingers and toes won out over serenely floating along in the water.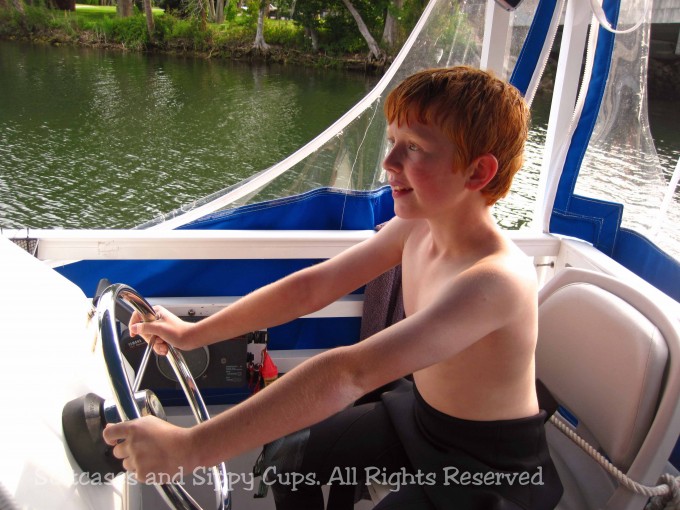 The three hour tour seemed to end almost as quickly as it had begun, and none of my pre-dawn worries made a dent in the magic of the morning. As we putted back to the shore, I wondered again if the 4:45 wake up call, the rented wetsuit, and the blue fingers were worth it. For a chance to go snorkel mask to muzzle with a gentle giant-absolutely!
Explore more of Florida's magnificent creatures with a ghostly view of the Florida Panther.